100: Fall Protection Standards For General Industry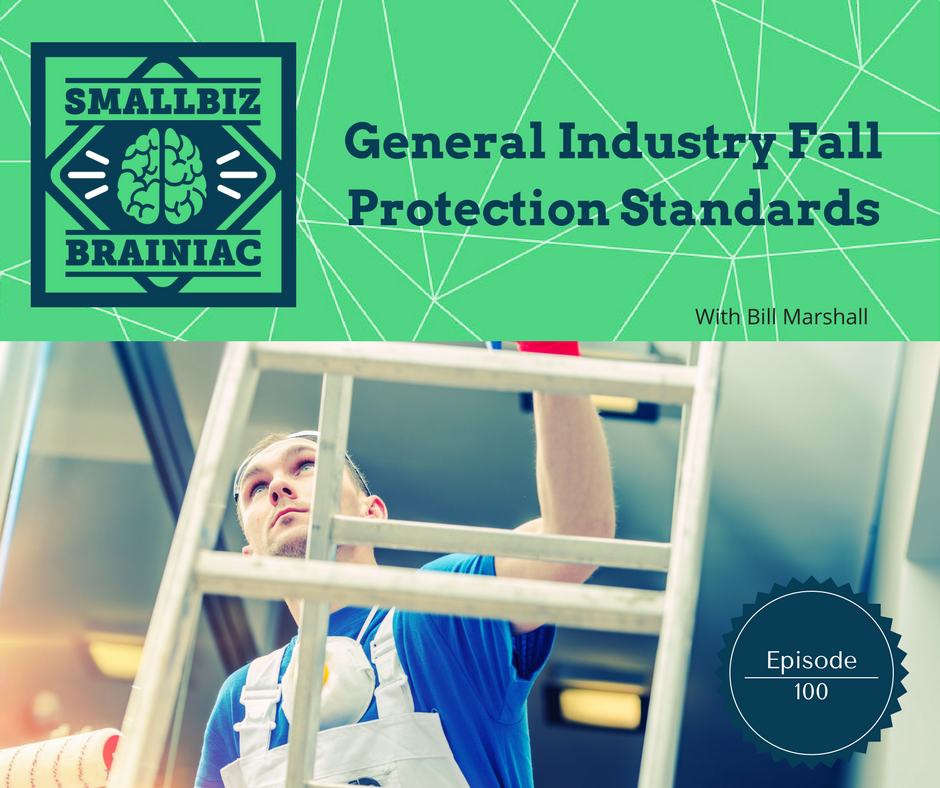 Falls from ladders make up 20% of loss-workday and fatal injuries.
Falls from heights and on the same level the work is being performed on, are very common and one of the leading causes of serious work-related injuries and deaths. How familiar are you with fall protection standards?
OSHA estimates that, on average, approximately 202,066 serious (lost-workday) injuries and 345 fatalities occur annually among workers directly affected by the final standard. OSHA's  final rule on Walking-Working Surfaces and Personal Fall Protection Systems should help lower the injury rate for workers in general industry.
Trip hazards:
There are many trip and fall hazards in the workplace, even office environments.
Winter conditions create slip and fall hazards coming in and out of the office and a simple solution is a bucket of sand and a cup at the door and training employees to grab the cup and spread sand around before they proceed.
A misplaced briefcase, backpack or other personal item can create a trip hazard. The use of ladders is another hazard found in most offices and when used improperly, for example, improper footwear or use by an individual who's weight exceeds the capacity of the ladder.
OSHA inspections:
OSHA could visit for several reasons.
If there is a serious injury involving the hospitalization or death of an employee, OSHA will show up to investigate and may issue a fine.
Even warnings include fines that range from $200 to $500. In 2016, penalties have increase for serious violations the penalty is $12,600. A willful violation fine can be up to $112,600.
OSHA might also visit you based on a "Programmed" trigger. This could be related to your experience modifier. If your modifier is over 1.25 then you are in a fishbowl that OSHA inspectors will draw from to conduct an inspection.
Ladder safety:
Ladders are big problems. Falls from ladders make up 20% of loss-workday and fatal injuries.
Bill gives an example of a restaurant worker who is cleaning the lights in the lobby. He was too heavy for the ladder and he stepped from a pony wall onto the ladder. The ladder twisted and broke because of the weight. The employee was far heavier than the ladder was rated to handle.
The employee broke his femur requiring surgery and missed 6 months of work. This was a very expensive claim.
Slippery floors:
Bill gave another real life example of an employee who slipped in the freezer. The restaurant had been told they needed floor mats but they did not take the advice. Subsequently, an employee slipped and shattered his elbow.
Overview of the new rule:
The rule updates and clarifies the standards and adds training and inspection requirements. It deals with slip, trip, and fall hazards, and it adds requirements for personal fall protection systems
The rule affects a wide range of workers, from window washers to chimney sweeps. It does not change construction or agricultural standards. In fact, it upgrades some of the rules to meet the construction industry's standards.
Fall protection:
The rule requires employers to protect workers from fall hazards along unprotected sides or edges that are at least 4 feet above a lower level. It also sets requirements for fall protection in specific situations, such as hoist areas, runways, areas above dangerous equipment, wall openings, repair pits, stairways, scaffolds, and slaughtering platforms. And it establishes requirements for the performance, inspection, use, and maintenance of personal fall protection systems.
Employers may choose from the following fall protection options:
Guardrail System – A barrier erected along an unprotected or exposed side, edge, or other area of a walking-working surface to prevent workers from falling to a lower level.
Safety Net System – A horizontal or semi- horizontal, cantilever-style barrier that uses a netting system to stop falling workers before they make contact with a lower level or obstruction.
Personal Fall Arrest System – A system that arrests/stops a fall before the worker contacts a lower level. Consists of a body harness, anchorage, and connector, and may include a lanyard, deceleration device, lifeline, or a suitable combination. Like OSHA's construction standards, the final rule prohibits the use of body belts as part of a personal fall arrest system.
Positioning System – A system of equipment and connectors that, when used with a body harness or body belt, allows a worker to be supported on an elevated vertical surface, such as a wall or window sill, and work with both hands free.
Travel Restraint System – A combination of an anchorage, anchorage connector, lanyard (or other means of connection), and body support to eliminate the possibility of a worker going over the unprotected edge or side of a walking-working surface.
Ladder Safety System – A system attached to a  fixed ladder designed to eliminate or reduce the possibility of a worker falling off the ladder. A ladder safety system usually consists of a carrier, safety sleeve, lanyard, connectors, and body harness. Cages and wells are not considered ladder safety systems.
Conclusion:
Bill will back on another episode to talk more about OSHA and their role in workplace safety which includes compliance enforcement but also includes education and compliance assistance.