101: Win $100 Amazon Gift Card and Dotcom Secrets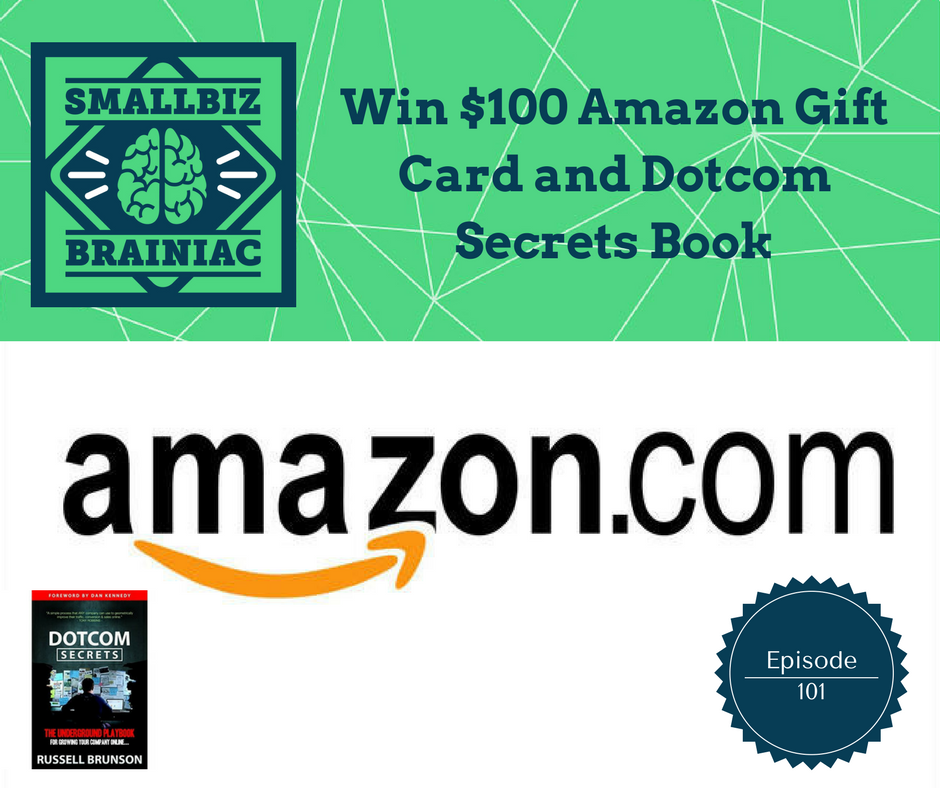 We need your feedback!  We'd like you to take a quick survey. It will only take you a few minutes.
Today's episode is special. It's just me today. There's no Robert, and no panel expert.
Instead, we want to tell you how you can win a $100 Amazon gift card and a copy of the amazing book Dotcom Secrets…. just for listening to this episode.
ClickFunnels:
But before we get to that, we want to tell you why we're doing this.
Attridge and I spent three long days Dallas, Texas last week at Funnel Hacking Live. This event is put on by ClickFunnels.
ClickFunnels is software platform that marketers use to create sales funnels, email campaigns, conduct webinars, create membership sites… and a whole lot more.
It's an incredible piece of software.
The company is owned by a guy named Russell Brunson and he has created a movement.
This movement, in a nutshell is, to generate sales online using funnels that replace your website and convert traffic into customers.
Brunson wrote a book about this called Dotcom Secrets. It's an incredible book!
I could talk about it for hours.
I don't care who you are, what business you're in, or what your job title is, this book is a MUST READ.
In fact, he has a follow up book coming out next month called Expert Secrets and I can't wait to get my hands on it.
But what does this have to do with our podcast? Well, we use ClickFunnels to grow our business and we'll soon be offering to help you grow your business online using this software and the strategies taught in both the Dotcom Secrets book, and the soon-to-be-released follow up.
So, that's why I wanted to mention it.
We need your feedback:
The main purpose of today's episode is to ask you for your opinion.
We need your feedback!  We'd like you to take a quick survey. It will only take you a few minutes.
We're trying to find out if you like the new format with the panel expert or if you prefer the old shorter lecture format. Or, maybe you like both and we should do one episode of each format, each week.
We want to know if we are talking about the things that are important to you.
And, this is how you can win the $100 Amazon gift card we are giving away! Could you use a $100 Amazon gift card? Of course you can!
Just go to smallbizbrainiac.com/feedback for a link to the survey form where we're asking a few questions. Do it Before the end of the day on March 3rd, and you'll be entered into the drawing to win the $100 Amazon gift card.
We will announce the winner on the next episode on March 6th.
Leave an iTunes review:
iTunes reviews of our podcast are super important to how the show ranks in the store. The more positive reviews we have, the higher we rank and the more people can find us.
So, we are asking you to leave a positive review. If you hate the show, don't leave a review. Negative reviews don't help.
Hopefully you don't hate the show, but if you do, and you want to tell me, then go to smallbizbrainiac.com/feedback and fire away.
If you go to iTunes and leave a review between now and March 6th, you'll be entered into a drawing to receive a copy of Russell Brunson's book Dotcom Secrets.
And you know what, the information in this book is more valuable than the Amazon gift card by a long shot!
Well, you could buy the book with the Amazon card for $12, get all the valuable knowledge, and still have $78 left so the Amazon gift card is more valuable, depending on how you spend it.
Free HR:
There's something else we want to tell you about, and this is huge!
For the next 5 days we are offering 1 year of free HR services to the first 10 companies that sign up.
Yes, you heard that right….free HR for 12 months. That's a $3,588 value because we normally charge $288 a month for this service.
But, we're only making this available for 5 days and we only have 10 open slots. So, if you're interested, you need to sign up now.
There are however certain qualifications. You must have at least 5 employees but no more than 25, and this is for U.S. based employees only.
We provide the service using Slack. You may have heard of it, in fact you may already use it. Slack is a team communications tool… it's a pretty cool app. Even if you don't sign up for the Free HR service you should check it out.
So we'll use Slack to communicate back and forth on issues in real time. We're also able to share documents and initiate calls right from within the app.
When an issue surfaces, a thought crosses your mind, or a question pops up, just open Slack on your smart phone, tablet or computer, and choose the "channel" you want to communicate with us on. You'll learn about channels during the orientation.
We'll answer your questions, provide advice, guidance and direction based on our extensive experience, constant research, and network of subject matter experts.
To sign up, go to smallbizbrainiac.com/feedback to complete the questionnaire and after you submit it, a thank you page will appear with the link to the website where you can sign up for the Free HR.