106: The Equal Pay Train Arrives In Puerto Rico After Brief Stop In Philadelphia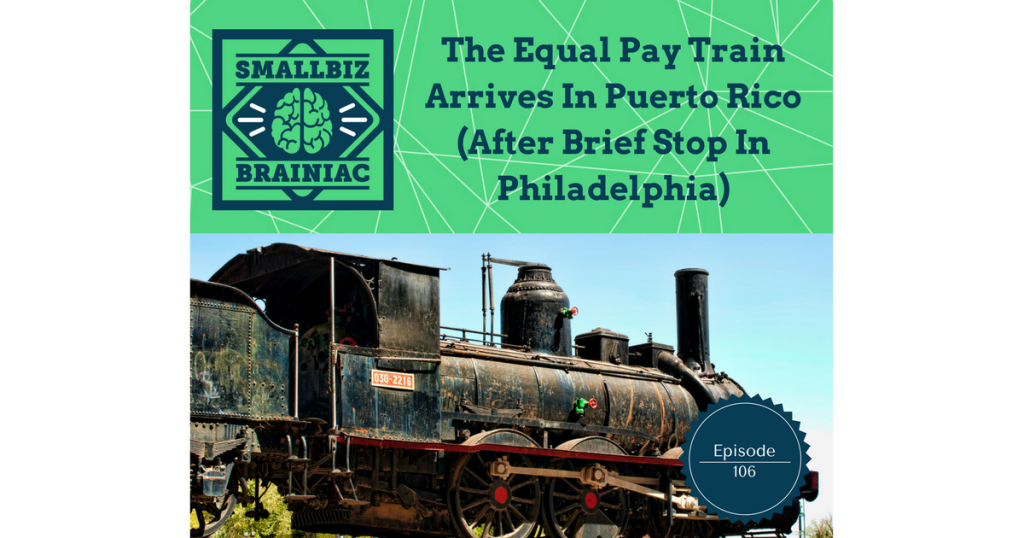 A new breed of state equal pay laws have been passed, and now Puerto Rico has joined the likes of California, New York, Maryland, and Massachusetts.
Labor Transformation & Flexibility Act:
The Commonwealth of Puerto Rico passed a major labor law reform bill earlier this year called the Labor Transformation & Flexibility Act.
There were a lot of good changes in the new law including the repeal of some old restrictions on retailers who are open on Sunday and making it easier for employers to rely on independent contractor status.
Puerto Rico has laws requiring the payment of double time for any work on Sunday during the mandatory "closing hours" and a minimum wage of $11.50 and hour for non-exempt employees for all other Sunday hours worked. And of course, there are certain business who are exempt from these laws already.
Other things like the definition of a work week, and the requirement for meal periods, vacation time and Christmas bonuses were relaxed, as a result of the new law.
However, it isn't without it's problems. Several of the new improvements are only effective for employees hired after the new Act was signed into law.
For example, when it comes to the mandatory Christmas bonuses, employees hired after enactment of the law, must be paid bonus of 2% percent of their earnings of up to $10,000….so that's a $200 max bonus per employee.  To qualify, the employee must have worked 1,350 hours between October 1st and September 30th.
But, for your employees hired before enactment of this new law, you must pay them 6% of their earnings up to $10,000, so a max bonus of $600, and the hours worked requirement is 700.
That's a pretty significant change. And now you'll have to track two different bonus plans.
Now that example applies to employers with 15 or more employees. For less than 15 employees the new bonus rate is also 2% (down from 3%).
So, Puerto Rico is the closest thing the U.S. DOL has to it's dream of mandatory vacation, sick, and maternity leave.
Non-exempt employees meeting certain requirements must be given 15 paid vacation days, 12 paid sick days and 8 paid weeks of maternity leave. However, as I mentioned the vacation time requirement has been reduced and staggered depending on years of service but I don't know what the new accrual formula is yet, but current employees are grandfathered in their current benefit.
The envy of the DOL?
So why aren't politicians, celebrities and social engineers throughout the rest of the county pointing to Puerto Rico as the shinning example of how to "lead on leave" as then Secretary of Labor Tom Perez said in 2015?
Could it be that starting a few short years after the minimum wage, vacation and sick leave laws were passed in 1998, the young unskilled workers in Puerto Rico were forced to move to the mainland to find work, further dragging down the economy?
Even though Puerto Rico's economic problems are not all because of one law, a Pew Research Center report on negative net migration demonstrates that these labor laws have certainly contributed to it.
In fact, a 2015 report commissioned by the Puerto Rican government, had this to say:
"Puerto Rico has advantages it can parlay into market confidence and durable growth IF decades-old policy failings are fully addressed."
And the first policy area they mention, is labor costs. The reports says:
"Restoring growth requires restoring competitiveness. Key here is local and federal action to lower labor costs gradually and encourage employment (minimum wage, labor laws, and welfare reform)."
Puerto Rico Equal Pay Act:
It's just too bad that the improvement trend didn't last long because Governor Ricardo Rosselló, signed the "Puerto Rico Equal Pay Act." Act 16 – which was passed earlier this month, on March 6, 2017.
So, despite the fact that it's been illegal to pay women less than men for equal work since the Federal Equal Pay Act of 1963, all but 2 states have supplemented that federal law with other state laws, even if those other state laws were just a reinforcement of the federal law without any substantial modification.
But over the past few years, a new breed of state equal pay laws have been passed, and now Puerto Rico has joined the likes of California, New York, Maryland, and Massachusetts.
Philadelphia's Wage Equity Ordinance:
And starting around May 23, 2017, the City of Philadelphia's new wage equity ordinance will take effect. Yes, add equal pay to the list of labor laws taking root at the city level.
Philadelphia Mayor Jim Kenney signed the wage equity ordinance on January 23, 2017. Philadelphia employers are now prohibited from asking job applicants to disclose their salary history.
Since this is the first time I've brought this up, let me dive just a little deeper before we get back on track with Puerto Rico:
Under Philadelphia's Wage Equity ordinance, it is an unlawful employment practice for an employer, employment agency or employee/agent of an employer/agency to:
Ask a job applicant, in writing or otherwise, about his or her wage history;
Require disclosure of wage history;
Condition employment or consideration for an interview on the disclosure of wage history;
Retaliate against a job applicant for failing to disclose his or her wage history; or
Rely on a job applicant's wage history from a current or former employer to determine the wages for that individual at any stage of the employment process.
Back to Puerto Rico:
So, just like the Federal Equal Pay Act, Puerto Rico's Equal Pay Act says you can't pay one person less than another person, based on their sex, where they are working in positions that require equal skill, effort and responsibility and performed under similar working conditions.
You can pay two people of the opposite sex differently where such payment is made pursuant to (i) a seniority system; (ii) a merit system; (iii) a system which measures earnings by quantity or quality of production; or (iv) a differential based on any other factor other than sex.
Can't Ask About Salary History
So, just like Massachusetts, New York and Philadelphia, you can't ask an applicant about their past salary history until after you've offered them a job, negotiated their pay, and put that offer in writing. The applicant could always volunteer the information before that, but you can't ask for it… sounds familiar.
Pay Transparency
You can't prohibit your employees from discussing their salaries among themselves or even with applicants, except for managers or human resources personnel.
You can't retaliate against an employee who discloses their own salary or discuss salaries with other employees
Remedies and "Self-Evaluation Mitigation"
If you break this law and get caught you'll have to pay back wages and an equal amount as a penalty. Double compensatory damages also are available as remedies.
The additional back pay penalty can be waived if you can show that in the year prior to the salary claim, you voluntarily undertook a "self-evaluation" and made reasonable efforts to eliminate pay disparities based on sex.
The Puerto Rico Secretary of Labor is tasked with preparing and distributing uniform guidelines for employer self-evaluations.
The penalty provisions take effective March 8, 2018. So, if you are a Puerto Rican employer, I suggests you keep an eye out for the guidelines and you perform a self-evaluation.
There is no Wage Gap:
If you listed to episode 52 and 53 you know that I don't buy into the wage gap myth. If you want to hear my fact based argument, please go listen to those episodes. And for even better proof, watch PargerU's video, "There is no Gender Wage Gap". I've put two links in the show notes:
In a nutshell, there is no wage gap when you take the facts into consideration. The facts about the difference in the CHOICES men and women make when it comes to occupations, positions, education and hours worked.