110: How To Interview Like A Pro – Part 3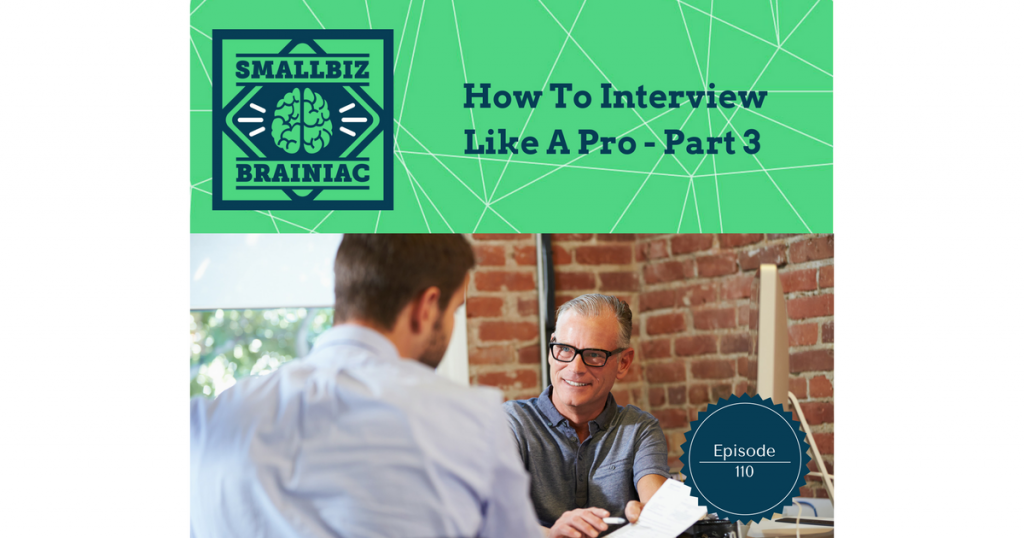 If I was the candidate and had a few interviews lined up, and one of them sent me a pre interview guide, I would look at that employer a lot more favorably.
In part 1, on episode 107, we learned how to prepare for the interview and in part 2 on episode 108 we learned how to come up with awesome interview questions.
And on today's episode, we're going to wrap it up by learning how to conduct the interview.
Conducting the interview:
Now that you've completed all the pre-interview prep, what can you do to make the interview a great experience for your candidate and a success for you?
How about helping your candidate prepare?
Consider emailing them an interview guide a few days before the meeting. This will help them feel less anxious and better prepared.
The guide could include information like:
Date, time and location.
Position and job description
Name of the person conducting the interview.
Anticipated location of the interview – I'm talking about which office or conference room.
Estimated length.
Sample questions or a list of the categories you're going to be asking them about.
I think this is a great idea, not only because you're helping the candidate feel more prepared and less anxious, it's going to separate you from the competent making you look organized, professional and most importantly, you'll come across as an employer who cares about their employees.
Right? If I was the candidate and had a few interviews lined up, and one of them sent me a pre interview guide, I would look at that employer a lot more favorably.
Create a relaxed environment:
Try to make the interviewee as comfortable as possible. Start off with some small-chat and into the intro questions we talked about in Part 2. Give them a brief history or the company and let them know there will be time at the end for them to ask you questions.
Take notes:
You should take a few notes to help you remember the interview, and you should tell your candidate that you'll be taking some notes. Tell them you're doing this so you'll have better recall later. They'll understand and they won't be so nervous about what you're writing down, but make sure they can't see what your writing. Keep the note taking to the essentials, and if they happen to voluntarily disclose information that you wouldn't ask due to discrimination concerns, don't write that stuff down.
Taking notes is also critical for comparing candidates. It helps so you don't place too much importance on how the candidate performed vs their answers and qualifications. Sometimes the best employees aren't the best interviewers.
Develop rapport:
A great way to establish rapport is to find things you have in common. Make this part of the initial conversation. You can identify some possible areas of common interest when you're preparing for the interview and going over their file. You might find some common ground from their social media. I wouldn't come right out and say "I saw on Facebook that you visited Alaska last summer, I use to live in Juneau." You could say "I love to travel, have you had the chance to do much traveling?"
That might seem like an odd questions but you have inside intel…  you already know they've traveled.
Discovering and discussing mutual interest is a great icebreaker technique that will help both of you.
Don't monopolize the conversation – you need to listen:
But be conversational but talk too much or you won't get the information you need to make a hiring decision. Plus, the candidate's going to think you don't give crap about them.
Listening isn't just an interview skill – you should always concentrate on what others are saying to you. Really concentrating on what's being said will help you ID inconsistencies and ask better follow-up questions.
Be flexible:
Don't be so rigid that you don't ask follow up questions.  Which takes me to the next point, which is:
Make sure you are getting answers:
A lot of times questions won't be fully answered so you'll have to ask follow up questions and dig for it! Sometimes the gold has to be mined.
Maintain good eye contact:
and be aware of body language. Remember that verbal communication is a small percentage of effective communication so be aware of what is "not being said"…voice intonation or body language can reveal much information about a person.
Closing out the interview:
Ok, so you've had a successful interview, now let's close it out with a bang. You've got three objectives here and then one last thing after the candidate has left.
First, give them time to ask questions. Ask if there is anything else that they want to mention or talk about that they didn't have the opportunity to mention.
If your candidate doesn't have questions, than either you're a master interviewer or candidate is not interested in the job; or you stink at interviewing because you didn't create a hospitable environment, or your candidate is a dud.
Second, let the candidate know what they can expect next.. you're going to contact them 3 days with either a thanks but no thanks or they'll move on to the next phase i.e. some tests, or maybe a second interview or maybe the job offer. Whatever your process is, tell them. You don't want to leave them hanging by just sending them on their way wondering when or if they'll ever hear from you.
And finally, tell them thank them for their time and interest in the position, shake their hand and walk with them to the door or elevator.
However you end it, don't end by saying they were awesome and you hope they get the job or that they're the best person you've interviewed so far or promise them anything other than you'll do whatever it is you told them you'd do as part of the follow up.
All right. Now that that's over, you need to gather your thoughts, take any final notes and write a summary of how it went, what your impression is, what concerns you have and what their best qualities are. The more, the better because it will make reaching a final decision between multiple candidates that much easier.
Well that concludes our 3 part series on how to interview like a pro. I do want to leave you with an article written by Courtney Seiter and posted on the Buffer blog called 6 Powerful Communication Tips From Some of the World's Best Interviewers. There's a lot of great stuff in that article that will help make you a better communicator. So check out the show notes at smallbizbrainaiac.com for the link.