111: Reciprocity and Multi-State Taxation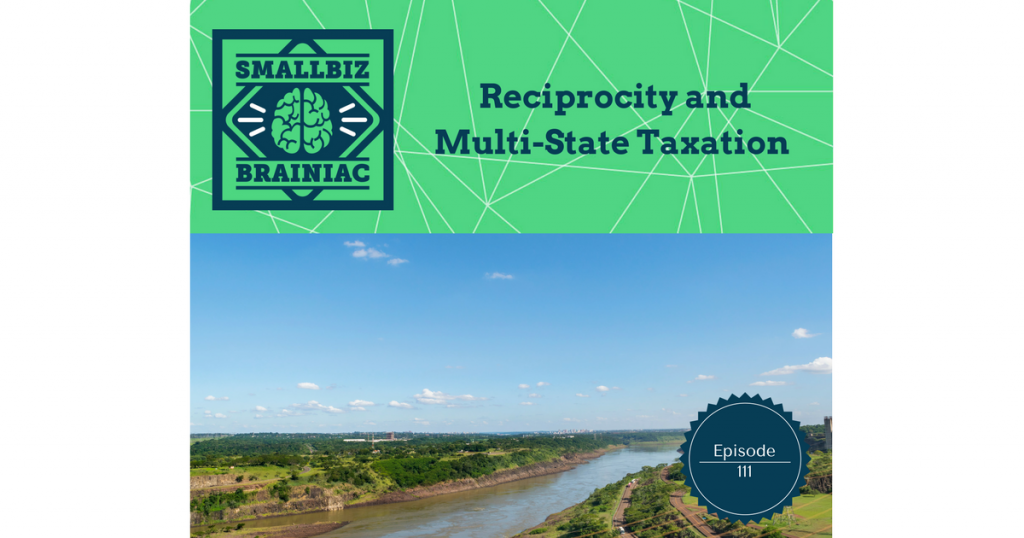 States generally have reciprocity agreements with neighboring states…but not New York.
Many businesses have, or will have at some point in their existence, a situation where one or more of their employees live in one state, but work in another state.  When it comes time to pay these employees, things can get a little confusing depending on the states involved.
Today I want to give a few pointers on how to take some of the confusion out of the equation it when it comes time to run payroll.
This scenario happens quite often all over the Unites States, especially in regions of the country where large metropolitan areas are near state lines.  Which state should you be withholding taxes for out of your employees paychecks?
For the answer to this question the best place to look is at the reciprocity agreements for the two states in question.
Reciprocity:
What is a reciprocity agreement? We all know the definition of reciprocity, right? The practice of exchanging things with others for mutual benefit.
States generally have reciprocity agreements with neighboring states that would be mutually beneficial to each other.  Meaning that your states residents can be exempt from my states taxes if you allow my states residents to be exempt from your states taxes.
A good example of this is the reciprocity agreement between New Jersey and Pennsylvania.  If you have employees that are residents of the great state of Pennsylvania, but they cross the river every day to go to work in New Jersey, then New Jersey is saying that it is ok to not withhold New Jersey state income taxes from those employees as long as you are withholding Pennsylvania income taxes.
The opposite is true as well. If your employees live in New Jersey and cross that same mighty Delaware River to go to work in Pennsylvania, then Pennsylvania says it's ok to not withhold Pennsylvania income tax and only withhold New Jersey income tax.
The reciprocity agreement between these two states allows for only the resident state income tax to be withheld from the employee. There is a form that employees need to complete in order to be compliant. For New Jersey, a certificate of non-residency, Form NJ-165 should be completed and retained by the employer. For Pennsylvania, Form REV-420, Employee's Statement of Nonresidence. These forms ensure that both the employee and employer are in compliance with the the reciprocity agreement.
There are many reciprocity agreements out there between various states that address the multi-state taxation issue for non-residents working in other states. That being said, not all states participate in a reciprocity agreement.
No Reciprocity:
We talked about Pennsylvania and New Jersey, but what about New York? Another state that borders New Jersey and has a lot of workers crossing state lines every day.  New York does not have any reciprocal agreements with any state.  What do you do then in this scenario?
Unfortunately for the employer, you need to withhold income taxes from both states. You will also need to maintain tax accounts with both states. Also, unfortunately for the employee, due to the lack of a reciprocal agreement, they will need to pay income taxes to both states. However, they will likely get credit for taxes paid to another state when they file their individual income tax returns and may be due a refund, or have that credit applied to their resident state tax liability.  They will need to file returns to both states however, which is an added expense and headache.
States without income tax withholding:
What if one of the states involved is a state that does not have an income tax? What if your employees live in Florida, a state that does not impose a state income tax, but they commute across the state line to Georgia for work?
In this scenario, you would need to withhold Georgia income tax from your employees pay. There are no reciprocal agreements with states that do not impose an income tax so you will simply withhold the tax for the state that has the tax.
Non-connected state reciprocity:
How about reciprocity between states that do not share a border?  This is probably the least common situation since it is unlikely that large numbers of workers are commuting to states not bordering their home state. However, there are some situations where this could occur.
Temporary or contract jobs do come up where workers may be sent to work in another state for a few weeks, or maybe even a few months. This can get tricky if the two states do not have a reciprocity agreement. You may need to withhold taxes for the state where the work is performed, or possibly both the work state and resident state. Again, the employee may be granted credit for taxes paid to another state when they file their individual income tax return.
Arizona for example has a reciprocity agreement with Virginia.  Let me check my map here real quick….just as I suspected, those two states do not border each other.
If your employee resides in Virginia and happen to work in Arizona, then through the two states reciprocity agreement, Arizona withholding would not be required. Form WEC, Withholding Exemption Certificate, should be completed and retained by the employer.
It can get confusing on which states taxes to withhold when dealing with multi-state taxes, but a quick reference of each states reciprocity agreements should clear things up for you.