115: Are you a Talent Hoarder?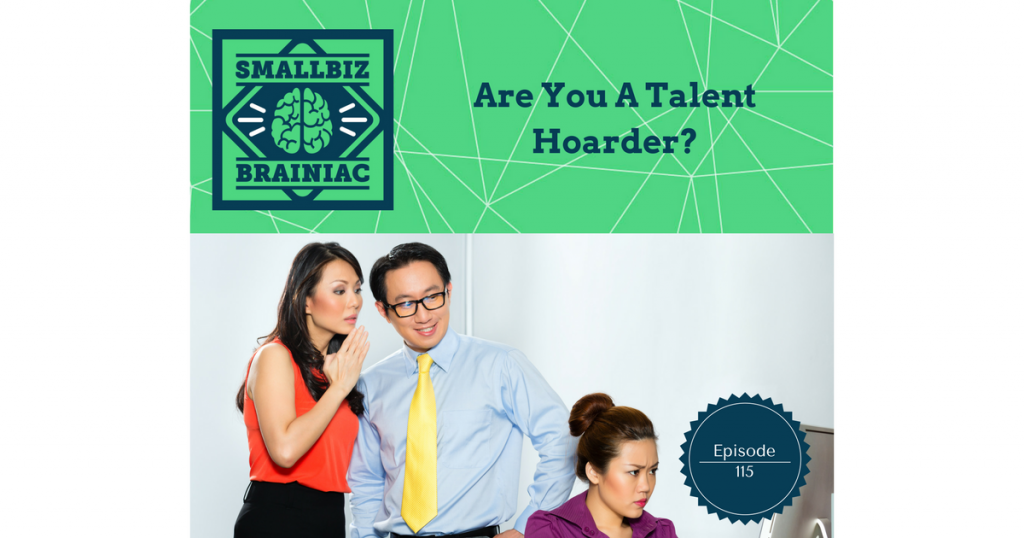 As a talent hoarder, not only are you hurting your employee's opportunity for growth, you may be harming the businesses' future potential.
Are you a hoarder?
I'm not talking about one of those people who collects so much "stuff" that you can barely get in the front door.  I'm talking about hoarding people? If so, you have a problem. You are what is now commonly referred to as a talent hoarder.
What is a talent hoarder? 
A talent hoarder is someone within your organization with the authority to prevent the upward mobility of specific employees because they feel they're too valuable to you in their current position.
I get why managers do this. I have been there. Both as a hoarder of talent and as a victim of talent hoarding. It might look something like this.
You have a specific position that falls under your realm of responsibility as a manger or supervisor. Perhaps you have had some difficulty finding the right person for that position. You get tired of dealing with all of the fallout created by having the wrong person in that position. Clients complaining, your bosses complaining, and constant calls for you to fix the problem.
Finally, one day, you hire a person that just might be the right fit. This employee quickly displays something different than all the others that preceded them. They grow into the position and before you know it, you're no longer dealing with all of those nagging issues you once dealt with.
But now you have a new issue. This employee clearly has separated from the other employees in terms of ability. They are clearly capable of doing more than the position asks of them. The employee expresses interest in doing more.  At first, you're thrilled that this employee has mastered their position and is now looking for more opportunity.
Quickly though, you are reminded of all of those issues you used to have to deal with in that position. Now you're not so quick to help look for these new opportunities. Internal job postings may come up and you might hide them, ignore them, or not recommend this person for the open position even though they are clearly qualified. You are now a talent hoarder!
Your employee deserves better: 
If your employee has outperformed their peers, or outperformed your expectations and there are opportunities, you as their manager, should not stand in the way of that persons progress. Your employee should not be punished for being great at what they were asked to do.
If you do stand in the way for too long, then a couple of things may happen that will not reflect well on you as their manager. That employee may grow tired of the position. They may become bored with it if they are not challenged. Also, that employee may grow to resent you for not helping them progress.
This will lead to the employee eventually becoming frustrated and either going around you to get noticed by others within the company, or they may just leave the company altogether. If you have a great employee, it is far better to assist with their growth within the company than it is to lose the employee to another company, quite possibly a competitor. Perhaps you don't have any growth opportunities for the employee at the moment. If that's the case, hopefully the employee is happy with the job and willing to wait for the next opportunity to arise.
Provide upward mobility:
As a talent hoarder, not only are you hurting your employee's opportunity for growth, you may be harming the businesses future potential. Finding talented employees, training and developing them and deploying them to other areas of the company is good for business, according to a study conducted by the Institute for Corporate Productivity.
The study goes on to say that prioritizing talent mobility directly correlates to higher market performance in areas that matter most to business leaders such as profitability, revenue, customer satisfaction, and market share. By talent mobility, they are referring to the developing and deployment of employees in other areas of the business.
It's all too common in many businesses to hire from the outside whenever there is an open position because managers don't want to disrupt the status quo. I have been guilty of this at times where I didn't even look internally to fill a position.
The best approach in my opinion is to promote or hire from within or, at least that should always be the first course of action when a position opens up.  If that position remains unfilled or there are no qualified candidates internally, then you fill that position with someone from outside the organization.
Chances are you will be hiring someone from outside the organization anyway since a position would be freed up for any employee that was promoted or transferred into a new position, but it's better to reward employees who have worked hard for you, than it is to look past them and hire someone else ahead of them.
Don't squander your investment:
Perhaps the biggest problem for your business, if talent hoarding becomes an issue, is one that I mentioned a few minutes ago. Your employee may grow frustrated with the lack of growth opportunities and decide to pursue their career elsewhere. This is a problem on multiple levels. Don't overlook the hidden costs associated with employee turnover. You are potentially losing years of experience when a frustrated employee leaves for other opportunities.
You invested time and money into your employee only to lose them when you could have possibly kept them in the company in some greater capacity.  Also, it will probably be no secret as to why they employee left.
Your company may start to gain a reputation of being labeled a "dead end" job. Not exactly what you want to be known for. You won't find yourself on any "top places to work" lists anytime soon, if you do.
Stop hoarding your talent!
It's never too late to start creating a culture within your business that promotes upward mobility. Management training or management incentives could be implemented to encourage the development of employees for the purposes of promoting within.
Your employees will be happier, and more likely to stay with you instead of searching for greener pastures elsewhere.