118: Get Ready For Mandatory E-Verify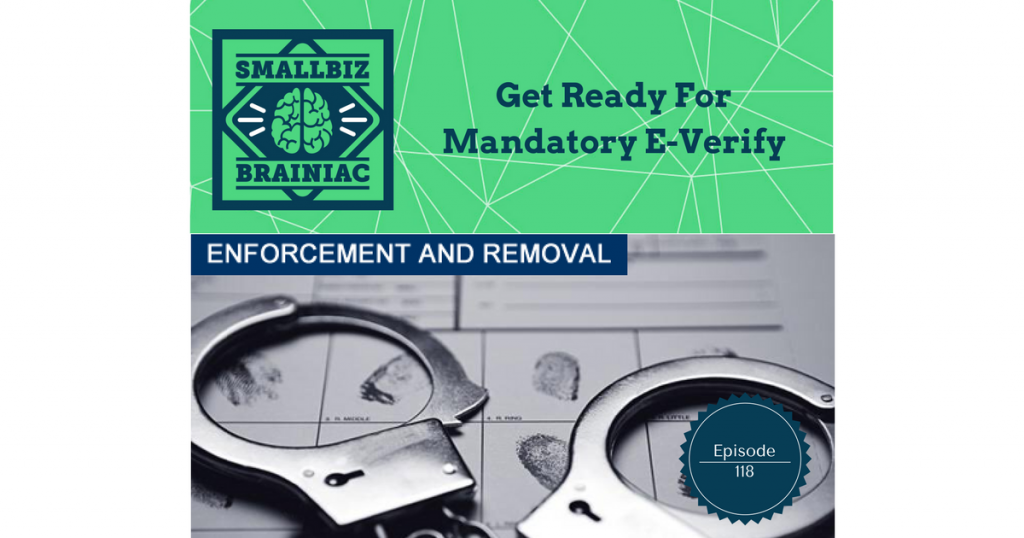 If enacted, the bill would require all U.S. employers to participate in E-Verify within one year of enactment of this Act.
Did you know that prior to 1986, employers were not required to verify an individuals employment eligibility status?
The Immigration Reform and Control Act (IRCA) of 1986 required employers to examine documentation from each newly hired employee to prove their identity, and eligibility to work in the United States.
This is what created the Form I-9.
The history of E-Verify:
E-Verifiy has been around since 1997 when, what was then called the Immigration and Naturalization Service (INS) and the Social Security Administration, launched the "Basic Pilot Program". It was a voluntary system only available in California, Florida, Illinois, Nebraska, New York and Texas.
That program allowed employers to confirm the work eligibility of their newly hired employees. But it wasn't automated. To verify your employee's I-9 information you had to call the SSA, and once the SSA information was confirmed, you would enter the I-9 data into a computer program which transmitted the data to the INS via a modem connection.
What a pain in the keister, right?
Well, in 2004 the pilot program become know as E-Verify and was now available on the internet.
E-Verify is currently run by the U.S. Citizenship and Immigration Services (USCIS) and Immigration and Customs Enforcement, otherwise known as ICE.
ICE is the audit and enforcement agency.
Employers in 22 states are subject to some form of mandatory E-Verify use. Nine of those states require all employers to use it.
In the federal governments fiscal year 2016 over 673,000 employers used the system. Out of the 16.4 million requests submitted that year only 1.04% were found to be unauthorized…that's just shy of 230,000.
For more information about E-Verify listen to episodes 30 and 31
Trump's executive order:
But now that Trump is President, he is pushing to require E-Verify nationwide, for all employers.
On January 23, 2017 a draft Executive Order surfaced called Protecting American Jobs and Workers by Strengthening the Integrity of Foreign Worker Visa Programs.
It says:
"Within 90 days of the date of this order, submit to the President a list of options for incentivizing and expanding participation by employers in E-Verify, including by conditioning, to the maximum extent allowed by law, certain immigration-related benefits on participation in E-Verify."
This Executive Order was never signed by Trump but there are other indications of his intent to expand E-Verify.
It aligns with his Campaigns 10 point plan to put America first, which said:
"Reform legal immigration to serve the best interests of America and its workers, keeping immigration levels within historic norms."
Ms. Montserrat Miller, a partner with Arnall Golden Gregory LLP in Washington, D.C., who advises employers on E-Verify compliance, said she expects legislation this year making E-Verify mandatory for all employers in the United States.
Trump's FY 2018 Budget Blueprint:
Maybe that's because the most telling action Trump has taken to expand E-Verify is his 2018 Budget Blueprint, which says:
Invests $15 million to begin implementation of mandatory nationwide use of the E-Verify Program, an internet-based system that allows businesses to determine the eligibility of their new employees to work in the United States. This investment would strengthen the employment verification process and reduce unauthorized employment across the U.S.
This isn't a guarantee. A lot has to happen yet for this to take effect, but the writing is on the wall.
Accountability Through Electronic Verification Act:
In April 2015, Senator Chuck Grassley of Iowa introduced the Accountability Through Electronic Verification Act of 2015. It didn't get anywhere then but it was reintroduced on January 20, 2017.
If enacted, the bill would require all U.S. employers to participate in E-Verify within one year of enactment of this Act.
You'd also be required to:
(1) use E-Verify to verify the identity and employment eligibility of any individual who has not been previously verified through E-Verify not later than three years after enactment of this Act,
(2) reverify the work authorization of individuals not later than three days after their employment authorization is due to expire, and
(3) terminate an employee following receipt of a final E-Verify non-confirmation and submit whatever other information the DHS determines would assist it in enforcing or administering U.S. immigration laws.
And then it gets nasty…
The bill says that the U.S. Citizenship and Immigration Services (USCIS) must report weekly to Immigration and Customs Enforcement regarding each person receiving a final E-Verify non-confirmation.
AND, it says the Social Security Administration, DHS, and the Department of the Treasury shall establish an information sharing program.
It would also allow allow you to verify individuals before they are hired, recruited, or referred… but only if the individual agrees. AND, it would eliminate the Form I-9 process.
"Businesses across the country have opted to use the E-Verify system to help comply with our immigration laws. E-Verify is a proven tool for employers, including myself, that helps reduce incentives for illegal immigration and safeguards job opportunities for Americans and other legal workers. Expanding the system to every workplace will improve accountability for all businesses and take an important step toward putting American workers first."
So, there's the campaign objective, the unsigned Executive Order, the E-Verify funds allocation in the 2018 Budget Blueprint and the reintroduced Accountability Through Electronic Verification Act.