119: Who Handles Your Payroll?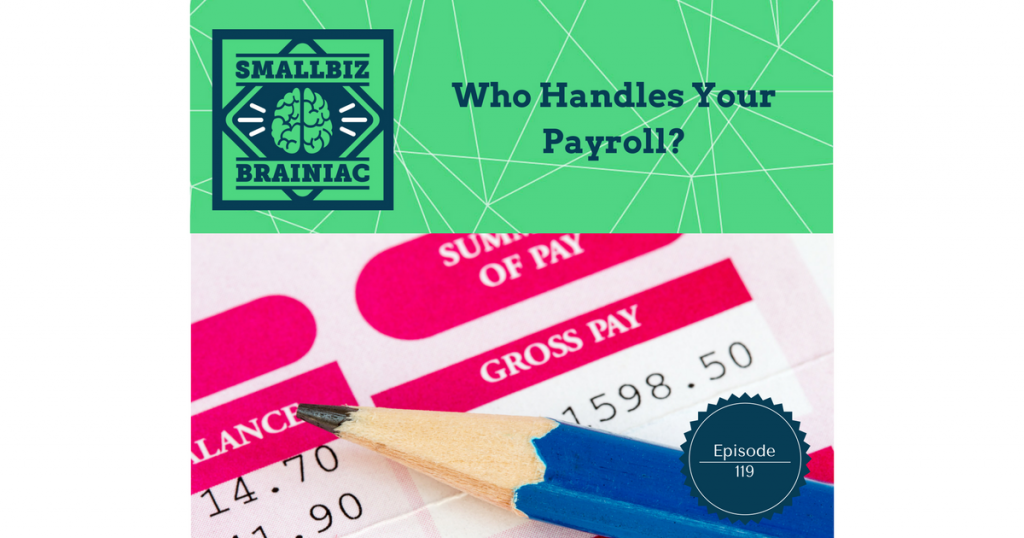 When hire your first employee you officially become a tax collector.
Do you know who handles your payroll?
Of course you know the name of the person or company that handles it, but how well do you really know them? I bring this up because far too often I see stories like this one that just came down this week.
Tax fraud stories:
According to an Associated Press article posted on usnews.com, the owner of a Pennsylvania based payroll company pleaded guilty to tax evasion charges in the theft of $5.3 million in payroll taxes from his clients. The 51 year old business owner who founded NEPA Payroll Services in 2004 pleaded guilty in federal court to 21 counts of tax evasion including under-reporting his own income for years.
It is reported that his plea agreement requires him to pay back the money. Authorities said in court documents that he prepared two sets of tax returns for one client, giving the client the set accurately showing the amount owed but filing a fake set to the Internal Revenue Service.
Or there is this story from the St. Louis Business Journal. The owner of a local payroll services company has been indicted for mail fraud and money laundering, after prosecutors allege he deducted money from his client's accounts for taxes, but failed to remit the funds for payment.
Prosecutors said between January 2005 and January 2014, the owner of Missouri based Paymaster Business Solutions Inc. drafted more than $2.7 million from clients' bank accounts to pay clients' federal, state and local tax bills, as well as FICA (Federal Insurance Contributions Act) obligations. But at his direction, allegedly failed to forward the payments to the tax authorities.
When he was contacted by the IRS and questioned about the clients' failure to pay federal taxes, he allegedly did not tell clients. If clients learned that Paymaster hadn't forwarded their funds to tax authorities, the owner allegedly lied to them and said the company made payments on their behalf.
You are responsible, not your payroll service:
I've worked in the payroll service industry for over 20 years and I would hear about these types of stories all of the time. What do stories like this mean to you? Should you be concerned about it if you have contracted with a payroll company to withhold and remit your payroll taxes? After all, you paid all of the tax monies over to your payroll company, so now it is their responsibility, right? Not so fast.
Like it or not, when a business hires it's first employee that business officially becomes a tax collector. It is the responsibility of the business as an employer to withhold tax monies from employees paychecks and turn those taxes over to the government. A lot of businesses opt to outsource this process through a payroll service provider or a professional employer organization.
The question is, by signing a service contract with a third party payroll provider is that responsibility now solely on the shoulders of the payroll provider, assuming all payments have been made by the business to the provider?  I am not an attorney, nor do I play one on television, but I have read about several scenarios over the years where courts have consistently ruled that withholding and remitting payroll taxes carries with it a non-delegable duty to ensure that those taxes are paid to the government.
My interpretation of this is that a business owner or officer of a company cannot assign away his or her responsibility to withhold and remit payroll taxes to another party. Sure, you can have anyone take over the task on your behalf, but ultimately you will be held responsible if the taxes go unpaid. If your payroll provider fails to pay your payroll taxes and ultimately is unable to pay them, then the IRS may come knocking on your door.
Handling your payroll in-house is not always the answer either. Their is no guarantee that you couldn't run into a similar issue with a payroll clerk or accounting team member that might fail to pay payroll taxes. In some instances, I have seen this actually turn out pretty bad. You may have improperly trained employees who don't know when tax deadlines are due. This could cause late payment or filing penalties that could quickly get out of hand. Not to mention, the additional costs of having enough staff to handle the extra workload.
 How can you protect yourself?
So what's a business owner to do? I do think using a payroll service provider is relatively safe and cost effective if you take the necessary precautions when choosing the right provider for you. You should always ask for confirmation that the potential provider is current on all tax payments. You should also always ask for references, and call those references. Ask them about their experiences with the provider. Have there been any instances or red flags that taxes may not have been paid timely?
A larger provider may be less likely to fail to pay your payroll taxes, however you may get a more personalized experience with a smaller provider.
There are steps you can take to identify if there might be a potential problem. For example, in the first story I shared with you today, the payroll provider made tax payments on behalf of it's clients, however they did not make the correct payment amount and filed false returns. Their clients could have flushed this out sooner if they were paying attention.
Its understandable that you want to be able to trust that the service provider you are paying a fee to is doing everything correctly. However, you should always take some initiative to validate what is actually happening. Have someone in your organization always reconcile the payments that have left your account against the payroll reports provided to you each payroll. Always get a copy of the quarterly returns. Validate the quarterly return copies against the payroll reports. Validate the copies against what was actually filed and paid to the government. You should be able to tie these numbers together. If not, you may have a potential problem.
Similarly, in the second story, the payroll provider debited clients bank accounts for tax payments, but then never remitted those payments to the government. By following the same steps just mentioned, you should be able to see that there is a potential problem. You should always maintain access to your online accounts with government agencies so that you can see the payment and filing activity.
EFTPS can help:
The IRS has also put out their own notice to employers several years ago stating that "when choosing a third party payer, employers should look for one that is reputable and uses the Electronic Federal Tax Payment System, also known as EFTPS. This allows the business owner to verify payments made on their behalf. Also, an employer should never allow their address of record with the IRS to be changed to that of the third party payer."
If you are unfortunate enough to find yourself in a situation where either someone in your organization or your payroll service provider has failed to pay any of your payroll tax liabilities you should contact a tax attorney immediately to begin reviewing your options.
Also, if you have been listening to SmallBiz Brainiac for a while, then you may recall that Thomas Rock Lindsay did a 6 part series on payroll taxes in which he discusses payments and penalties. Go back and listen to episodes 5 through 10 for more information regarding failure to pay and failure to file penalties.