121: Five Steps To Be A Better Leader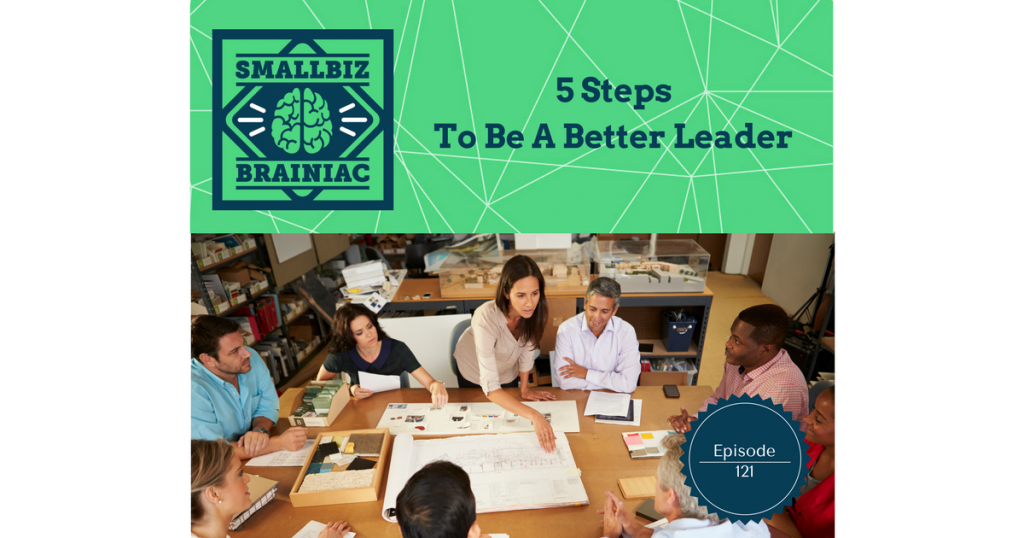 In order to be a great leader you have to make some tough decisions.
Hey everyone, welcome to episode 121, 5 Steps To Becoming a Better Leader.
I'm your host, Robert Attridge and this is the podcast that delivers employer intelligence two days each week in a short 7 to 10 minute episode.
My co-host, Thomas Rock Lindsay delivers the Tuesday show and I deliver the Thursday show each and every week.
If you have employees, then you are a manager. Perhaps you have hired someone to manage the masses, like a Human Resources professional, but you have to manage that HR professional. You can't completely assign away all of your manager responsibilities.
You might already be a great manager, but there is always room to reflect and improve. After all, you are human, right? Managers are essentially the leaders for their underlying employees. What are some attributes that help make a great leader?
Communication:
Communicating with your employees can sometimes be difficult. You need to find a way to effectively communicate with each of your employees. They should know that they can discuss with you any issues that they may be having. You should set aside time for them so that they have your undivided attention. Even in today's mobile and electronic world, in person conversations should happen. If distance is an issue, then a phone call may be necessary as opposed to an impersonal e-mail or text message.
You should also offer feedback to your employees. Blogger David Galic of humanity.com states that "offering feedback, whether it's criticism or praise, has practically become an art form. It's something that just about any manager can stand to improve on, simply because there are many fine lines that need to be tiptoed in the process.
No matter how you go about offering feedback, you need to make sure that it's constructive above all else. This is where you probably come to the finest line of all – the line between being overly critical and constructive." Make sure you are recognizing your employees positive attributes as well as some areas where you'd like to see improvement.
Also, properly updating your employees on relevant company issues will make your employees feel more included and part of the team.
Listen:
There are two parts to communicating.
There is the talking which we just went over, and then there is the listening.
Part of effectively communicating with your employees is to listen to them. Listen to their concerns. Listen to their ideas. Keep an open mind to their ideas. Sometimes their ideas may not be feasible, but on the other hand, you may get some great ideas that can really help effect positive change.
Also, when listening to employees concerns, exercise compassion. As Glenn Llopis, contributor to Forbes says "As leaders, we must balance our intensity and desire to perform with compassionate attention to our employees' needs. Being more mindful of another's stress and their tension points before they impact the business requires us to boost our emotional intelligence.
Listening is a leadership responsibility that does not appear in the job description. Those who do listen to their employees are in a much better position to lead the increasingly diverse and multi-generational workforce. The "one-approach-fits-all" way of thinking has become outdated and those who embrace the high art of listening are destined to be the better, more compassionate leaders."
Delegate:
You can't be an effective leader if you are chained to your desk. You should be more of a teacher and mentor to your employees instead of the one with your head down. I know this all too well from my own experience. I was terrible at delegating. I thought if I wanted it done right then I would have to do it myself.
The problem was that I had so much stuff to do that I could never actually complete anything with quality. If I had 10 things that needed to get done, I would soon find that I had 10 incomplete projects. I'd start on one, get stuck on something then move to the next project because I couldn't waste any time.
Pretty soon I would have 10 projects with different levels of completeness. None with any quality. I finally learned that I had some pretty smart people at my disposal that I could utilize to get things done. Not only that, they were happy to do it. Employees want to be challenged. You should delegate the tasks and oversee their work. Teach them. They want to learn. The good ones do anyway.
This actually makes you more valuable to your company as now you are developing higher quality employees. These employees can now produce a much better product because they have developed the proper skills.
Be decisive:
In order to be a great leader you have to make some tough decisions. You have to make some important and often times unpopular decisions. You need to make decisions confidently and be ready to be accountable for these decisions. Don't take big decisions lightly, but be confident in your decisions and own them.
Some decisions will backfire and you may need to answer for these decisions.  If it turns out to be the wrong decision, learn from it. Don't be afraid to admit you were wrong. Accepting the blame for a wrong decision is a strong quality in a leader. You shouldn't point fingers or shift the blame. You can't be indecisive because a decision has to be made. If you don't make the decision then someone else will.
Employees may start to make their own decisions on matters if their leader is indecisive. Those decisions may not be what you would have done. Or circumstances will dictate the decision leaving you without control of the situation. You want to have control over the matter.
Be the example:
Being a great leader should be one of your top priorities, if not the top priority. Be the example. Leading by example is the best way to gain your employees respect. Make sure you are displaying the persona or attitude that you want your company to have.
How you dress. How you treat clients. How you treat other people in general. How you approach your work. Employees look to their managers to set the tone. If you don't respect these basic tenets, it's going to be difficult for your employees to fully respect them. They may not even fully respect you!
If employees don't respect their leader, they probably won't respect their job much either. They may not be very willing to put in any extra effort when it's needed. Being the best example possible is going to show your employees that you care about the company.
You care about yourself. You care about your clients. You care about them! They will respect you for this. More importantly they will see you as their leader.