127: More Paid Sick Leave Laws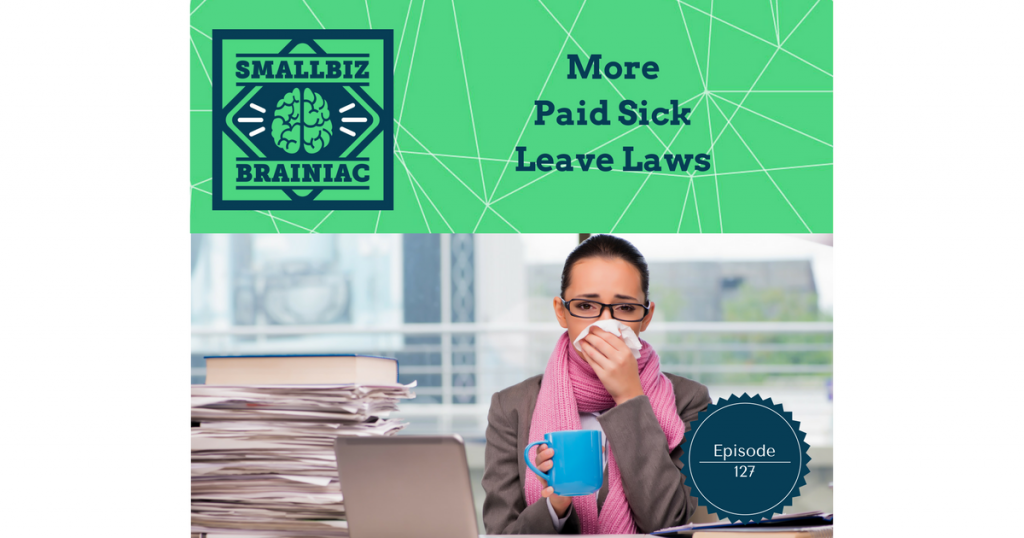 Mandatory paid sick leave comes at the expense of paid vacation time or other wages.
Last week I discussed the Washington D.C. Paid Leave Law with you. Today I wanted to continue on with the mandatory paid leave topic as it continues to be a hot item across the United States.
Again, we have covered this topic in a few past episodes. Please go back and listen to episode 46 , episode 102 and also last weeks episode 125 for more information on this topic.
I want to stay with this topic because there are some developments in the paid sick leave ordinances covering Pittsburgh, Pennsylvania and also a new paid sick leave ordinance for Georgia employers.
Pittsburgh paid sick leave:
Lets start with the Pittsburgh ordinance.
The city of Pittsburgh had passed the Paid Sick Days Ordinance back in 2015. The ordinance would require employers to provide any employee working within the city limits one hour of paid sick leave for every 35 hours worked by the employee. That works out to approximately 60 hours of paid sick leave over the course of a year.
An alliance of business groups challenged the ordinance, stating that the city didn't have the authority under state law to enact the Paid Sick Leave Ordinance. The business groups claimed that under the state laws of Pennsylvania, Pittsburgh is considered a "home rule charter municipality." According to the law, "a municipality which adopts a home rule charter shall not determine duties, responsibilities or requirements placed upon businesses, occupations and employers, except as expressly provided by the statutes which are applicable in every part of this Commonwealth or which are applicable to all municipalities or to a class or classes of municipalities."
Earlier this month, in a 6-1 ruling the Pennsylvania Commonwealth Court upheld the 2015 trial court ruling stating that the city of Pittsburgh did not have the authority to enact this legislation. Therefore, the Pittsburgh Paid Sick Days Ordinance has been deemed unenforceable.
The lone dissenting judge, Judge Joseph M. Cosgrove stated that "This case involves an effort to protect health and safety. That indeed is what municipalities are for. In exercise of the political power to do so, the present ordinance was enacted. If the people of Pittsburgh disagree with this action, they will address their dissatisfaction through the political process. It is not for this court to interfere." Despite Cosgrove's reasoning, the ruling was upheld.
The city of Pittsburgh plans to appeal the ruling to the Pennsylvania Supreme Court, according to a spokesperson for Mayor Bill Peduto. Important to note is that this ruling does not affect other paid sick leave ordinances that may be in effect elsewhere in the state, such as Philadelphia's paid sick ordinance.
Georgia Family Care Act:
Georgia on the other hand now has their own paid sick leave law after Governor Nathan Deal signed into law Senate Bill 201. Many small businesses feared the passing of a mandatory paid sick leave bill that they simply could not afford. However this bill, known as the Family Care Act,  is different from any that we have seen passed in other states. In fact, there is no mandate on small businesses to provide paid sick leave with the signing of this bill if they do not currently provide sick leave.
Instead, only employers that already provide sick leave should now allow employees to use the paid sick time to care for sick family members and not just the employee themselves. The law takes effect on July 1, 2017, so if you're a Georgia employer and have a sick leave policy you'll need to make sure your policy states that the time can be taken for personal care or care of an immediate family member.
To be eligible an employee should work for an employer with at least 25 employees and the employee should work a minimum of 30 hours per week. The law allows for any eligible employee to utilize their employers current sick leave policy to care for immediate family members which are defined as the employees child, spouse, grandchild, grandparent or parent or any dependents shown on the employees most recent tax return.
No employer penalty?
This is definitely the most lenient paid sick leave law we have seen passed recently as the law does not appear to hold the employer accountable for any violations of this law. There is no penalty provision or enforcement outlined in the law.
In fact, the laws language specifically states that "Nothing in this Code section shall be construed to create a new cause of action against an employer." So that is good news for employers, but it begs the question as to how effective this law will be if there are no repercussions for non compliance, other than decreased employee moral perhaps.
I have to admit, this is kind of a strange law since it appears that there is no interest in enforcing it. It seems like the bill sponsors are not "all in" on this idea and maybe they are just testing the waters. Perhaps this section of the bill supports my theory.
The final line of section 1 of the bill states that "This Code section shall be repealed in its entirety on July 1, 2020, unless extended by an Act of the General Assembly. The law is designed to be repealed in three years unless some action is taken to extend it's life. At that time perhaps some changes are made to the bill to add enforcement if it is to remain in effect.