131: Certified Payroll – The Davis Bacon Act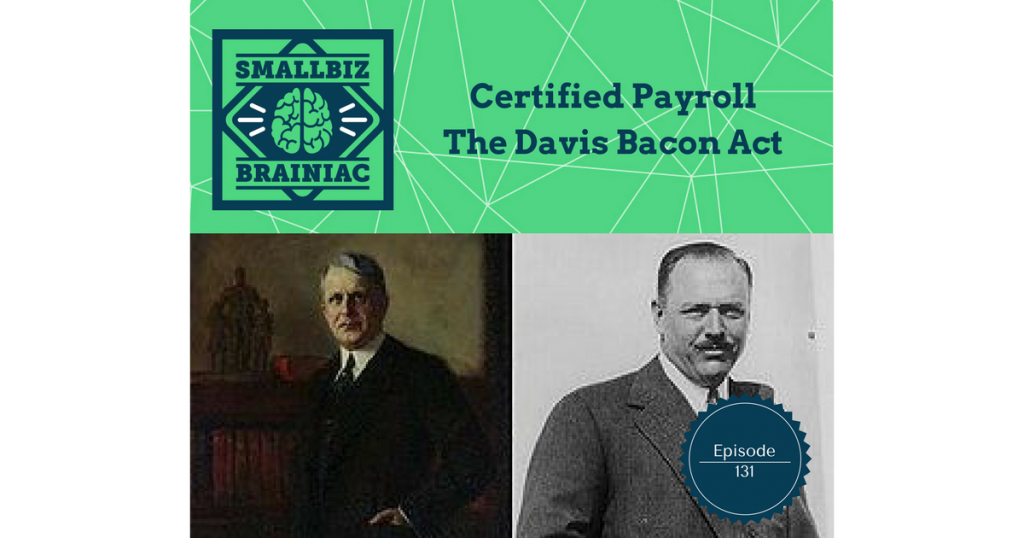 Davis Bacon Act – Just another stupid federal law with major unintended consequences like pricing out smaller contractors and taxpayers overpaying for services. 
Today I wanted to discuss certified payroll and how it differs from your normal everyday payroll practices. First of all, what is meant by certified payroll?
Generally speaking, certified payroll occurs whenever your company contracts with the federal government on a project. The federal contract dictates certain requirements that you'll need to follow in order to maintain the contract. Local governments may also require certified payroll on local projects.
While local certified payroll requirements are generally similar to the federal requirements, for the purpose of today's podcast I'm going to speak to the federal requirements for certified payroll. But first, let's discuss how certified payroll requirements came to be.
Davis Bacon Act:
In 1931, a senator from Pennsylvania named James J. Davis co-sponsored a bill along with Long Island, New York Representative Robert L. Bacon. Congress quickly approved the bill and President Herbert Hoover officially signed it into law creating the Davis-Bacon Act of 1931.
The law was designed to require any contractor or subcontractor working on a federally funded or "public works" project to pay a "prevailing wage" to its laborers or mechanics. The prevailing wage is established by the Department of Labor & Industries for each trade and occupation.
This all sounds nice, right?
A prevailing wage would typically mean better pay and/or benefits for employees. Interestingly though, there has been a lot of controversy surrounding the Davis-Bacon Act since its passage. Critics say the prevailing wage provision often results in a "higher than market cost" to taxpayers since the Department of Labor generally sets the prevailing wages 22% higher than market rate, according to a Beacon Hill Institute study.
This prices out smaller contractors and tends to give an advantage to larger contractors who can afford to pay the higher wages. Perhaps, or perhaps not coincidentally, these larger companies tend to have a larger percentage of unionized employees. This has led to many historical claims of it being a racist law preventing minority workers from gaining employment since they were less likely to belong to unions.
We could go off on that tangent and dig even more into the history, but we don't have enough time for that. I recommend you look back through the history of the passing of this law. The original iteration of the law has been amended many times over the years, and even recently has had calls to be repealed. As of today the law is still on the books, but it's definitely something to keep an eye on in the near future, as there seems to be more noise around this law.
Certified Payroll Requirements:
Let's say you bid on a government job to renovate a public building and you're subsequently awarded the contract for the project. Now you have a certified payroll to deal with. Typically in the contract you will be notified of the prevailing wage requirements for each type of laborer. Meaning that your electricians should be paid at cash wage of $XX.XX per hour, your carpenters should be paid at $YY.YY per hour, and your plumbers should be paid at $ZZ.ZZ per hour.
Also watch out for the stipulations on overtime. I have seen some contracts dictate that all overtime be paid as doubletime. More than likely you will have fringe benefits that will also need to be paid. Fringe benefits may include things like health insurance, paid time off, retirement contributions, etc. There may be a stipulation that will allow you to pay a cash equivalent in lieu of the non-cash fringe benefit.
One of the most important details of the certified payroll process is properly tracking each employee's hours worked by job, by day. The reason you will need to keep such detailed time tracking records is the fact that you will need to report this information back to the appropriate federal agency managing the project. The information requested on Form WH-347 is mandatory for contractors and subcontractors performing work on Federally financed or assisted construction contracts.
The Davis Bacon Act also requires a signed "Statement of Compliance" indicating that the payrolls are correct and complete and that each laborer or mechanic has been paid not less than the proper Davis-Bacon prevailing wage rate for the work performed. Department of Labor and federal contracting agencies review the information to determine that employees have received the legally required wages and fringe benefits.
Plus, the "anti-kickback" section of the Copeland Act supplements the Davis Bacon Act by requiring you to furnish a weekly statement on the wages paid each employee during the prior week. The Copeland Act was passed to stop you from inducing an employee into giving up any part of their compensation. A Senate Subcommittee discovered that up to 25% of federal money paid for labor under prevailing wage rates was actually being given back by the employee as a kickback for their employment.
Form WH-347 was created by the Department of Labor to assist contractors with reporting certified payroll information. The form must contain the name and address of the contractors place of business as well as the name and address of the project location. It must also contain the assigned contract or project number. Additionally, each employee that worked on the project during the preceding week must have their name and employee number, along with:
Their trade (Electrician, Mechanic, etc.)
Number of hours worked by day
Total number of hours for the week
Gross pay
Tax withholdings
Qualified deductions
Net amount of wages received by the employee
The statement of compliance that I just mentioned a moment ago, along with the signature attesting to the accuracy of the information, must accompany this reporting.
If any of this gives you anxiety, or your thinking to yourself, this is quite the burden to manage. Most payroll services should be able to produce the certified payroll reporting that you'll send to the federal agency.