132: OSHA Claim Reporting Retaliation & Post Accident Drug Testing Rules – Part 1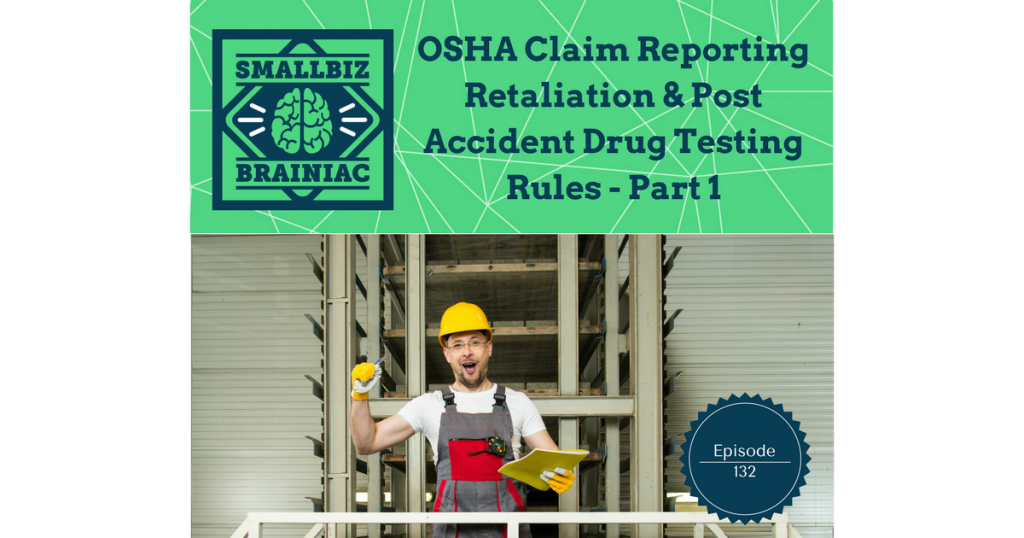 OSHA calls this new power an "important new tool" to ensure employers maintain accurate records.
Effective January 1, 2017, OSHA's new Recordkeeping rule took effect. There are two main parts to the new rule. I told you about the Recording and Reporting part in episode 89 on December 6, 2016, but I didn't cover the claim reporting retaliation and post accident drug testing aspects of it.
So, that's what we'll learn about today, on this episode of SmallBiz Brainiac.
Three New Provisions:
One of the goals of OSHA's Recordkeeping rule is to improve the completeness and accuracy of your claims data.
OSHA says when workers are discouraged from reporting work-related injuries and illnesses, the information is incomplete and inaccurate. So, they've added three provisions to the Recordkeeping rule which they hope will accomplish this goal.
Remember on episode 130 when I went on a rant about the many ways new laws are created? Well this is a good example. The recordkeeping rule adds new requirements and punishments to an existing rule which is part of an existing law thereby expanding the law which is the same thing as creating new laws.
Here are the three new provisions:
The first one wants to make sure your claim reporting procedures are reasonable so they don't deter or discourage your employees from reporting a work-related illness or injury.
The second one forces you to let your employees know they have a right to report a claim, without you taking any sort of negative action against them. In other words, retaliation.
And the third provision actually prevents you from retaliating against your employee if they do report a claim.
Claim Reporting Procedures:
Even before the new recordkeeping rule was implemented, you were required to have "reasonable" claim reporting procedures. And now the procedure is not reasonable if it would deter or discourage a "reasonable employee" from accurately reporting a work-related illness or injury.
How's that for clear? The rule doesn't identify specific procedures that are either reasonable or unreasonable. They just give you some things to think about, like: does your procedure take into consideration claims that have built up over time? For example, an employee twists their ankle but doesn't realize it's sprained until the next day. If your procedure requires immediate reporting then you're in violation of this new provision.
I guess OSHA is saying the employee might lie about when the claim happened so they don't get in trouble for not immediately reporting it.
Another example of a violation is if you made reporting a claim so hard or complicated that a "reasonable employee" would be discouraged because you make them employee travel a "significant distance" to report the claim or, they have to report it multiple times to multiple levels of management.
So we have what's a reasonable procedure. What's a reasonable employee think, and what's a significant distance?
But don't worry, these things will become more clear as they get litigated.
Right to Report Free From Retaliation:
The second provision requires you to make your employees aware of the fact they have a right to report a claim without retaliation. You can comply with this provision by either posting the current version of the OSHA poster or by sending your employees an email or letter.
The OSHA poster says: "All workers have the right to: Raise a safety or health concern with your employer or OSHA, or report a work-related injury or illness, without being retaliated against.
That rule is straightforward.
No Retaliation for Reporting a Claim:
The third provision is another situation where a rule already exist, but it's being expanded. The previous rule specifically prohibits you from retaliating against your employee for reporting a work-related illness or injury.
But, OSHA supposedly learned some facts during the comment period for the new Recordkeeping rule which have caused them some concerns, so they threw in this provision to deal with them.
Again, you already can't fire someone or discriminate against them for reporting a fatality, illness or injury. But OSHA can't do anything about it unless an employee files a complaint within 30 days of the retaliation.
Now, if OSHA finds evidence that an employee has been retaliated against, they're able to cite you for it even if the employee doesn't file a complaint.
OSHA calls this new power an "important new tool" to ensure employers maintain accurate records, because now they can protect workers where those workers won't speak up for themselves.
And there you go… that's the real change OSHA was looking for.
What's an adverse action? We don't know for sure. There's nothing specific in the rules, just some examples to hopefully help you out.
After all, it's important OSHA leave certain things undefined… open-ended, so they can unilaterally decide later if you did something retaliatory or not.
But we'll have to get into those details on next Tuesday's episode.