134: OSHA Claim Reporting Retaliation & Post Accident Drug Testing Rules – Part 2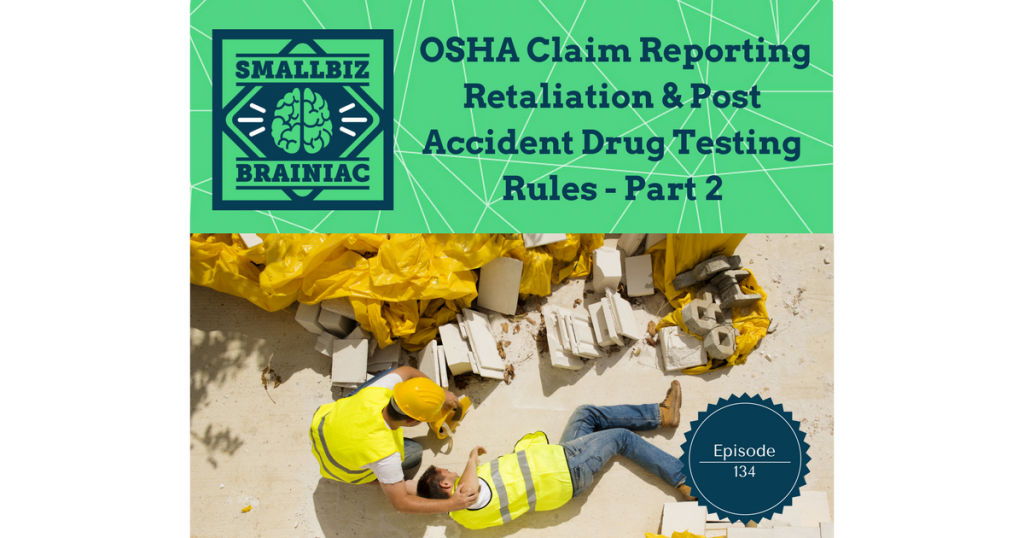 OSHA says a post accident drug testing policy which 

deters and discourages employees from reporting a claim is illegal.
In part 1, I introduced you to the 3 new provisions in OSHA's recordkeeping rule that took effect on January 1, 2017.
On this episode we'll learn more details about the provision that prohibits you from retaliating against your employee for reporting a claim. Specifically, how your drug testing policy is impacted.
Post Accident Drug Testing Limited:
OSHA is afraid that a blanket post-accident drug testing policy will cause some employees to not report a claim or maybe not accurately report it.
Because, what if they took drugs or had a few beers before the accident and thought, for some silly reason, you might frown on that. Seeing as how you have a drug free workplace policy and how much you're always harping about safety.
So, without outright prohibiting post-accident drug testing, OSHA just says a policy that deters and discourages employees from reporting a claim is illegal.
It's not that big of a deal because all you have to do is make sure there is an "objectively reasonable basis" for the test. In other words, a reasonable possibility that if your employee was on drugs or had consumed alcohol that such use, you know, could have contributed to the accident. Oh, and you'll need to be sure the drug test will be able to accurately identify the impairment. You can't go off testing for drugs that you can't conclusively say contributed to the employee's behavior, and currently available tests are generally unable to establish a relationship between impairment and drug use.
But hey, if you've got those bases covered, well then go right ahead and have them drug tested.
Otherwise, if you don't know, and you test them, that could constitute retaliation, and that would be illegal.
For information on various drugs' effects on human performance, see National Highway Traffic Safety Administration – Drug Human Performance Factsheet
Actually, I may be making it sound too easy.
Let's say your employee is injured by some boxes that fall off a pallet just after being set down by a forklift after being wrapped by another employee. If you don't test the forklift driver and the person who wrapped the pallet, even thought they weren't injured, if you just test the injured worker, OSHA might say that was unreasonable.
But again, OSHA doesn't leave you in the lurch, scratching your head. They offer several examples you can read and hopefully find one that fits your circumstance so you can make the call before it's too late. I'm just going to share two.
Scenario 1: Employer required Employee X to take a drug test after Employee X reported work-related carpal tunnel syndrome. Employer had no reasonable basis for suspecting that drug use could have contributed to her condition, and it had no other reasonable basis for requiring her to take a drug test. Rather, Employer routinely subjects all employees who report work-related injuries to a drug test regardless of the circumstances surrounding the injury. The state workers' compensation program applicable to Employer did not address drug testing, and no other state or federal law requires Employer to drug test employees who sustain injuries at work.
Did the employer violate the provision?
Answer: Yes. You can't take adverse action against employees simply because they report work-related injuries. Rather, employers must have a legitimate business reason for requiring a drug test, such as a reasonable belief that drug use contributed to the injury. If drug use could not reasonably have contributed to a particular injury and the employer has no other reasonable basis for requiring a drug test, section 1904.35(b)(1)(iv) prohibits the employer from drug testing employees simply because they report injuries unless the drug test is conducted pursuant to a state workers' compensation law or other state or federal law.
Scenario 2: Employee X was injured when he inadvertently drove a forklift into a piece of stationary equipment, and he reported the injury to Employer. Employer required Employee X to take a drug test.
Question: Did Employer violate section 1904.35(b)(1)(iv) for drug testing Employee X?
Answer: No. Because Employee X's conduct—the manner in which he operated the forklift—contributed to his injury, and because drug use can affect conduct, it was objectively reasonable to require Employee X to take a drug test after Employer learned of his injury. Drug testing an employee who engaged in conduct that caused an injury is objectively reasonable because conduct can be affected by drug use.
Exceptions to The Rule:
There are certain jobs where post-accident testing is actually required by law, for example positions regulated by the Department of Transportation so they aren't subject to this new rule.
Another exemption is where a blanket post-accident drug testing policy is allowed by state workers' compensation law. Let's say the state has a voluntary Drug-Free Workplace program where employers who participate get a premium discount. So it's really important you ask your insurance agent if this type of law exists in your state and that you adopt it and have it endorsed onto your policy. This is true for both monopolistic states where the only coverage is available from the state or, like most states, where insurance companies are allowed to offer discounts and their plan is in compliance with the workers' compensation law.
That is you get out of jail free card so make sure you have it.
What Should Employers Do?
There isn't much guidance from OSHA on what you should do to conform your drug policy the their liking. They did say they'll be looking at drug testing programs on a case by case basis. So, what should you do?
The first thing to do is review your policies… both your claim reporting and drug testing policies. Look for any language that a very sensitive person could misinterpret to be cruel and discouraging. Anything that would make them afraid to report the occurrence of a workplace contracted illness or an on the job accident.
You policies should clearly state that post-accident drug testing will only happen under certain reasonable circumstances. Any investigation and decision to screen an employee should be well-documented, and the report placed in the employee's personnel file.
Next, you need to train everyone involved in the claim reporting process, from supervisors to the CEO… everyone in between, because OSHA is going to look beyond your policies to see what you are actually doing. You won't be able to hide behind policy.
The best thing to do is have a third-party provider of workplace safety review, revise and train your company on your new policy.