135: Social Media Screening for Employment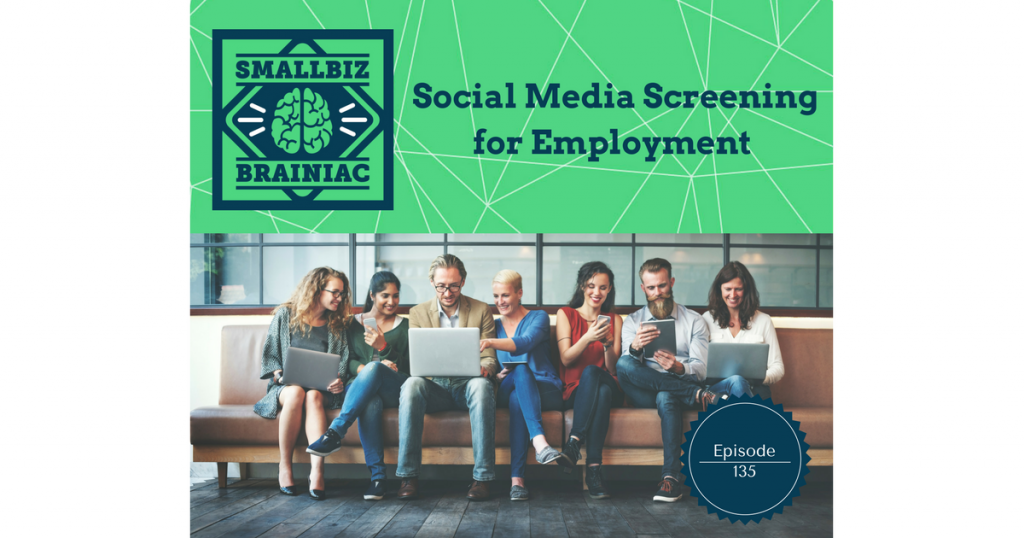 The number of employers using social media to screen candidates is at an all-time high.
Today I wanted to go over a type of pre-employment screening that is becoming increasingly more popular as time goes on. Pre-employment screenings, or background checks are nothing new.
In fact, we have discussed background checks before on this show. Go back and listen to episode 68, episode 69 and episode 70 for a more thorough review of backgrounds checks as a whole. Thomas Lindsay does a great job of explaining what to do and what to look out for in those episodes. This episode is all about Social Media Screening of applicants for potential employment with your company.
Employers, managers and HR professionals interview job seekers all the time. Sometimes it's difficult to know just who it is your talking to on the other side of the table. Of course you know their name, and you have a list of their qualifications on their resume, but are you talking to the real version of that person though?
People generally put their best foot forward in the interview process, for obvious reasons. They do research about your company. They study best practices for how to answer common interview questions. Some are genuinely good or maybe even great candidates. Some maybe not so much. But its sometimes difficult to tell who is a great candidate versus someone who might just be great at interviews.
This leaves decision makers anxious for more information on their candidates to help them really make the right decision. For this reason, employers and managers just can't help themselves from not taking a quick look at a candidates online footprint. It's too easy to just type someones name into your favorite search engine to see what pops up. Or you can be a little more deliberate and go to the more popular social media sites and see if you can find your candidates profile. It can be a far more telling way to know who your really dealing with from a personality stand point than even the in-person interview.
Social Media Mining:
The practice of mining data from social media sites has grown over the past 10 years according to a CareerBuilder survey. The number of employers using social media to screen candidates is at an all-time high. The survey claims that 70 percent of employers use social media to screen candidates before hiring. That number is up significantly from 60 percent last year and was only 11 percent in 2006. Some other interesting findings in the survey:
57 percent of employers are less likely to interview a candidate they can't find online.
54 percent of employers have decided not to hire a candidate based on their social media profiles.
Half of employers check current employees' social media profiles, over a third have reprimanded or fired an employee for inappropriate content.
Of those who decided not to hire a candidate based on their social media profiles, the reasons included:
Candidate posted provocative or inappropriate photographs, videos or information: 39 percent.
Candidate posted information about them drinking or using drugs: 38 percent.
Candidate had discriminatory comments related to race, gender, religion: 32 percent.
Candidate bad-mouthed their previous company or fellow employee: 30 percent.
Candidate lied about qualifications: 27 percent.
Candidate had poor communication skills: 27 percent.
Candidate was linked to criminal behavior: 26 percent.
Candidate shared confidential information from previous employers: 23 percent.
Candidate's screen name was unprofessional: 22 percent.
Candidate lied about an absence: 17 percent.
Candidate posted too frequently: 17 percent.
Rosemary Haefner, Chief Human Resources Officer at CareerBuilder states that "most workers have some sort of online presence today– and more than half of employers won't hire those without one. This shows the importance of cultivating a positive online persona. Job seekers should make their professional profiles visible online and ensure any information that could negatively impact their job search is made private or removed."
The survey also notes that more than half of employers (51 percent) use social media sites to research current employees. Thirty-four percent of employers have found content online that caused them to reprimand or fire an employee. It's not all negative however, the survey does point out that more than 40 percent of employers have found content on a social networking site that caused them to hire a candidate. Among the primary reasons employers hired a candidate based on their social media profiles were candidate's background information supported their professional qualifications, the candidate had great communication skills, the candidate had a professional image, and the candidate displayed creativity.
A lot of this rings true to me since I have done this. I don't know that I have looked at social media on every candidate over the last 10 years, but I would say that I have peeked at a good number of candidates to at least do a minimum amount of due diligence on someone I was considering to hire. Were my decisions swayed at all by what I saw? In some cases, I would probably have to say yes.
Pitfalls: 
Attorneys and human resource professionals will warn you about this practice, and for good reason. There is reason for caution. Social media may contain protected class information that employers are not allowed to discriminate against. Things such as age, sex, race, religion or even disabilities. These are all protected classes that you are not allowed to base a hiring decision on. This sort of screening could open an employer up to discrimination lawsuits if it is found to be the reason that a particular candidate was not hired.
For example, in the case Gaskell v. University of Kentucky, C. Martin Gaskell, an astronomer, was a leading candidate for a job running an observatory at the University of Kentucky. Gaskell was rejected for employment as a scientist after his religious views, which were visible on his personal profile, were circulated by another employee in an email to members of the hiring committee. The Court denied the University's motion for summary judgment on Title VII claims of religious discrimination, finding that Gaskell raised a triable issue of fact as to whether his religious beliefs were a motivating factor in the University's decision not to hire him.
Even if the impermissible information was not used in making the employment decision, the mere fact that the employer accessed the information may infer improper motive. One way to minimize the danger in getting caught up in a possible discrimination lawsuit, but still have the benefit of screening a candidates social media is to hire an independent screener.
There are services out there that will screen social media activity and remove any protected content so as to limit any knowledge of protected information that a hiring employer may obtain if they were to do the screening themselves. This should help alleviate exposure to a potential discrimination lawsuit down the road.