137: Recreational Marijuana Legalization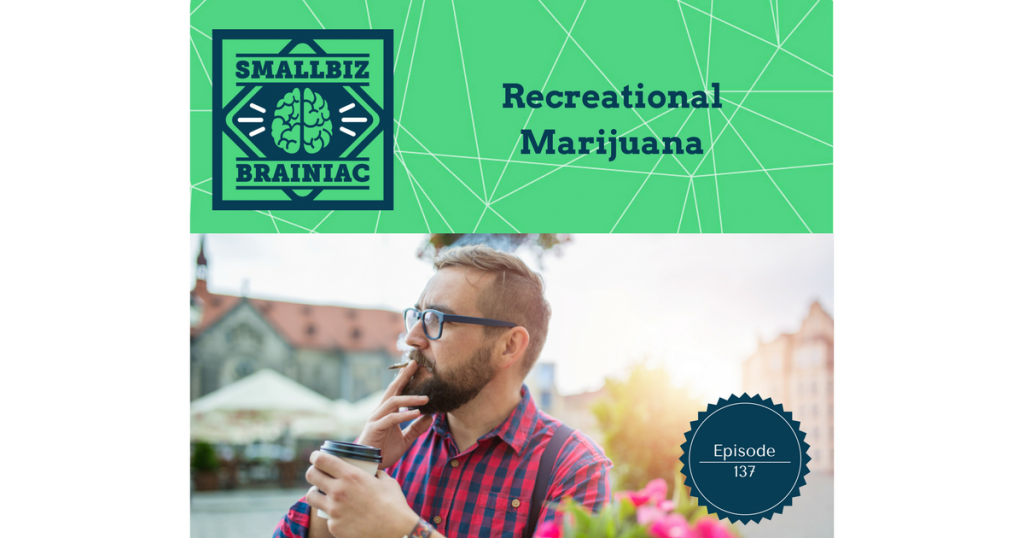 How do I maintain a safe work environment now that recreational marijuana is legal in my state?
Legalization of marijuana for recreational purposes is trending upward with more and more states opting to legalize the drug even though marijuana is still considered illegal at the federal level. Regardless of how you view the use of marijuana for recreational purposes, it appears to be likely that it will affect you as an employer some time soon, if its not affecting you already.
Just this past weekend the state of Nevada became the latest state to legalize recreational use of the drug. As of July 1, 2017 dispensaries around the state were free to sell marijuana products. Colorado, Oregon, Washington, Alaska, California, Massachusetts, Maine and now Nevada have all legalized personal use for recreational purposes.
So how does this impact you as an employer?
Let's take a look at a few questions that may arise from all of this.
Drug Testing:
Can you still require employees or potential employees to pass a drug test in a state that has legalized marijuana use? As it stands now the answer is yes, you can still require employees or potential employees to pass a drug test even though recreational use has become legal in that state.
Rules vary from state to state but in the case of drug testing for employment purposes, each state that has legalized marijuana use has a provision that allows employers to maintain and enforce their current drug free policies.
What if you didn't have a drug free policy prior to the legalization taking effect, but now you want to implement one?
You should still be able to implement one, however it is a good idea to check the states rules for implementing a drug policy post legalization. Alaska for example allows companies that had drug testing policies in place to keep enforcing them. Companies who did not have a policy in place can not start testing until they follow a series of steps to ensure employees are being treated fairly.
Failure to follow the steps will expose you to possible legal consequences. The steps outlined include creating clearly defined rules, such as which employees the policy applies to, identifying the consequences of testing positive or refusing to be tested to name a few. Companies must also provide a written copy of the policy and provide at least 30 days notice before the effective date of the policy.
Can I terminate an employee who has used marijuana legally?
The answer here is yes. Along the same lines as drug testing for new hires, you can drug test current employees by following your companies drug free workplace policy. If by following the guidelines of your policy you determine that a current employee tests positive for marijuana use then you may terminate that employee for violation of the drug free policy.
As an example, Massachusetts law includes language stating that "the authority of employers to enact and enforce workplace policies restricting the consumption of marijuana by employees is not changed." Meaning that if you able to terminate an employee before the legalization, you can still terminate an employee after legalization, but be sure to be consistent with your application of your drug free workplace policy.
Safety in the Workplace:
How do you maintain a safe work environment now that marijuana is legal for recreation in your state?
Well, let's stay with the theme of maintaining a company drug free policy. Many occupations out there require an employee to be fully alert so as to not cause serious injury to themselves or others around them. Any employee showing up to work under the influence is putting others at risk.
Having guidelines in place for managers and supervisors to assist them in making the proper decisions on how to handle employees that they suspect are using drugs, legal or not, is imperative to maintaining a safe work environment. Make sure your managers are trained and understand your drug free policy.
Also make sure that you are properly communicating to employees that even though use of marijuana may now be legal at the state level, they can still have adverse action taken against their employment including possible termination if they violate the companies drug policy.
Review Your Drug Policy:
What can you do today as an employer to put yourself in the best position for dealing with legalization measures?
Your best friend is your companies drug free policy. Review your policy to make sure your employees are treated fairly, while at the same time, make sure your policy is protecting your employees by maintaining a safe workplace.
A good drug free policy can also protect your business from potential legal trouble down the road.