20: Affordable Care Act a/k/a Obamacare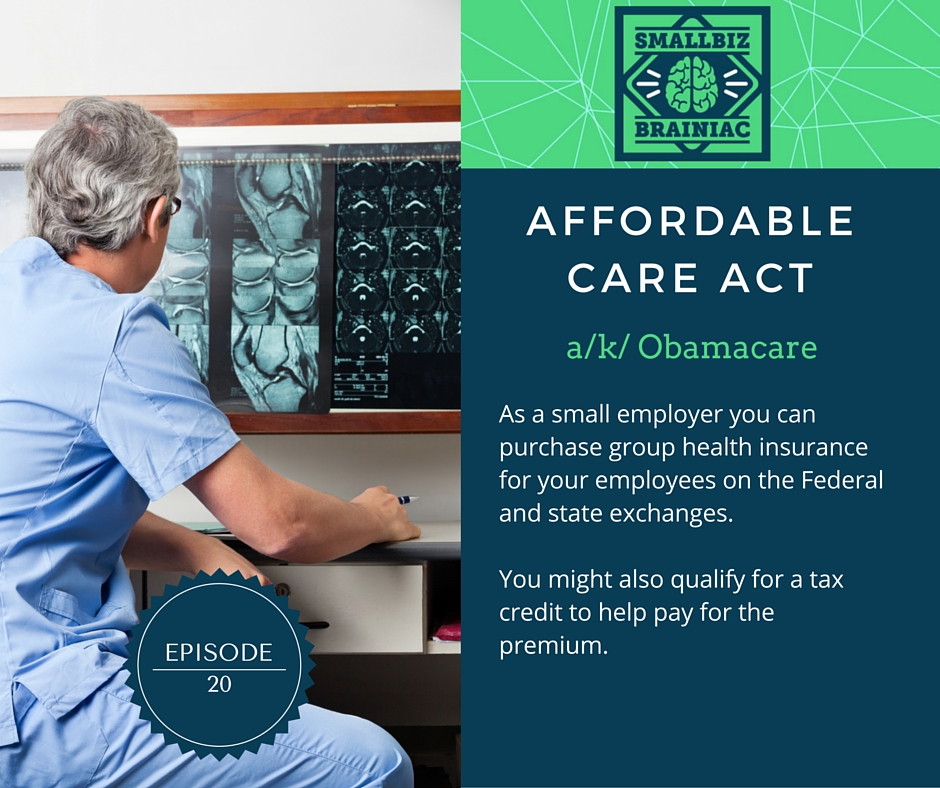 As a small employer (definition applies) you do not have to comply with the ACA. However, you can still take advantage of the ACA to help your employees buy coverage. 
The Patient Protection and Affordable Care Act, the PPACA, the ACA, Obamacare – however you recognize it, whatever you call it. It has been 6 years since it was signed into law and even though you may have less than 51 full-time equivalent employees, there are some things about that you need to know.
Employers with 100 or more full-time equivalent (FTE) employees had to offer ACA compliant coverage in 2015 to at least 70% of their full-time employees. And to 90% of their full time employees in 2016.
Employers with 50 to 99 FTE employees didn't have to provide coverage until this year, 2016.
If you have FEWER THAN 50 FTE employees, then you are a small employer and you don't have to comply with the ACA.
How to calculate an FTE will be the subject of another episode.
SHOP:
The Small Business Health Options Program ("SHOP") is available to small employers.
To qualify for the SHOP
You must have 50 or fewer FTE employees.
You must offer coverage to all your full-time employees — those workers averaging 30 or more hours per week, and
At least 70% of them have to enroll in your plan, or have coverage from another source.
You don't have to offer coverage to part-time employees — but you can if you want to.
If you don't meet these requirements, you can still enroll in a SHOP plan between November 15 and December 15, for a coverage effective date of January 1st.
Small Business Health Care Tax Credit:
If you have 25 FTE employees or less and the average annual wage or your employees is $50k or less, and you pay 50% or more of the employee only premium cost, then you qualify for the Small Business Health Care Tax Credit.
The tax credit is worth between 35% and 50% of your contribution toward your employees' premium costs. To get the max credit though, you have have less than 10 employees with an average annual wage of $25,000 or less.
The credit is available for two years.
healthcare.gov has calculators to determine if you are eligible to buy through them and to estimate your tax credit.
Individual Mandate:
The ACA doesn't just require large employers to offer coverage, it also requires individuals to buy it!
What's even more insane is that there are exemptions from the mandate.
For example, if you are are in jail or if you are an illegal alien, you are exempt. What the!
Plus, there is also a slew of temporary exemptions for people that are basically deemed unable to afford insurance.
Failure to Comply Penalties:
The 2016 calendar year penalty for not buying insurance is:
$695 per noncompliant adult, and
$347.50 for per child, OR
2.5% of the annual household income above the tax threshold.
Whichever is higher.
Maximums:
The per person penalty is capped at $2,085, and
The 2.5% of income is capped at the average annual premium for the national average price of a Bronze plan sold through the Marketplace, which in 2015 is:

$2,484 for an individual, and
$12,240 for a family of five.
The income threshold for 2016 is:
$10,300 for an individual filer, and goes as high as
$23,100 for a married couple filing a joint return.
Insurance Company Losses on ACA Plans:
Two years into offering ACA coverage, America's health insurance companies have lost millions on these plans in 2015, despite taxpayer subsidies.
UnitedHealth $720 million.
Blue Cross and Blue Shield of North Carolina – $400 million
Anthem profits down 64% in the fourth quarter of 2015 due to their ACA policies.
Aetna's ACA plans were unprofitable and their CEO said "We continue to have serious concerns about the sustainability of the public exchanges,". In the past, this guy has said things like it's too early to give up and the healthcare law is a big opportunity. He's singing a different song now.
Wellmark of Iowa reported that 135 members who signed up for coverage, received several million dollars in services, and then terminated their coverage." They also said that a lot of members sign up for the richest benefit plan, use the coverage and then downgrade to the poorest benefit plan.
Over half of the co-op health insurance companies established by the ACA with huge federal loans, have shut down because of losses.
Health insurance premium and deductibles have continued to increase year-over-year for nonsubsity qualifying employers and employees.
According to AON, the average health insurance premium has increased by 25% since 2011 and out of pocket costs have gone up by 78% for the same period!
Summary: 
Effective 1/1/2016 if you have 50 FTE employees or more then I'm sure you've already implemented an ACA compliant plan to avoid the employer penalties.
As a small employer under the ACA you don't have to worry about providing coverage, but the federal and state marketplaces are open to you and you may qualify for a two year tax credit.
Providing a plan for your employees will help them avoid the personal mandate penalties and help keep them from wandering off to work for a large employer.