120: Common W-4 and I-9 Mistakes Employers Make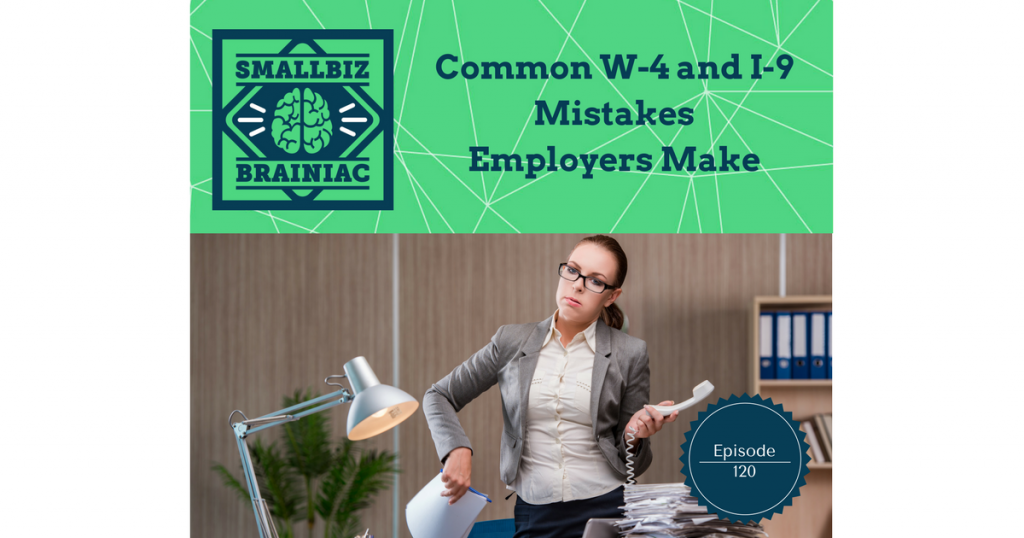 Avoid these costly mistakes when completing forms W-4 and I-9.
After you hire a new employee you have to get them setup in you HR and payroll system (or systems), before their first paycheck. This onboarding process requires the collection of information and the completion of certain government forms.
Automated onboarding systems make this process much easier, but unfortunately no system is 100% automated, thanks to your federal government.
The form I-9 requires a step that can't be fully automated. You and your employee can complete and sign the I-9 online, but you have to physically verify the identification of your newly hired employee to fully complete the process.
When you sign the I-9, you are certifying, under penalty of perjury, that you've examined the document (or documents) that your employee provided, and you're certifying that they appear genuine and related to the person, and that to the best of your knowledge, they're authorized to work in the U.S.
Check out episode 31 for more in-depth information about form I-9.
if however, the Accountability Through Electronic Verification Act (which I told you about on episode 118) is passed, and the elimination of the I-9 remains a part of it, then you obviously won't have to meet in person to verify your new employee's ID because the form will no longer exist.
That's a big deal if you hire and employ remotely.
If you have a physical locations where all your employees come to work and you'll be seeing them in person anyway, then it's not such a big deal.
New Hire Tax Forms:
The required federal forms are the:
•W-4 – Employee's Withholding Allowance Certificate, and the
•I-9 – Employment Eligibility Verification
You'll also have state, and possibly local forms to complete, so to help you out I have added a link to an excellent site where you can get a complete set of new-hire forms by state.
You'll find the link in the show notes at smallbizbrainiac.com. Just click on the search icon in the menu bar, far right side, and search for onboarding or episode 120.
Let's go over a few common mistakes you should avoid having to do with these forms.
Common W-4 Mistakes:
What should you do if your employee asks to change their W-4? Should you allow it? What if they give you several different versions throughout the year? What's your responsibility?
Well, you have to implement any and every valid W-4 provided by an employee no matter how many times they make a change.
You have until the first pay period starting after 30 days from the date you receive the revised form, to implement it.
For example, if you get the form on May 8th, 30 days later is June 7th. Your first pay period starting after June 7th is June 11th, with a check date of June 30th.  So June 30th would be the first paycheck with the revised federal income tax withholding.
You don't have to honor an invalid W-4, but how do you know when a form is invalid?
If your employee alters the form in anyway, it's invalid. So, if they cross out any language or write on the form anywhere other than the places where an entry is requested, it's invalid.
If your employee tells you, or indicates in any way, that they provided false information, it's invalid.
If the form is invalid, don't implement it and ask your employee for another one.
At that point it's a good idea to let them know it's very import they submit an accurate W-4. You can tell them they may be subject to a $500 penalty if they submit a W-4 with no reasonable basis, or one that results in less tax being withheld than is required.
Another common mistake is not getting a new W-4 each year from all your employees who file Exempt. For example, a 2017 Exempt W-4 is only good until February 15, 2018. If your employee hasn't given you a new one by then, you need to change their status to single, with zero exemptions.
Common I-9 Mistakes:
First, you need to throughly review Section 1. This is the section your employee completes and most of the time you'll find they missed something. Like their COMPLETE name… mostly maiden names go missing. Or, they don't check one of the four boxes saying what their citizenship status is.
For those employees who didn't use a translator, there's a sneaky box below the employee's signature which they must check saying they did not use a translator to complete the form…
Another common mistake is they don't complete it by the first day of employment – the "date of hire," meaning the commencement of employment for wages.
As for you, the most common mistakes employers make  –  you don't enter the employee's full name and citizenship status… I know, why should you have to enter it? It's already on the form! I don't know why…
Another big mistake not enter the title of the document, the issuing authority and the expiration date of the document or documents, the employee presented.
And finally, not completing the form on time… i.e. by the third business day after employment began.
So, it's important to understand these forms, and read the instructions at least once each year…. or just keep listening to SmallBiz Brainiac podcast, to avoid costly mistakes.