31: I-9 – Employment Eligibility Verification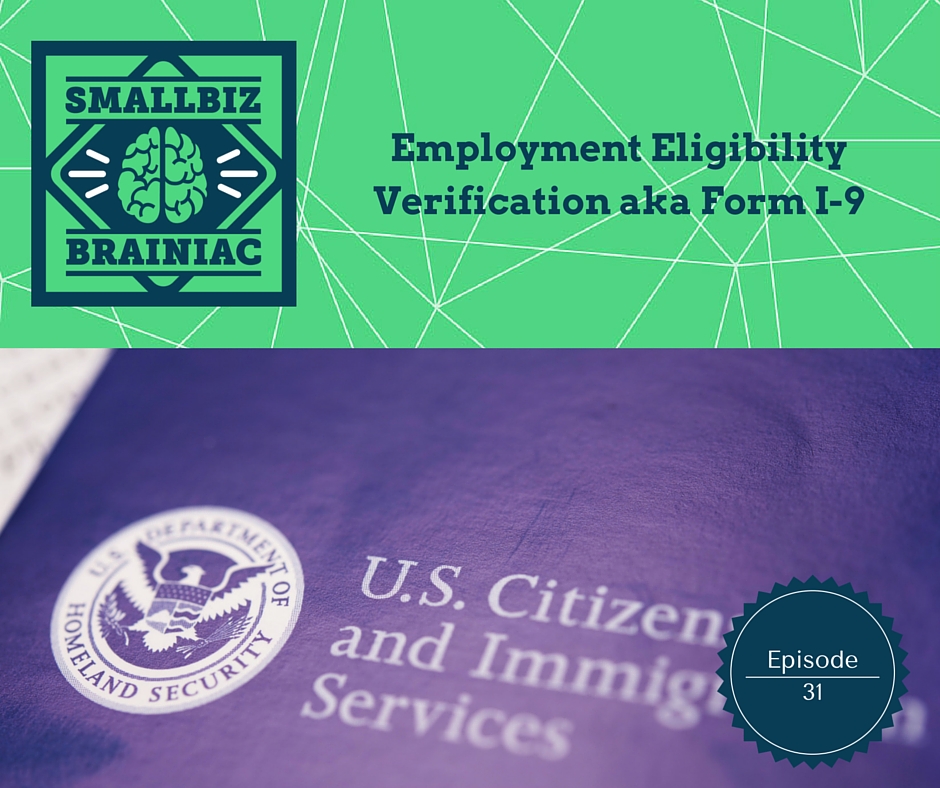 You can't complete Form I-9 until after you've hired your employee.
Form I-9 compliance is regulated by the U.S. Citizenship and Immigration Services (USCIS) and Immigration and Customs Enforcement (ICE).
ICE is the audit and enforcement agency for the provisions of section 274A, the Unlawful Employment of Aliens section of the Immigration and Nationality Act (INA).
You are required, upon the hiring of a new employee, to complete the Form I-9. You can't do this before you hire them.
After they have accepted an offer of employment, you can have them complete Section 1 of the form, and then you must complete Section 2 within three business days of hire.
Section 1 – Employee Information:
The first Section of the form asks for personal information including name, address, DOB, SSN, phone number and email address.
Employees do not have to provide you with their social security number unless you participate in the e-verify system.
They also do not have to give you their email address or phone number.
The hardest part about Section 1 is getting the employee's name right.
Here are the instructions for how to do that.
Enter your full legal name and other names that you have used in the past or present (e g , maiden name) if any.
If you have two last names (family names), include both in the Last Name field. If you hyphenate your last name, include the hyphen (-) between the names
If you have two first names (given names), include both in the First Name field. If you hyphenate your first name, include the hyphen (-) between the names.
If you have only one name, enter that name in the Last Name field. You may enter either the word "Unknown" or "N/A" in the First Name field. If your employer is an E-Verify participant, entering "Unknown" is preferable. You may not leave this field blank.
Enter your middle initial in the Middle Initial field, if applicable. Enter N/A if you have no middle initial
Enter your maiden name or any other legal name you may have used in the Other Names Used field. Enter N/A if you have not used other names.
Section 2  – Employer or Authorized Representative Review and Verification:
The employee must provide identification documents that show their identity and prove that they're authorized to work.
There are three lists of acceptable documents and your employee gets to choose which documents they're going to provide, as long as it is either one document from List A or one from List B AND one from List C. You may only accept unexpired documents and you have to write down the document information on the Form.
List A documents show both identity and employment authorization, while List B shows only identity, and List C shows only employment authorization.
The person who examines the documents has to sign their name attesting under penalty of perjury that that they appear to be genuine and relate to the employee. And, that to the best of their knowledge the employee is authorized to work in the U.S.
The Handbook for Employers published by the U.S. Citizenship and Immigration Services tries to soften the attestation by saying that the documents "reasonably appear on their face to be genuine". The "reasonably" and "on their face" give the reviewer more wiggle room. If that's the real meaning then why don't they add this language to the I-9's Section 2 Certification?
If you choose to make copies of the documents your employee presents, then you have to do this for all employees, regardless of national origin or citizenship status. I don't recommend that you keep copies. You don't have to and it only exposes you to liability. If you currently have copies of identifications, shred them. You also want to make sure that your I-9's are kept separate from the rest of the employee's HR file.
However, there is an exception to this. If you participate in E-Verify, and your employee is using a list B and C document in lieu of an A document then B document must have their photograph, and you have to keep a copy of those documents along with the I-9. Just another reason to hate e-verify.
In certain circumstances you might have to accept a receipt in lieu of one of the documents.
You might also hire a minor who doesn't have a list A or a list B document. If that happens, then in Section 1 where the employee is supposed to sign,  you have the minor's parent or legal guardian write "Individual under age 18". And then write the same thing under list B and then they'll have to provide one list C document.
You will have to reverify expired documents no later than the document expiration date. Use Section 3 of the I-9 for this. If you've already used Section 3 then you'll have to bust out a new form. But, you'll only have to retain the second page and keep it with the original.  Your employee must present a document that shows current employment authorization. If they can't then you have to terminate them.
Things get really complicated when you have to rectifying an employee who is a:
Lawful Permanent Resident,
Refugee or Asylee,
Is here on Temporary Protected Status
Is an Exchange Visitor or Student; or,
Is working under an H-1B or H-2A
Discrimination:
The Office of Special Counsel for Immigration-Related Unfair Employment Practices or OSC, which is under the Civil Rights Division of the Department of Justice, enforces the anti-discrimination provision of the INA and they have exclusive jurisdiction over citizenship or immigration status discrimination claims against all employers with four or more employees.
They can come after you for many types of discrimination such as:
Document abuse
Citizenship Status Discrimination
National Origin Discrimination
Retaliation; and,
violations of Title VII and Other Federal Anti-discrimination Laws
There are civil and criminal penalties for unlawful employment and there are penalties for discrimination and document fraud.
If you rehire an employee within three years execution of their previous I-9 you can rely on the previously completed one if that I-9 indicates they're still eligible to work. You can also re-certify the old form using Block B in Section 3.
And finally, form I-9 is available in English and Spanish  However, only employers in Puerto Rico may use the Spanish version to meet the verification and retention requirements of the law.  Employers in the United States and other U S  territories may use the Spanish version as a translation guide for Spanish-speaking employees, but the English version must be completed and retained in the employer's records
Conclusion:
Complete the I-9 within 3 business days after you hire your employee.
Don't keep copies of the documents provided unless you use the e-verify system.
Remember to re-verify the employee's identification before on expiration.
Keep you I-9s in a separate file from the rest of the HR records.
You must maintain I-9s in English unless you are an employer in Puerto Rico.