35: Teach Your Employees How to Use Their Health Insurance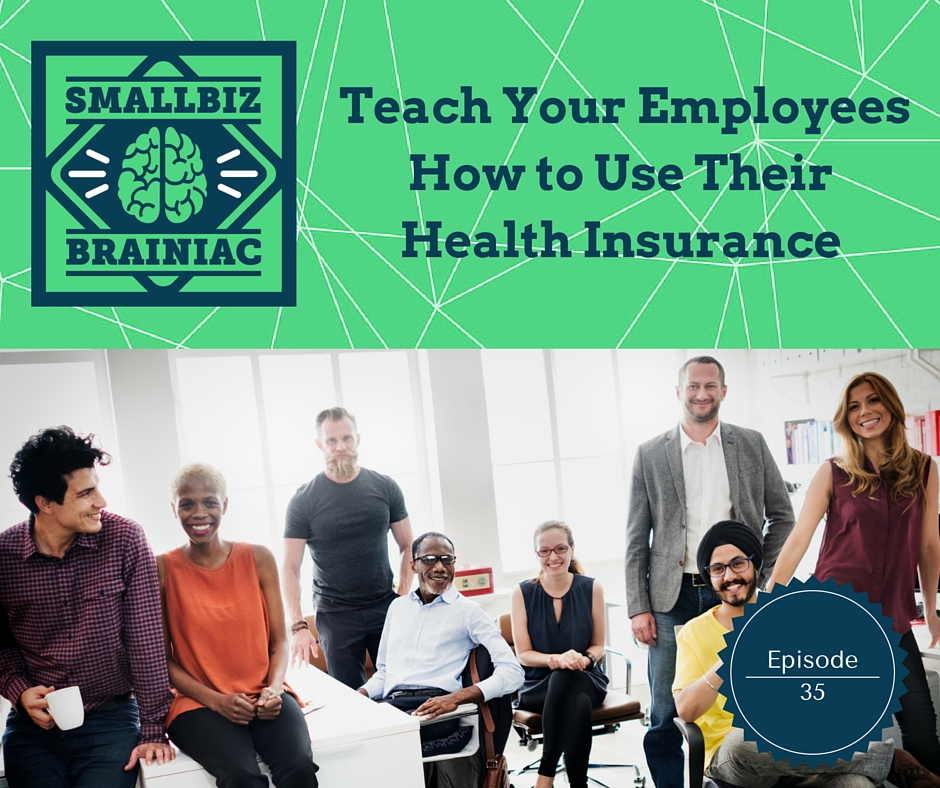 Only 33% of employees rated the benefits education they received as excellent, or very good.
Do you know how to use the health insurance plan you offer to your employees? With the information from the last episode and with what I'm going to share with you today, you'll be ready start teaching your employees how to use their health insurance.
In the last episode I told you the story of my bike accident earlier this year. I made the mistake of not checking to see if the emergency room facility that I went to was in network.  But that wasn't the first mistake. I should never have gone to an emergency room in the fist place. I should've gone to an urgent care location. Or, I should have waited until Monday to go to a doctors office, either an orthopedic or podiatrist.
Even though I still would have paid 100% of the cost because of my in-network deductible, the cost would have been 90% less because of facility bill rates and network discounts, had I gone to urgent care or a doctor's office!
The Explanation of Benefits:
After the last episode I dug out one of the "explanation of benefits" documents (or "EOB") that I received from my insurance company related to my emergency room visit. The doctor who treated me bills separately from the hospital and his charges were $372. So the total cost of my "visit" was $3,172. I'm such a knucklehead! The EOB stated that the claim was processed using my network benefits but that this doctor was not in-network. It goes on to say that even though they applied the network discount, the doctor might balance bill me and I'll have to pay the difference and it won't apply to my out of pocket maximum. Which is exactly what we talked about in the last episode.
Most employees don't know:
So, teaching your employees how to use their medical insurance is vital. When they understanding the nuts and bolts of it they'll be able to use it correctly and get the most value out of it. They'll appreciate this. They'll thank you for it. Well, some of them might.
A Harris Poll conducted on behalf of an insurance company, found that employees don't believe they're getting the information they need about their benefits. Only 33% of employees rated the benefits education they received as excellent, or very good.
But before we talk about how to educate your employees let's identify some best practices for how to use the coverage.
In the last episode we learned about deductibles, co-pays, in network vs out-of-network, maximum out-of-pocket and co-insurance. So I won't repeat those. However, as a side note, I learned that California, Colorado and New York prohibit balance billing for emergency services. As do Florida, Maryland and Texas although it only applies to HMO plans in those 3 states. There may be others I just didn't have time to research them all.
Let's talk about some other "how to use your policy" tips.
Pre-procedure homework:
Before you have any procedure or surgery, ask your surgeon for a complete list of all the service providers that will be used. Take that list and call your insurance company and find out if they are in network. If one of the providers is not in network, get a list of in network providers from your insurance company and call the surgeon's office and ask them to use an in network provider. If they can't, or won't, ask them to call your insurance company and coordinate with the out-of-network provider to accept the network fee schedule.
Avoid the ER and up-billing:
I lunch this weekend with a good friend of mine, an ER physician, and he brought up the issue of "up-billing". This is when the hospital uses billing codes that represent a higher level of required care than is actually justified.  So I took a look at the procedure code used on my ER visit I see they used 99284, a level 4 out five levels. My ankle wasn't a level 4 situation. I was not in unbearable pain. A one minute exam by a nurse could have ruled out a break. In any case, a lower level of treatment code should have been used.
The bottom line is, don't go to an emergency room unless it is a life threatening situation. Go to an urgent care facility instead. And even then, call your insurance company for information about co-pays and other out-of-pocket costs for the clinic you plan to visit.
For less urgent situations, call the nurse hotline or your doctors office. Hopefully your plan has a service like teladoc.com. If not, you can purchase this as an add-on service. With Teledoc, you get to speak to a physician.
Prescriptions:
When you get a name brad prescription ask your doctor if you can take the generic version instead, then shop around. Call a few pharmacies and ask how much the medication costs…it's not the same. In a Consumer Reports article published on January 6, 2016, they found that the chain drug stores cost considerably more than the independents. However, of the chain stores, Costo was most affordable and you don't need to be a member to go there.
Call your insurance company and ask if it is covered and how much you'll have to pay. Insurance companies maintain lists of medications that they cover called formularies. Medications not in the formulary are not covered. Your insurance company might make an acceptation and add a particular drug to the formulary if you, or better yet, your doctor ask and make the case for why.
These formularies have tiers. The medications are categorized into as many as four groups and the co-pays are different for each tier. Insurance companies tweak their formularies annually so if you are on a medication for the long haul, you'll want to make sure you're covered with each renewal.
You can save some money by ordering your meds online using your insurance company's mail order option. You can also buy a three month supply and save because you only pay one co-pay, not three.
Communicate with employees:
Ok, now that we've learned how to use our medical insurance, it's time to communicate this information to your employees. The key is to do this frequently and repeatedly so not just at open enrollment. Send something out at least monthly. You don't need to be the one to come up with the content, have your health insurance agent provide it. Better yet, make them execute the education program.
Feel free to use the information in this podcast. You can also go to my website and use the show notes to help you create the content. Your health insurance company's website is another great resource for content. In fact, one of your trainings should focus on showing your employees on how to register with your insurance company's website and use the information that's available there.
And, use different methods to communicate with your employees. For example:
Hold lunchtime meetings.
Have a section of your intranet dedicated to your benefits. You don't have an intranet, then
Send a monthly email.
Post informative flyers to the break room bulletin board.
Insert flyers into their paycheck envelope.
Use Facebook posts
Even YouTube – have your insurance agent make short videos to post. This is super simple and highly effective.
Summary:
Don't go to the ER unless it is life threatening. I'm not telling you what to do. It's your call, obviously.
If you get balanced bill, check online to see if your state allows it under the circumstances. Or call the state department of insurance. They'll help you.
Beware of ER up-billing. Review your bill and ask your agent for help verifying and negotiating a discount.
Do some pre-procedure homework, when possible.
Shop around for prescriptions. The chain pharmacies might not be the best deal.
Verify your insurance company's drug formulary each year.
Create an employee communication program to educate your employees. They'll thank you for it.