4: IRS Common Law Rules – 11 Point Test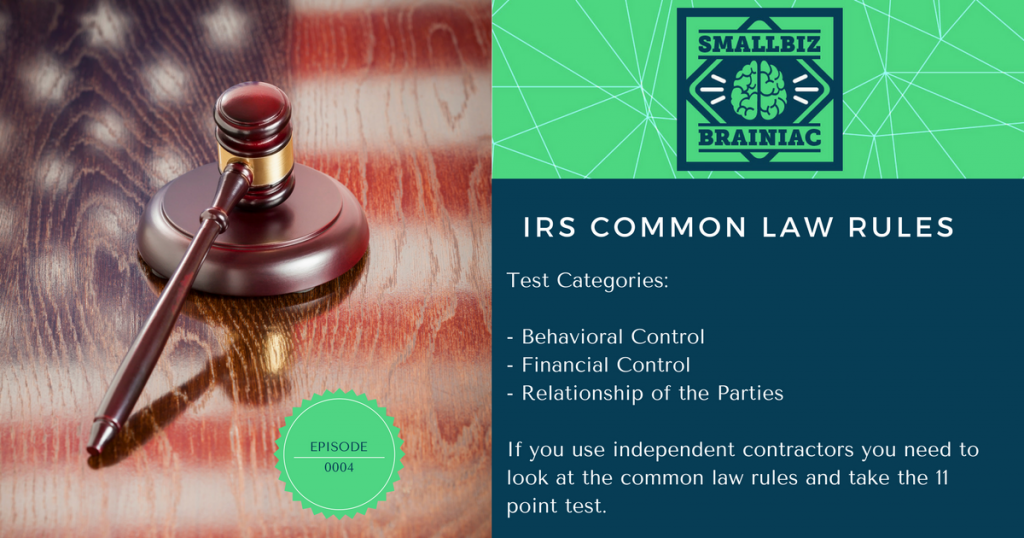 Are your workers properly classified? Take the IRS 11 point test to find out.
If you have the right to control or direct only the results of the work and not how it will be done, or what will be done, then you have an independent contractor relationship. But, how do you make this determination?
Today we will learn:
The IRS 20 point test for examining the worker relationship was replaced by an 11 point test that focuses on these three categories, behavioral control, financial control and the relationship between you and the worker. These are known as the common law rules and it's how the IRS is going to make their determination.
Test categories:
Behavioral Control
Instructions that the business gives to the worker.
Training that the business provides to the worker.
Financial Control
The extent to which the worker has unreimbursed business expenses.
The extent of the worker's investment.
The extent to which the worker makes his or her services available to the relevant market.
How the business pays the worker.
The extent to which the worker can realize a profit or loss.
Type of Relationship
Written contracts describing the relationship the parties intended to create.
Whether or not the business provides the worker with employee-type benefits.
The permanency of the relationship.
The extent to which services performed by the worker are a key aspect of the regular business of the company.
Summary:
A worker is an employee when you have the right to direct and control the way they do the work, even if you don't actually exercise that right.
If you use independent contractors you need to look at the common law rules and take the 11 point test.
If there is any question about whether or not you are paying employees as independent contractor, call an employment law attorney to discuss your situation and look at the possibility of qualifying for Section 530.
Address the issue proactively rather than wait for an independent contractor, the IRS or some other government agency to come knocking.
Resources: 
I know there a lot of links here but I wanted you to see the variety of information the IRS has published on this subject.