41: Escaping The Assigned Risk Plan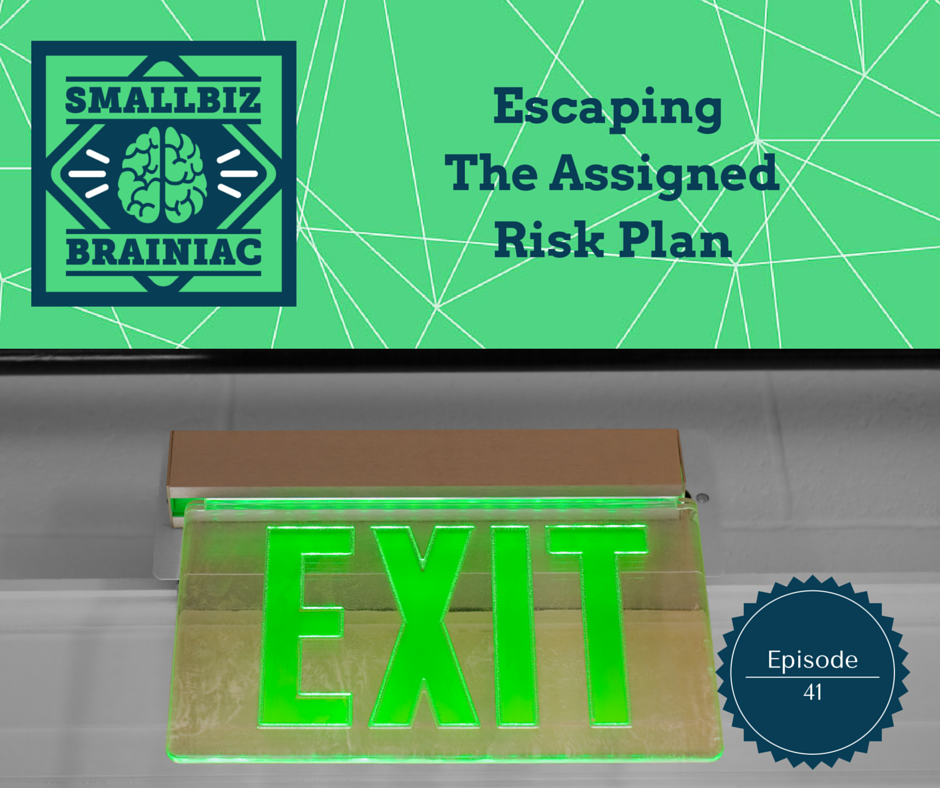 Your Assigned Risk Plan Exit Strategy.
In the last episode we learned about the residual market and the Assigned Risk Plan. This is the insurance market where companies who can't find an insurance company to sell them a policy end up. The premiums are significantly higher in the residual market, making it difficult for you to compete for business.
The top 5 workers' compensation class codes written by the residual market in 2014 are carpentry, painting, trucking and roofing. If  you are in one of these industries then this episode is definitely for you.
If you are in the residual market, insured by either a state fund or a carrier participating in the assigned risk plan, then you need to develop and implement a strategy to get out….and stay out.
Just like in the last episode, I'll refer to the residual market as the "Plan".
So you need to get out, but where do you start? That depends on why you're in there.
Entrepreneur has this to say about it in their Small Business Encyclopedia:
"If you're in an assigned risk plan, check with your state's insurance regulators to see if assigned risk policies in your state have higher rates and premiums. If this is the case, then do everything in your power to find coverage outside the assigned risk plan. Talk with other agents, talk with direct-writing insurance companies, talk with employee leasing companies, investigate group self-insurance programs available in your state-but don't let it be your agent's responsibility to get you out of the assigned risk plan. Your agent just may not have a viable alternative for you, but that doesn't mean that such an alternative doesn't exist".
Poor Loss History?
You might be in the Plan because of your historical claims i.e. your loss history.
You might have a good loss history and still be in the Plan because of the industry you're in, the size of your payroll and premium, and/or how new your company is. In fact, 90% of the policies written by the residual market are below $10,000.
This means that insurance companies do not like to write small premium policies. You should focus on growing your business, which increases you payroll which increases your premium. Once you cross the $10k threshold, you should start to have some other options.
Insurance companies establish a risk appetite and craft underwriting guidelines around that appetite and then refuse to quote anything that isn't on their diet. High risk industries have few options, and in some cases, depending on the state, your only option is the Plan.
Alternative Markets:
Some alternative markets exist. For example, the Carpenters-Contractors Workers' Compensation Trust for Southern California, is a collectively bargained "carve-out" program from the California state system. It is designed exclusively for the use of Carpenter-Contractor members and their employees. In order to join,  you must have a current collective bargaining agreement with the Carpenters Union and be primarily in the construction business.
In California "Carve-out" programs allow employers and unions to create their own alternatives for workers' compensation that alters the dispute resolution process and saves money on litigation. Which is a huge part of the cost in California.  These carve-out programs must be established in compliance with the California Labor Code and the California Code of Regulations, and be approved by the administrative director of the Division of Workers' Compensation.
These carve-out programs still may not be willing to insure you but it's good to know they exist.
Take-out Credit Option:
Another option is the National Council on Compensation Insurance's Take-Out Credit (TOC) Program. The NCCI administers the Plan coverage for the majority of the States. The TOC program gives credits to an insurer who will take a business insured through the Plan and sell them a voluntary market policy. In 2014, more than $151 million in credits were earned for policies removed from the residual market and placed in the voluntary market, a 52% increase in credits earned over the previous year.
So, if you're in the Plan, contact your insurance agent and ask him about the NCCI's TOC program.
Ever Heard of a PEO?
Another exit strategy is to look for a professional employer organization or PEO. These are companies that provide complete HR services for small to mid-size businesses. Their services include payroll, benefits, HR, workers' compensation insurance, workplace safety and regulatory compliance assistance.
According to the industry association, small businesses that use a PEO grow 7 to 9 percent faster, have employee turnover that is 10 to 14 percent lower, and are 50 percent less likely to go out of business.
The current size of the PEO industry is between $136 and $156 billion, as measured in gross revenues.
About 180,000 businesses currently use a PEO and translates to about 3.4 million employees.
There are between 780 and 980 PEOs currently operating in the United States.
PEOs are well regulated in most states. Requiring licensing and regular reporting to ensure compliance with minimum financial standards.
There is not federal licensing however effective January 1, 2017 there is a new sort of registration option with the IRS whereby the PEO can become solely responsible for the federal payroll taxes and all the compliance obligations that come along with it. The IRS has always reserved the right to pursue both the PEO and the client whenever there is a failure to comply with the payroll tax laws under the non-delegable fiduciary duty doctrine.
The relationship involves the sharing of certain employer responsibilities. The PEO assumes specific employer rights, responsibilities, and risks through a co-employment arrangement. You maintain the right to direct and control the employees although some state laws require the PEO to also have that right.
The PEO pays the wages through their account, although some PEOs will allow you to draw the funds off your account, if you want to. The PEO reports and pays the payroll tax withholdings, issues the W-2s and the W-3, using their FEIN.
Local withholding taxes are also paid under the PEOs tax ID numbers, but state unemployment taxes are another story. In some states its paid under the PEOs tax ID and in some states its paid under yours. In some states its up to the PEO to make a one time election as to which method and in some states it depends on the rate difference between the PEO's rate and your rate.
With a PEO, you'll now have the expertise necessary to manage critical HR and risk responsibilities. However, not all PEOs are created equal, and there are some things you'll want to be on the lookout for if you decide to go shopping for one. We'll go over those and how to select the right PEO for your situation, in another episode.
If your company would otherwise qualify for a voluntary market policy then you're in the Plan because of your loss history. To fix that problem, you'll need to make a commitment to workplace safety then assess your risks, identify the hazards, develop a safety plan, write an illness and injury prevention plan, implement it and monitor, measure and modify on a continual basis.
This is a topic in and of itself which we will explore in the very next episode.
Conclusion:
The top 5 workers' compensation class codes written by the residual market in 2014 are carpentry, painting, trucking and roofing.
If you are in the residual market, find out why and make a plan to get out. That plan could be to:
Grow – you're too small so once your annual premium is over $10,000 you can reapply to the voluntary market.
Look for alternative markets – ask your agent and then get a second and third opinion.
Look into NCCI's take-out credit program
Shop for a PEO service; or,
Implement a workplace safety program to control your losses and clean yourself up so the voluntary market will sell you a policy.