44: Creating A Workplace Safety Program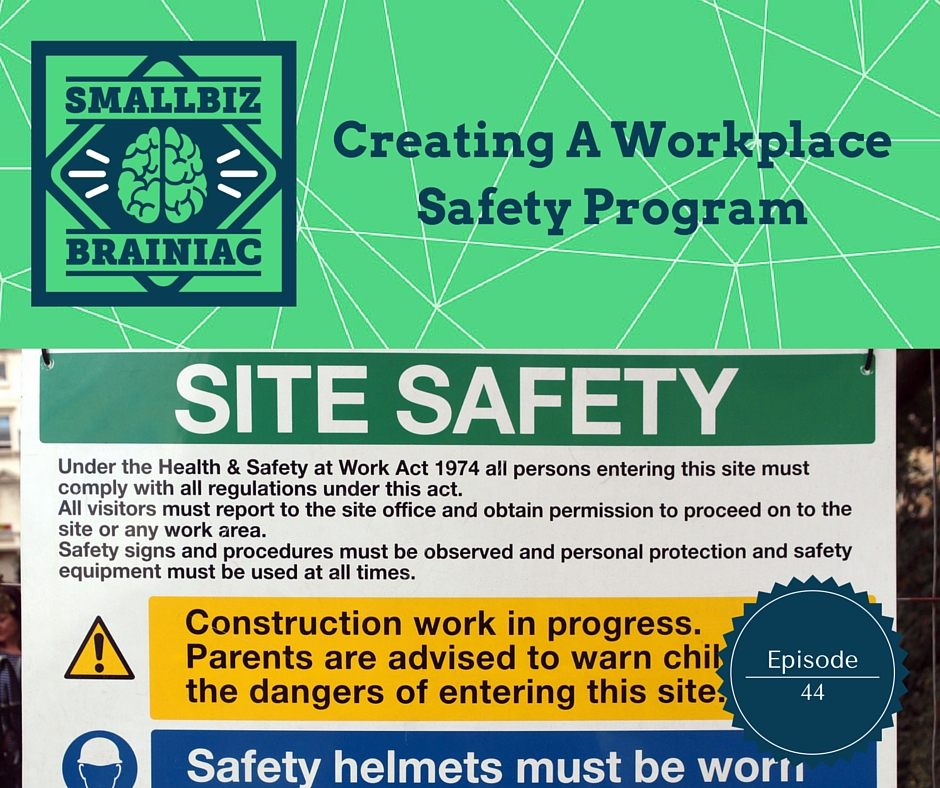 What could possibly go wrong?
In the past several episodes we've talked a lot about workers' compensation insurance and controlling your costs. We've established the fact that having a workplace safety program is paramount.
The nucleus of a workplace safety program is an injury and illness prevention plan or IIPP.
When it comes to an IIPP, every business is different, and one size doesn't fit all. You need to implement a program that fits your company's size, your industry and your operations.
Establishing an IIPP may seem daunting but it isn't and it's worth it. OSHA's Safety and Health Achievement Recognition Program (SHARP) recognizes small employers that operate an exemplary IIPP, and they have compelling evidence to show that even a basic one works to lower costs, increase productivity, and improve employee morale.
A hazard is the potential for harm and it's often associated with a condition or activity that, if left uncontrolled, can result in an injury or illness.
For example:
Improperly stored and unmarked chemicals can cause burns.
High workplace temperatures that can cause employees to become dehydrated, Excessive noise that can damage hearing.
Poor lighting causing slips, falls and contusions.
Electrical currents from a damaged power cord can cause electrical shock.
Poor ergonomics can lead to carpal tunnel.
The stages of a working safety program: 
1. Company-wide commitment to safety: 
This is a state of mind – a top down attitude that needs to be regularly communicated to every employee. And not just communicated, but demonstrated, supported, enforced and rewarded. Everyone…. managers, supervisors, and employees, are responsible for safety and health in the workplace, and everyone should be held accountable for carrying out those responsibilities.
You need to provide the resources your employees need so they can carry out their responsibilities. These include safety information, training and equipment
You need to designate at least one employee as the safety manager to receive and respond to reports about workplace safety and, where appropriate, to initiate corrective action.
You need to get employees involved in the identification, assessment, prioritizing, and elimination or avoidance of hazards.
You need to establish a way for employees to report hazards and to make recommendations about appropriate ways to control them.
2. Hazard/risk assessment:  
You need to systematically identify and assess hazards that your employees are exposed to by conducting inspections; reviewing safety and health information; evaluating new equipment, materials, and processes before they are introduced into the workplace.
Here are some examples of how you can do:
Request a free OSHA Consultation visit. They will come out and help you identify potential hazards. They'll also provide training and technical assistance.
Familiarize yourself with the hazards found in your industry.
Create a safety team.
Encourage employees to report workplace hazards.
Seek assistance from safety and health experts.
Instead of the OSHA consultation visit, hire a professional safety inspector, someone who has experience in your industry and who has demonstrated their proficiency through both experience and education. Have them conduct a comprehensive study to identify all your hazards, determine your current level of compliance, and document all issues that need your immediate attention.
A hazard assessment is like detective work so if you approach it with that mindset, you'll be amazed at what you discover:
What can go wrong?
What are the consequences?
How could it arise?
What are other contributing factors?
How likely is it that the hazard will occur?
3. IIPP development:
Create your IIPP using the results of your hazard assessment activities and other resources like OSHA, the American Safety Council, and Occupational Health and Safety magazine. These organizations have tons of free information available on their websites.
4. Implementation: 
Here is where the rubber meets the road. Everything else will have been a colossal waste of time if you don't implement your newly created safety program. Implementation is a company wide project. It effects every aspect of the business and requires the cooperation of department heads because it may require process changes.
5. Monitoring:
There are a lot of tools you can use to monitor the program. For example, you should investigate every work comp claim to determine if a policy was violated, if there's a gap in the current program, or if a new hazard has been introduced.
Review safety violation write ups
Conduct spontaneous safety audits, informal inspections, and occasional safety surveys where you ask employees about their opinions of the working conditions.
6. Measure: 
You have to measure the results. You know the saying, what gets measured gets done. If you measure the results, you'll be able to make changes.
Here are some of the things you want to measure:
Lost-Time Injury Frequency Rate – This is your rate of claims that result in an employee being unable to work their next scheduled workday (these are also known as indemnity claims). To calculate this rate you multiply the number of lost-time i.e. indemnity claims incurred in a year by 200,000, and divide the result by the total number of hours worked in the year by all employees.
Incidence Rate – This is your rate of claims that result in a workers' compensation claim. It's the same calculation as lost-time frequency rate. You just use the total number of claims incurred in the year instead of just the lost-time claims.
Severity Rate – This tells you the number of lost days experienced as compared to the number of incidents experienced. To calculate this, take the number of workdays missed + the number of light-duty workdays missed and multiply the total by 200,000 and divide that result by the total number of hours worked in the year by all employees.
Accident Costs: Calculating the cost of claims to the company can be quite the science project. Fortunately, OSHA has

created a calculator

to do it for you and a you'll find a link to it in the show notes.
7. Modifications:
The final step is to make changes to your safety program based on the results of your monitoring and measuring. You should be modifying your program regularly in order to maintain its effectiveness.
One final word about the OSHA consultation visit service that I mentioned. Keep in mind this is the government you're inviting in. This service is completely separate from their inspection department and these consultants don't issue citations or propose penalties. But, you are obligated to correct any serious hazards the consultant finds. So, keep that in mind if you decide to use this free service in lieu of hiring a private inspector.
Conclusion:
The seven stages of an effective workplace safety program are:
Company wide commitment to safety
hazard/risk assessment
IIPP development
Implementation
Monitoring
Measuring
Modifying
The IIPP is the nuclease of your workplace safety program but it is not just a binder on a shelf collecting dust. It has to be put into practice and made an integral part of the day to day operations.