47: Do You Suffer From Work Martyr Syndrome?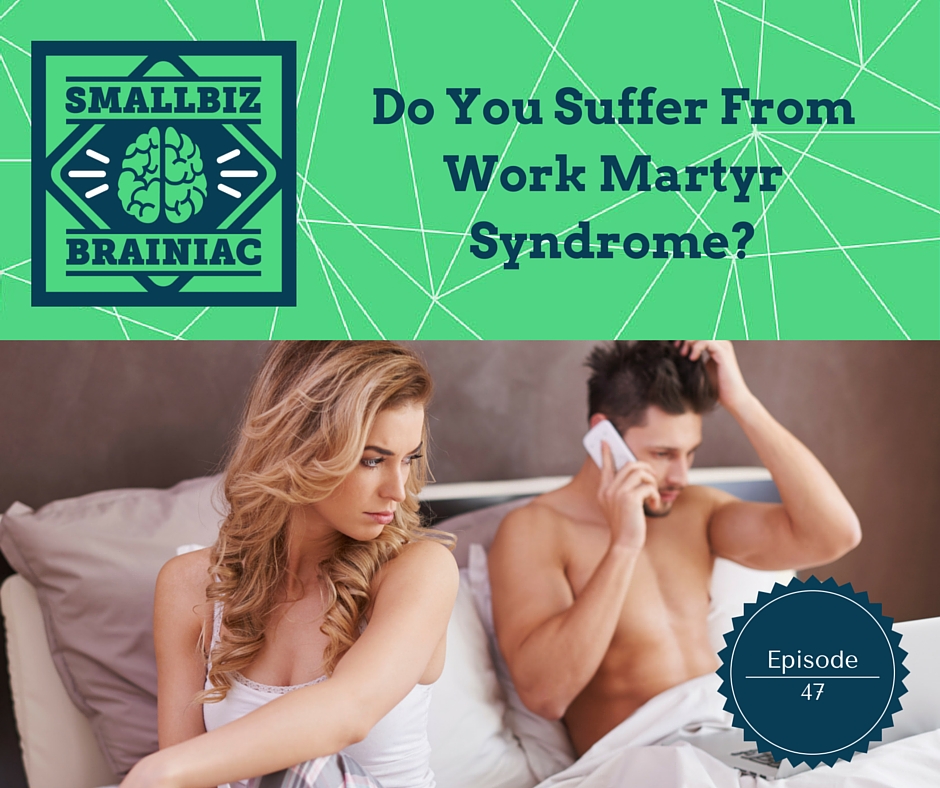 What's your attitude toward vacation time as the owner of your company?
Are you communicating the same message through both your words and actions? Do you make employees feel guilty for taking time off?
In episode 46 we learned about the mandatory paid sick leave laws and ordinances that exits, and the need for you to separate your vacation and other paid time off policies from your sick leave in jurisdictions where these mandatory laws exist and you have employees.
 Not Taking Enough Time Off:
According to Project Time-Off, American's have a vacation situation. They say we have "work martyr syndrome", and they claim that 169 million paid vacation days went unused in 2013.
The reason is that there are barriers to employee's taking their earned vacation time. Employees are telling them that:
1.There's just too much work to get done, and;
2.That they can't afford to go anywhere.
But they also blame company culture. The argument is that employers don't communicate their vacation policy to their employees and they send mixed messages about the acceptability of taking a little vacation by agreeing that it's good for employees to take it, but really discouraging it through other comments and setting the tone by their own actions, by not taking very much vacation time themselves. Do you do this?
But at the same when you ask employers and employees about it they all say that taking time off work is good. It helps rejuvenate and recharge. It increases productivity and job satisfaction.
According to Namely, the all-in-one HR software company, 20% of workers are willing to give up a higher salary for more PTO or an unlimited PTO policy, and 87% of employees rated PTO policies a high priority when evaluating a new job's benefits and compensation package —with over half of those calling PTO "very critical."
So there is a definite disconnect.
You might be shocked to find out that Project Time-Off is a coalition of hospitality industry companies who fund the research and marketing of the message. So….. their agenda is  obviously to drive business their way. Just kidding… this isn't shocking.
But does that invalidate the data?
The idea that our culture makes workers feel guilty for taking time off is supported by a 2014 Glassdoor survey that found the average employee only takes half of their days off. Sixty-one percent report working during their vacations and 15% said they haven't taken any vacation time off in the past 12 months.
The reasons that so many employees say they work while on vacation are that:
No one else can do the work,
Fear of getting behind or missing out on a promotion, and
Wanting to outperform their co-workers.
Seventeen percent of those people even fear losing their job if they don't work while on vacation.
There is more to life than work:
None of these statistics surprise me. Technology allows you to work from anywhere. Economic and competitive pressures seem to bear down on workers more and more year after year.
Throughout my career I have encouraged employees to take time off and I've made it clear that there is more to life than work. I tell my employees that everything will still be here when they get back. The workload isn't going to get any better if they don't leave. There will always be more to do than can be done. The answer isn't to work longer or harder, it's for management to work smarter and more efficiently.
We need to let our employees be on vacation when they are on vacation. Go beyond just encouraging employees to use time off. Support them. Let them disconnect. Don't email or call them while they are on vacation. Set email delivery to when they return. I have to admit though, this is something I'm guilty of. While I encourage and support them taking vacation, I've often emailed and sometimes called an employee …. so I need to do better.
The majority of workers are tired, overwhelmed and stressed out. But it's not due to their jobs alone, and the solution isn't more just days off. It has a lot to do with financial stress. Negative personal balance sheets, living pay check to pay check, too much debt and the inability to survive a financial hiccup. These are the reasons why so many of your employees are freaking out.
 Advice from Arianna Huffington and Cherie Buisson:
Arianna Huffington, Co-Founder and Editor in Chief of the Huffington Post and Author of Thrive, gave a speech at a Project Time Off event called the Upside of Downtime Forum 2015. In that speech she said that we can't get away without downtime. Our culture promotes the idea that we must be constantly busy but we need to stop connecting being busy with being effective. She said that Steve Jobs most inspirational product ideas came after meditation.
She said that while technology has made us more efficient it is a major obstacle to having real down time. She quoted Randi Zuckerberg, former Director of Market Development at Facebook and sister to Mark Zuckerberg, that we have a tech-life balance problem.  Ms. Huffington goes on to say that because of technology, the work never ends – we take our smart phones with us everywhere we go, but we must set boundaries and be the masters of technology, not slaves to it.
Dr. Cherie Buisson is a veterinarian and lecturer says, and I quote:
"Those people who insist upon being the first at work in the morning and the last to leave at night share a common malady. They share it with people who don't use their vacation time and who are the "only ones" who know how certain things at work are done. They make themselves indispensable and important until everyone believes the myth. I give you: the Office Martyr."
One way to combat the office martyr is by having a strict vacation policy. She says – and I'm quoting her:
"Vacations are excellent for reducing compassion fatigue. You need a break from your employees and they need a break from you (and each other). Avoid letting people carry over vacation or take it as cash. Be sure there is a rule in place that texting, calling or emailing employees on vacation must be approved by management. And seriously, folks, it needs to be an emergency. I know people who have received work texts during their wedding and while saying goodbye to a family member in hospice care."
So I ask you:
What is your philosophy, your company's culture about paid time off?
Is taking time off a priority?
Is it easy for your employees to request time off?
What attitude are you communicating about it through both your actions and words?
Are you and you managers taking time off?
Conclusion:
Most employees think PTO policies have a high priority when evaluating a new job's benefits and compensation package but employee's are not taking advantage of available paid vacation time due to corporate culture and financial stress.
Management miscues also contribute to our work martyr syndrome which results in employees not taking all available time off.
Employee vacations are important for maximizing productivity so you need to encourage your employees to use it and then you need to leave them alone while they're on it.