59: Employers' Liability Insurance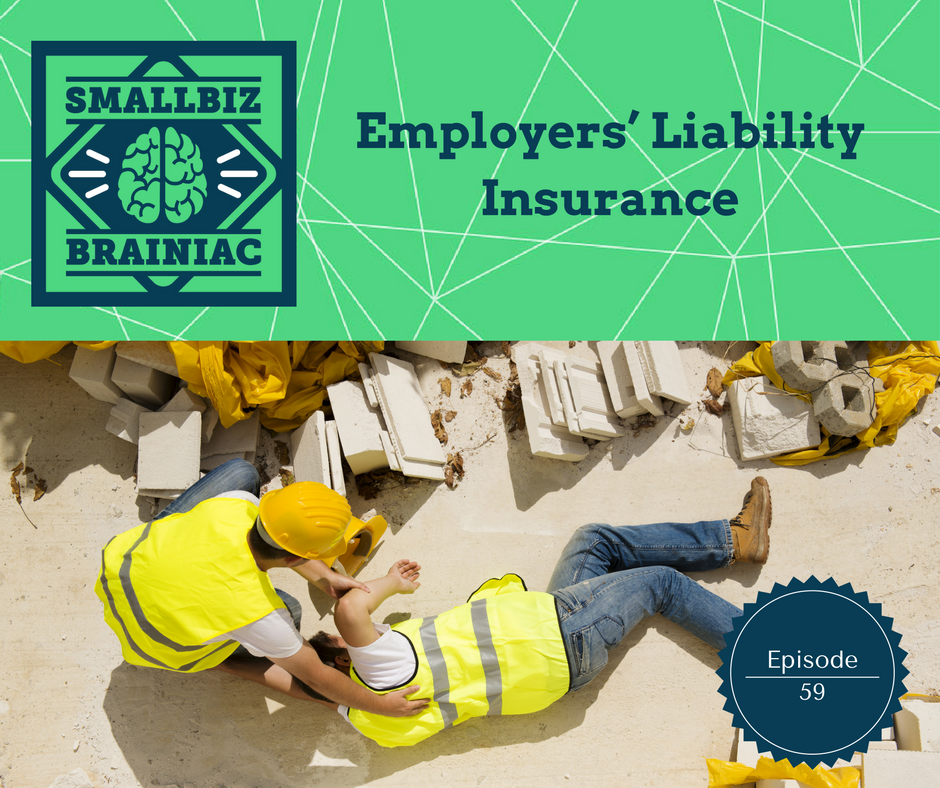 You can be held liable to others when your employee is injured on the job.
On the last episode we learned about the elements of your workers' compensation and employers' liability insurance policy, and in episode 11 we took a high level look at the benefits paid by the workers' compensation coverage. Today we'll learn what the employers' liability section of your policy covers.
Part 1 of your workers' compensation and employers' liability  policy pays the benefits you're required to provide to your employees under your state's workers' compensation laws.
Part 2 of your policy protects you against your common-law liability resulting from on the job injuries and illnesses.
Common-law liability:
Common-law liability is responsibility that's imposed on you by law that's based on custom, as opposed to statute. In my opinion, common-law liability is more difficult to comply with than statues because it's the accumulation of case law rather than published law. It's rooted in the idea that you have a legal duty of care based on your role, in this case as an employer.
As a result, you're liable to third-parties for the actions of your employees and that liability is mostly covered by your commercial general liability policy,  but not all of it is. Some of it's covered by your employers' liability policy.  Basically, employers' liability fills the gap that exists between your general liability and workers' compensation policies.
Let's say your employee gets hurt or becomes ill while on the job, and as a result, a third party ends up incurring damages. The third-party turns around and sues you. If the lawsuit isn't covered by your general liability policy then you employers' liability will most likely cover it.
4 most common types of employers' liability claims:
Although your employers' liability coverage applies to all claims not specifically excluded, the policy describes the 4 most common types of claims that are covered. Third-party claims, claims for care and loss of service, claims for consequential bodily injury and dual-capacity claims.
Here is an example of a third-party claim from The Institutes which is an insurance learning organization.
Let's say your employee is injured at work by faulty equipment so your employee get's a lawyer and sues the equipment manufacturer. The manufacturer turns around and sues you for not maintaining the equipment properly.
Next are claims for care and loss of service. This is a claim filed by the spouse of an injured or deceased employee for loss of consortium, where your negligence caused your employee's injury or death.  Consortium is defined as the inability of a spouse to have normal marital relations, which is a euphemism for sex. However, state laws vary on the rights of the spouse to file this type of claim.
Then you have claims for consequential bodily injury. An example of this would be where a parent of your employee suffers a heart attack after hearing about the injury or death
And finally, dual-capacity claims. Let's go back to the faulty equipment injury example, but in this case, you are the equipment manufacturer of the equipment that your employee was injured by, and they sue you.
In all of these examples, you can be liable even if your employee receives workers' compensation benefits which seems to fly in the face of the "exclusive remedy" feature of the workers' compensation laws. There are always exceptions.
Policy limits:
Unlike workers' compensation insurance, which doesn't have a limit on the amount it will pay, the employer's liability coverage has three different limits. A limit for each accident, a limit for each employee and an overall policy limit. Minimum limits are $500,000 for each of these.
For example, an accident might involve two or more employees. Let's say 4 employees are injured in a single accident, and all 4 have the exact same damages, and those damages are $200,000 each. The maximum that will be paid is $125,000 to each employee. If only two employees were injured they would each receive the total damages of $200,000.
Your defense costs are paid in addition to the policy limits.
Exclusions:
The standard employers' liability policy has 12 exclusions. Several of them are for claims that would be covered by other insurance. Others are for claims covered by various statues. Also, no claim is covered if your employee was illegally employed, or if you intentionally caused the injury to your employee.
Hewitt v L.E. Myers:
Here is an interesting example of an employers' liability case, Hewitt v L.E. Myers. Hewitt was an electrician working on de-energized electrical lines in an elevated bucket when he was electrocuted.
He filed a workers' compensation claim and received benefits. He also sued his employer arguing that they permitted him to work on the lines without rubberized gloves and sleeves in violation of an Iowa law that holds the employer responsible for civil damages if they deliberately removal an equipment safety guard with the intent to injure another.
You'd think this would be a hard thing Hewitt to prove, especially when it was the company's policy that he wear the rubberized gloves and sleeves, and in fact they were available for him to wear that very day and he choose not to. He actually said his supervisor said he wouldn't need them since the lines had been de-energized but the Supervisor denied that conversation ever took place.
Regardless, Hewitt won a jury award $597,785 which was affirmed upon appeal. However, the Iowa Supreme Court ruled that the protective rubber gloves and sleeves are not an equipment safety guard within the meaning of Ohio law, so they reversed the judgment of the court of appeals.
Hopefully you are beginning to see the the correlation between employers' liability, workers' compensation and workplace safety. They are intertwined. I've done several episodes on workplace safety teaching you about your duty to provide a safe working environment, and that includes providing reasonably safe tools and appliances. You also have a duty to warn and instruct your employees of the risks they'll reasonably encounter and the duty to provide reasonably competent fellow employees.
Fortunately for L.E. Meyers, they did all of these things right and ultimately won.