64: Time and Attendance Systems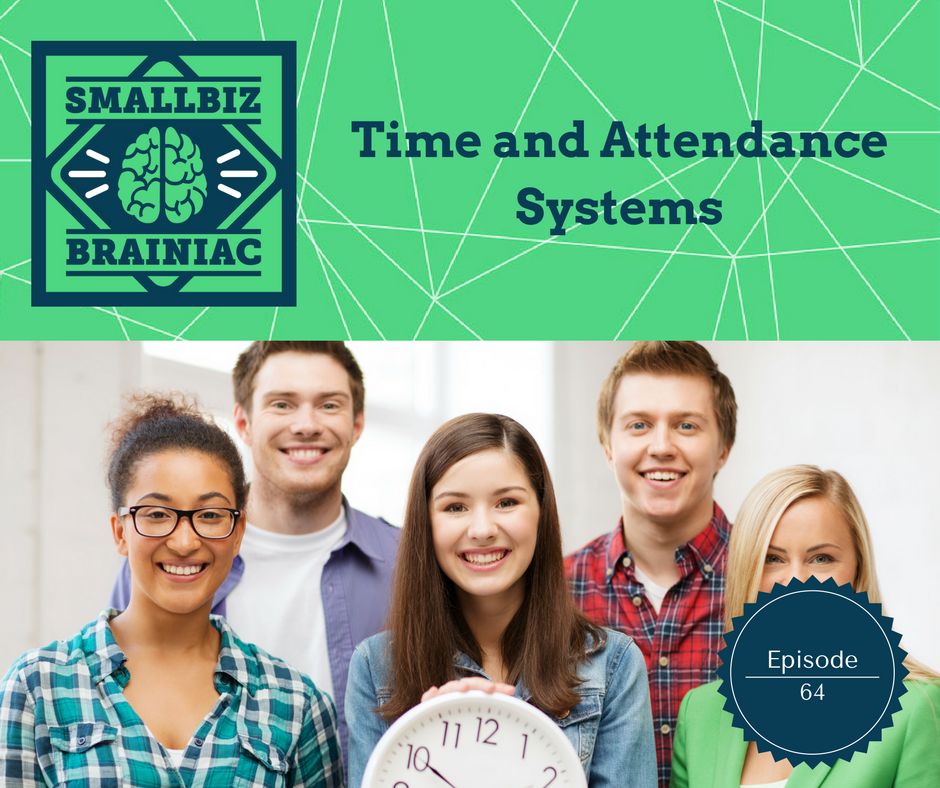 Keeping track of actual time worked is crucial to compliance
One of the hidden costs of employment is keeping track of who showed up, where they are, when they arrived, and how much time they spent working. Aside from the administrative expense of it, you're also faced with costly unintentional errors and employee fraud, like buddy-punching. No, this is not when one employee punches another employee in a friendly joust, it's when, for example, an employee is running late and has a friend clock him in so it appears he was on time.
If you haven't automated or recently upgraded your time and attendance data collection process then you're throwing money out the window in more ways than one.
There are many affordable options for every business scenario, including yours. So there's really no excuse for not getting with the program.
You know how important keeping track of actual hours worked is for wage and hour compliance purposes, right? If you're saying to yourself "what are you talking about, Thomas" or "I don't have to worry about that because I pay all my employees a salary", then you need to stop listening to this episode and go listen to episode 17, exempt vs non-exempt, episode 18 overtime pay calculation and episode 19 hours worked. You'll also benefit from episode 51, employment records retention. Then come back and listen to this one.
Keeping track of actual time worked is crucial to compliance and if you overpay an employee, you're pretty much outta luck… odds are you won't be getting that money back. You can't just self-correct that mistake by deducting it from their next paycheck. That's another subject for another day, maybe.
The benefits to an automated system go far beyond these issues.
You'll save time. You'll improve employee communication. You'll have actionable data which you'll be able to use to save money and improve service. You'll have happier, more engaged employees. These are big deals! And they can move your business forward in amazing ways, IF you take a little time up front to find the right solution for your specific situation and get it implemented.
With cloud-based systems using GPS to log start and end time by location you're able to eliminate the fraud associated with a remote workforce.
Here is an example from IQ Timecard of how their system can help you.
Step 1: The remote worker calls a dedicated number upon arriving on site and enters their pin. The system logs them in. Upon leaving the site, the worker repeats the procedure. The system records their exit.
Advantage: This utterly seamless process means managers no longer need to complete, collect and collate manual timekeeping sheets.
Step 2: All employee hours are logged and employees are trackable down to site location.
Advantage: The system also lets you see in real time who is logged in to remote sites and where employees are at any given time. IQTimecard eliminates the remote workforce's ability to claim for unapproved or unauthorized fraudulent overtime by ensuring the location of staff is correct at the time of clocking in/out. It can also implement strict controls on overtime without affecting existing workloads. Its smart automated time and tracking solution can do the work of several people with increased speed and accuracy. Discrepancies, disputes and time spent on supervision are also reduced.
Step 3: No written timecards means no mountain of paperwork and no manual searches. All data can be sorted quickly and easily with the click of a button.
Advantage: Because time and attendance can be integrated with payroll, the risk of human error is removed. This means no overpayments and increased accuracy in payroll date and invoicing.
I'm not sure what it is exactly they're saying about eliminating ability to claim unapproved or unauthorized fraudulent overtime. You have to pay overtime for all hours worked in excess of 40 per week even if the time worked was unapproved or unauthorized. And just because it was unapproved or  unauthorized doesn't make it fraudulent. It's only fraud if the employee didn't actually work those hours and they intentionally reported them in an effort to steal. You may however use the fact that they didn't follow your instructions to get authorization to work overtime hours as grounds for termination.
Many time and attendance systems also include amazing scheduling capabilities. I'm talking about systems that connect all the dots. Template based scheduling, gap identification, real-time access to who's currently working, the ability to manage shift change requests by connecting employees via email and text messaging and allowing them to fill open request and cover open shifts.
Shift management features alone are huge! If you've ever tried to manage a schedule to make sure every position is adequately staffed using marked-up calendars or spreadsheets then you know how time consuming this is.
When I Work, is a scheduling and time and attendance system that gives you the ability to notify all your employees of the week's schedule via email and text with click of a button. From there your employees can make trade request and if you approve it, the system notifies all your employees that are qualified to take that shift… all from a mobile device! But wait, there's more… if someone calls in sick, the application tells you who's available and can immediately send out a request to fill the open shift.
This isn't a commercial for either IQ Timecard or When I Work and I've not used either of them, but I have done extensive research and these are my findings. There are several great options out there and that's what makes this so exciting.
If you aren't using an automated system to manage your schedules, time and attendance then I suggest you carve out some time to implement one.