74: Travel Expense Reimbursements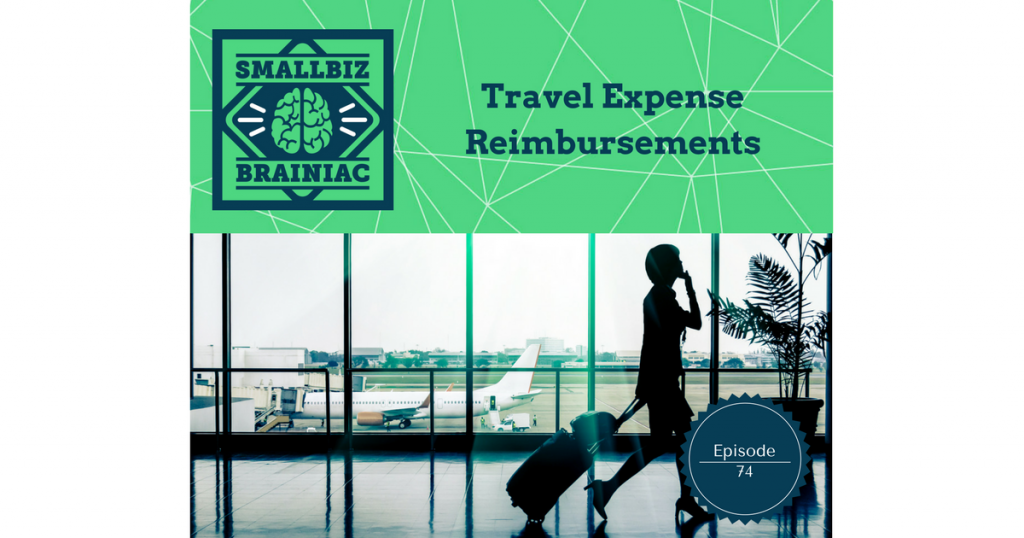 Do you have an accountable reimbursement plan that complies with IRS rules?
Do you have employees that travel?
Do you reimburse their expenses or pay them an allowance?
Only qualified travel expenses can be reimbursed without being included as taxable wages.
You might be reimbursing unqualified expenses because:
The travel doesn't qualify as a business expense
You are not reimbursing actual expenses
You're not using the right per diem rate; or,
You don't have an accountable plan.
What is a reimbursable travel expense?
Travel expenses are reimbursable if they are incurred while your employee is temporarily away from home, and on business for your company.
More specifically, their duties must require they be away from the GENERAL AREA where they live and be there substantially longer than an ordinary day's work. And, they need to either sleep or rest during the trip for it to be considered work while away from home.
This can be anywhere from one night to full year, but work away from home lasting more than a year is usually not considered travel, and expense reimbursements are taxable wages.
For example, If your employee travels away from home for the day and has lunch and/or dinner but he doesn't stay overnight, then even though he might be gone for over 8 hours, his meals are not reimbursable.
If, on the other hand, his meal is directly related to, and necessary for, attending a business meeting or a convention that's related to your trade or business, then they are reimbursable.
Accountable Reimbursement Plan:
The first thing you need to do when reimbursing travel expense – or any other business related expense – is create an accountable reimbursement plan.
You need one of these puppies so all your employee business expense reimbursements are non-taxable.
To qualify as an accountable plan it must have the following three elements:
1. The expenses must have a business connection, the person you are reimbursing must be an employee, and the expense you are reimbursing must be a deductible business expense. So, don't try to pay for the airfare of your employee's spouse who decided to join him or her on that business trip to Hawaii. They aren't an employee and there is no business connection.
2. Your employee has to adequately account for the expenses within a reasonable period of time. A reasonable period of time depends on the facts. But, if you follow these rules it will be considered reasonable: If you are paying an advance on future expenses, the advance can't be more than 30 days before the expense is incurred; and, your employee must adequately account for the expenses within 60 days of being paid the advance or incurring the expenses.
3. Your employee has to return any excess reimbursement or allowance within a reasonable period of time, which is 120 days after an expense is paid or incurred
If you don't follow these rules then payments are considered to have been paid under a non accountable plan and they are taxable wages.
Substantiated expense reimbursement:
To substantiate an expense you need documentation.
In other words, a receipt that shows the amount, date, place, and essential character of the expense.
For example, a hotel receipt will work if it has:
The name and location of the hotel.
The dates of the stay; and,
Separate amounts for non-lodging charges such as meals and telephone calls.
A restaurant receipt works if it has:
The name and location of the restaurant.
The number of people served; and,
The date and amount of the expense.
So if you go to Cracker Barrel and buy your very own peg game to play back at the hotel after your meal the receipt must show the item separately. And by the way, that's not a reimbursable expense.
There are exceptions…as usual…. Like, you don't need to substantiate an expense if any of the following conditions apply.
You reimburse travel expenses under an accountable plan, and you use a per diem allowance method that includes meals and/or lodging.
The expense, other than lodging, is less than $75.
A transportation expense for which a receipt is not readily available.
Per Diem:
So if you pay your employees a per diem instead of reimbursing actual expenses incurred, then like I just said, you don't need to substantiate the expenses. Meaning you don't need to have receipts.
Per diem means "for each day" and the General Services Administration, or GSA, establishes the daily rate by location.
These rates are set every fiscal year, which for the federal government is from October 1 to September 30th. So the 2017 rates were effective on October 1, 2016.
You can get the rates online using a nifty search feature.
There is also a simplified high/low option where the IRS lists key cities that qualify for a high rate and everywhere else qualifies for the low rate.  For example, Chicago qualifies for the high per diem rate and all other cities and towns are in IL are considered low per diem rate locations.
Here are some of the per diem nuances:
Reimbursement is based on the location of the work activities and not the accommodations, unless lodging is not available at the work activity.
There is also a separate meals and incidental expense rate you can use if you want to reimburse the actual hotel expense and just pay a per diem for meals and incidentals.
Going with the per diem method verses the substantiated method is much easier for everyone but you might end up spending more, and your employees might end up skipping meals or staying at roach motels so they can pocket the difference between what you reimburse them and what they actually spend.