76: New I-9 and Paid Sick Leave Law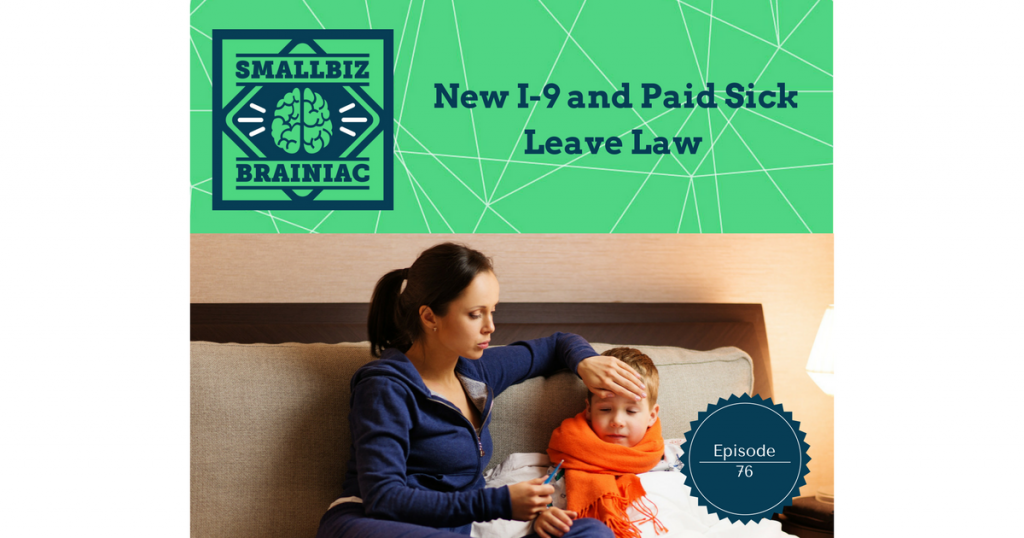 On October 5, 2016, Cook County, Illinois passed an "earned sick leave" ordinance that takes effect on July 1, 2017
Hey everyone welcome to episode 76. I want to update you on the recent changes to Form I-9 which take effect on January 21, 2017. I also want to update you on the latest paid sick leave law to be passed.
On episode 31 –  I taught you about form I-9, which you are required to complete AFTER you hire someone. You can't do this before you hire them. After an offer of employment has been accepted, you can have your new employee complete Section 1 of the form, and then you must complete Section 2…. within three business days of hire.
On episode 46 published on July 7, 2016 I told you about the mandatory paid sick leave laws sweeping the nation at the local level. At that time, Chicago had recently become the 34th jurisdiction and the third most populous city to have a paid sick leave law.
The Smart I-9:
The U.S. Citizenship and Immigration Services USCIS will be publishing a revised form I-9 by Nov. 22, 2016.
You may using the current version, the one with a revision date of 03/08/2013, until Jan. 21, 2017. After that, all previous versions of Form I-9 will be invalid.
They are calling the new I-9 a smart form because it auto fills and filters as you enter information. The prototype version looks very different from the current form and the smart features are pretty cool – I mean, we are talking about a government form here so the bar is pretty low.
Obviously these features only work if you complete the form online. You may still print it and complete by hand – and in that case its the same old dump form but looks different.
The online form has drop-downs, little question mark icons that you can click to see instructions, and error messages. It will auto-fill certain boxes depending on your selections or answers.
When you click to finish the form it checks to make sure you completed it correctly and highlights missed boxes in red.
I like the drop downs for Section 2 where you select which documents you'll examine to verify because they're customized based on the situation. This should go a long way to preventing errors as you won't be able to select the wrong form to use.
Also, the translator section – so if the employee used a translator to help them complete the form the translator has to complete this section – it now asks the question, did you use a translator, and if the employee answers yes, then a new field opens up asking how many translators were used, and the appropriate number of certification sections appear to accommodate them all.
Remember, the I-9 only comes in English so someone who doesn't read English will need a translator to help them.
And like I mentioned, there are formatting changes and wording changes that make it a little easier to complete.
So, it's a good idea to download the "smart" prototype and get to know it now so when the real macoy is published you're ready for it. I don't know for sure but I assume there's still the chance that some other changes are made since the release of the prototype but I wouldn't expect anything significant.
Overall these changes are, great. Of course the form is still behind the times as forms go… it should be completely electronic including the ability to be digitally signed.
Really though, the form should be eliminated and employers should be relieved of their police duties. The POC feds should verify everyone themselves and give everyone a number to provide employers that is easily verified online, and be done with it. And, you should be allowed to verify before you waste your time hiring the person in the first place.
Cook County Earned Sick Leave:
Let me update you on the latest jurisdiction to pass a mandatory sick leave law.
On October 5, 2016, Cook County, Illinois passed an "earned sick leave" ordinance that takes effect on July 1, 2017.
In the proposed ordinance which reads like a contract, the County said this:
WHEREAS, at least 28 local jurisdictions have enacted Earned Sick Leave including Chicago, New York City, Los Angeles, San Francisco, Oakland, Minneapolis, Philadelphia, Jersey City and Seattle; and,
So since everyone else is doing it, why not Cook County?
It goes on to say:
WHEREAS, a cost model developed by the Civic Consulting Alliance found that a paid sick leave framework similar to the one reflected in this ordinance would result in only a small, 0.7 to 1.5 increase in labor costs for most employers.
That's all…so quit your complaining! And then next year, or sooner, one of your other overlords will pass another law costing another paltry 1.5% and so it goes until either you can't afford to stay in business or your customers can't afford your product or services.
The Cook County law looks like most of the others.
Anyone who:
Works within the geographic boundaries of the County
For at least two hours,
For a covered employer
In any particular two-week period, and;
Work at least 80 hours for a covered employer in any 120-day period…… is entitled to paid sick leave.
A covered employer includes individuals and companies with a place of business within the County who paid at least one covered employee.
And of course this doesn't apply to Government entities and Indian tribes. I'm sure they offer more generous sick leave anyway.
The accrual is 1 hour for every 40 worked and the max accrual is 40 hours in each 12 month period…. AND employees can carry-over 20 hours of unused accrued time into the next year.
And finally, this accrued sick leave is considered wages and unused time must be paid out upon termination. It's considered earned as it is accrued.