79: States Sue DOL Over Salary Level Test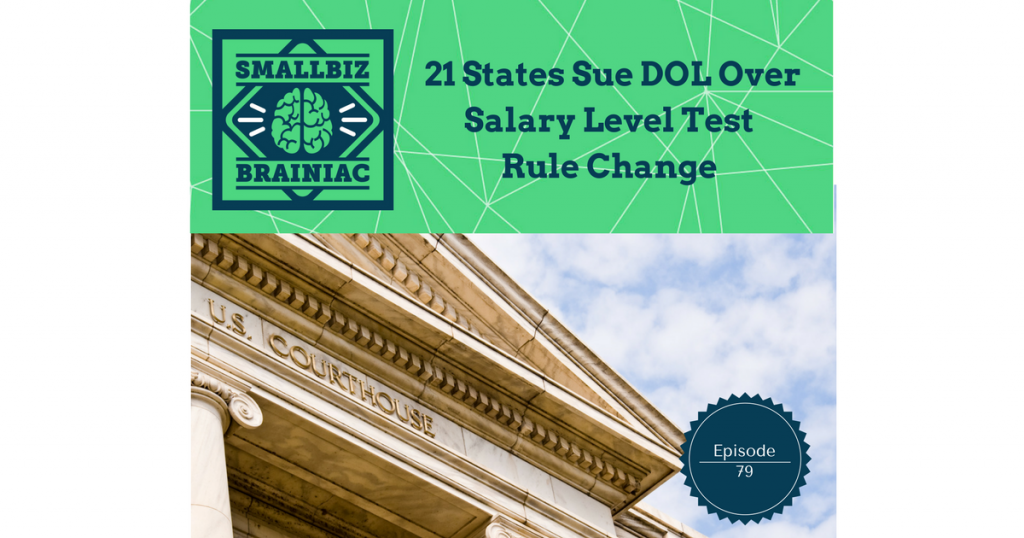 This rule change is bad for you and it's bad for your employees. 
On episode 33 published on May 23rd 2016, I introduced you to the change being made by the Department of Labor (DOL) to the minimum salary requirement for the overtime exemption under the executive, administrative and professional employee rule, and we are just one month away from going live.
Are you ready?
What are you doing to make sure you will be in compliance?
This is a major policy change, the kind that should be the work of congress, not the un-elected bureaucrats who run the DOL.
Thankfully, 21 states aren't just rolling over and accepting the railroading. They've initiated a lawsuit and filed a COMPLAINT FOR DECLARATORY AND INJUNCTIVE RELIEF IN THE UNITED STATES DISTRICT COURT, EASTERN DISTRICT OF TEXAS.
Double up:
On Thursday, March 13, 2014, President Obama directed U.S. Secretary of Labor Thomas Perez to "modernize and streamline" the Department of Labor's "white collar" overtime exemption under the Fair Labor Standards Act.
And so, on December 1, 2016 the minimum salary that must be paid to employees who qualify for the overtime exemption under the executive, administrative and professional rule is increasing.
It's more than DOUBLING….from $23,660 per year to $47,476!
If your employee otherwise qualifies for the overtime exemption and they earn less than $47,476 per year, you'll need to increase their salary OR convert them to salary non-exempt or hourly…… track their hours worked, and pay them overtime earnings.
This rule change is bad for you and it's bad for your employees.
Stealing opportunities:
Jeffery Tucker, Content Director for the Foundation of Economic Education, and author…says it well.
In his article 'Obama's Overtime Rules Will Cripple the Young and Ambitious', he writes:
"It's Saturday evening. Are you working? It's legal for now. Next year this time, it will be illegal unless you ding your employer for overtime pay. If your employer doesn't agree to shell out, grab that clicker and watch some Netflix. Mandatory goofing off is your new way of life."
The obvious problem here is now neither you nor your employee will benefit from after hours work.
Your salaried exempt employees that make less than $47,476 will now be limited to working 40 hours a week unless you increase their salary or pay them overtime.
That hurts your employee because they won't be able to put in that extra effort resulting in faster learning which leads to greater marketplace value and career advancement.
Chances are you got to where you're at because you put in the extra hours and accelerated your learning which lead to opportunities resulting from your increased value. You demonstrated commitment, dedication, ambition … all key ingredients in your career advancement.
This is exactly how I got to where I am.
I would not be here had I not the right to work as hard as I wanted without costing my employer more money. In the early years of my career my average hourly wages was very low because I was on salary and I worked 16 hour days… for years. I use to joke about this all the time with my brother-in-law. We worked together and we worked long hours. We'd laugh about how we didn't want to know what our effective hourly rate was because it was probably less than other people doing far less complicated work.
But that is how we learned the industry. That is how I became the Chief Operating Officer within a few short years and how Robert became the V.P. of Operations.
And that is the opportunity that this new DOL rule change is stealing from millions of young workers.
It's also going to destroy employee's flexibility to work extra hours one week, so they can take time off in another week, without using up their paid time off.
They'll lose the ability to work from home and to cover another employee's workload in exchange for them returning the favor.
And now instead of being treated like a responsible person, they'll be tracked like a parolee and forced to clock in and out.
Obviously this rule is also going to have a huge impact on you. You'll either have to pay more for the same level of productivity or reduce your employees work hours and find other ways to make up for the lost productivity.
21 States vs the DOL:
But wait a minute….there may be hope. As I mentioned in the intro, 21 states are suing the Department of Labor saying:
"….rather than analyze (and allow for notice and comment about) the duties that employees actually perform in our modern economy, (the DOL) simply doubled the current "salary basis test" that must be satisfied before an EAP employee is ineligible for overtime, and rendered virtually irrelevant any inquiry into whether an employee is actually working in an executive, administrative, or professional capacity."
The lawsuit also says that:
The "DOL's use of, and conclusive emphasis on, the salary test defies the statutory text, Congressional intent, and common sense."
but here is my favorite line from the lawsuit:
"The Constitution is designed to prohibit the Federal Executive's ability to dragoon and, ultimately, reduce the States to mere vassals of federal prerogative. Therefore, the new overtime rule must be set aside as violative of the Constitution, the authority given by Congress in 29 U.S.C § 213(a)(1), and the APA."
Dragoon means coerce (someone) into doing something.
Congress created this monster and they need to fix it, and here three statements made in the "Claims for Relief" section of the Complaint:
Therefore, the new rules and regulations described herein go so far beyond any reasonable reading of the relevant statutory text, and are in excess of Congressional authorization and must be declared invalid and set aside, and;
Congress impermissibly conferred unlimited legislative authority on DOL, and;
Therefore, DOL is unconstitutionally exercising Congress's legislative power to establish a Federal minimum salary level for white collar workers through the new overtime rules.
So, let's all hope that this lawsuit results in a permanent injunction preventing the DOL from implementing this devastating new rule.
How is this going to effect you? I'd love to hear from you on this. And if you have any questions about the new rule or need some help or advice on how to comply, please go to smallbizbrainiac.com – scroll down to "got questions" and let me know.