82: Political Revolution Or Train Wreck?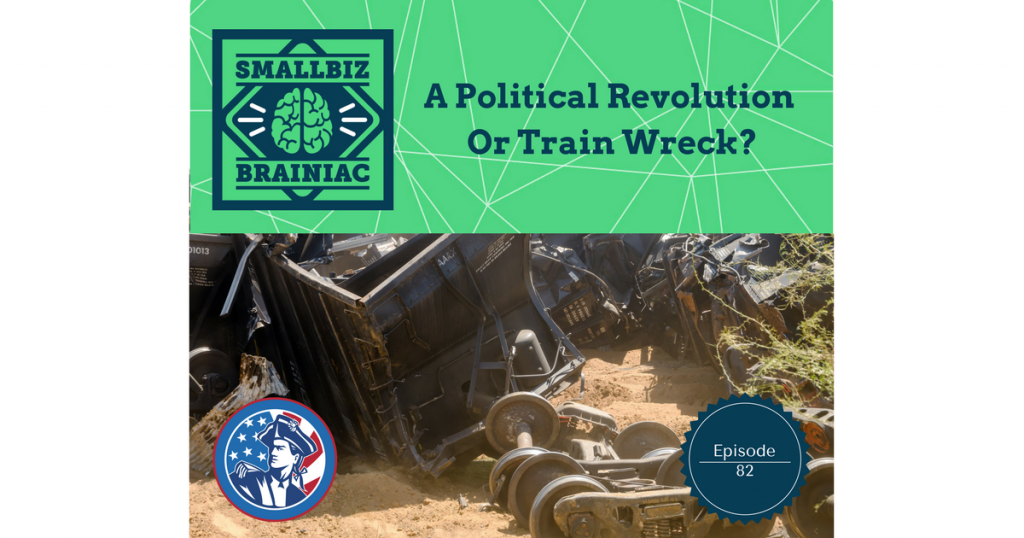 "You can measure opportunity with the same yardstick that measures the risk involved. They go together." Earl Nightingale
In the aftermath of the earth shattering presidential election on Tuesday where the business-as-usual politics was clubbed over the head. There's no shortage of opinions.
You already know that I hate big government. I'm disgusted by the mount Everest sized pile of government regulations impacting employers. I'm tired of employers being demonized by the non-economic producing politicians and bureaucrats. Most of whom have never employed people, run a business or worked in the private market.
Affordable Care Act:
For example, think about all the time and money that's been put into the Affordable Care Act.  It's mind boggling! The wasted capital and resources…. peoples time spent reading, writing, interpreting, litigating and implementing it….the opportunity costs. Incredible! I've been close to the action from day one… trust me, I know.
Minimum wage: 
If you don't think minimum wage laws INCREASE unemployment then you don't understand basic economics. The higher the cost, the lower the demand. It doesn't matter what it is we're talking about. It's as true for hot dogs as it is of rubber bands. When you increase the cost of labor, the demand for that labor decreases.
Unskilled labor is only worth so much. If the cost keeps rising then it will be cheaper to deploy robots and kiosks to do the work. This is already happening….leaving the unskilled worker unemployed.
We have several new minimum wage laws now after Tuesday's election.
Arizona, Colorado, Maine and Washington have just passed new minimum wage laws.
The election:
Let me be clear. I'm not a Trump fan. I didn't vote for him. I didn't vote for Hillary either. But since the reality is one or the other was going to win, I'm glad it wasn't Clinton.
Jeffery Tucker from the Foundation For Economic Education, summed up my sentiments in a quote he posted on FB Tuesday night. He wrote:
"Trump aside, today represents a massive repudiation of progressivism as a political ideology. No lover of freedom can be sad about that."
Like Trump or not, at least he isn't a politician.
Why is the outcome of this election, when viewed through your TV goggles, so shocking? Because they were reporting a foregone conclusion…Clinton wins.
So how did Trump get 60 million votes without the media seeing it coming? Because 60mm people in the right places are sick and tired of the corruption. Of being robbed and disrespected.
The media only reports what matches their agenda. They spin the facts. They twist the truth. They outright lie. If you get your facts from the TV then you are a danger to a free society.
What does a Trump presidency mean for you?
Will he unleash small business from the regulatory and tax chains?
Will he restore freedom, shrink government, balance the budget, and reduce debt?
Maybe HE WILL surround himself with the brightest, and maybe THEY WILL do what's needed and not what's politically expedient…. or maybe it will be politics as usual, just a different flavor of punch.
Trump called this election "a movement".
To me a movement means
Lower taxes
Free trade
Reduced regulation
Backing the fiat dollar with gold – at least in large part. This is something that will take a lot of time.
Balanced budget
Debt reduction… real debt reduction. That requires the we adopt GAAP account. Generally Accepted Accounting Principals. Not the government voodoo version of smoke and mirrors accounting.
Government spending is not a positive for the economy. Leaving money in the hands of free people is what will create the most prosperity for the most people and grow the tax base, not the tax rates.
So we'll see if this is a movement.
Trump has his hands full. He is inheriting a financial mess! He's walking in on a the remains of a frat party gone wrong.
The problem is that the medicine we need to take, the treatment we need to go through, is going to be painful. But if we don't do it, we'll die.
Cheers to each of you, to your businesses, to your hard work and for taking risk everyday.
I'm going to wrap this up with a quote from Earl Nightingale:
"You can measure opportunity with the same yardstick that measures the risk involved. They go together."