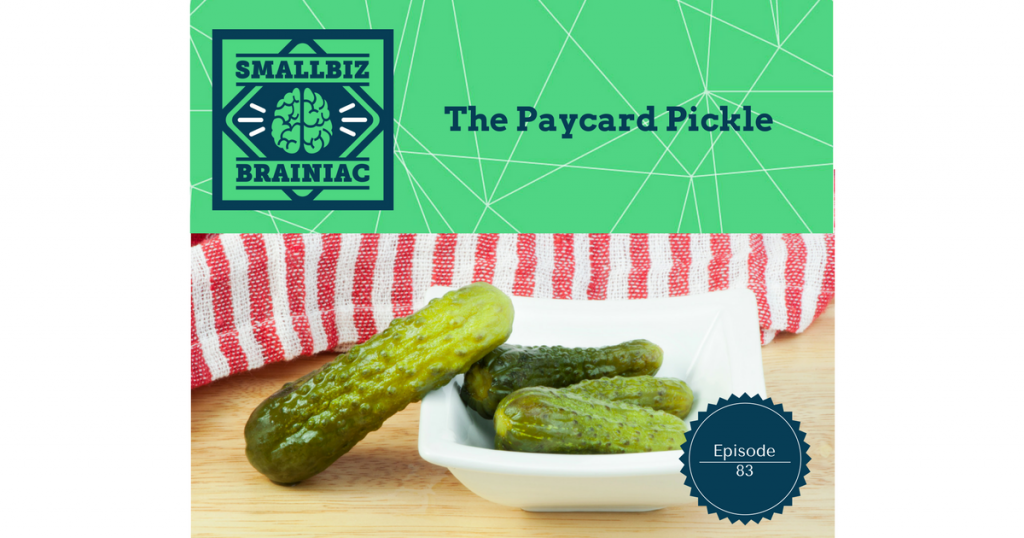 I don't like getting involved with employees' financial affairs
A paycard is like a pre-paid credit card or a debit card. They're funded the same way you make a direct deposit into your employee's bank account. The paycard provider issues the card to your employees and you send an ACH transaction to your bank. The cards are funded on payday and employees have immediate access.
Paycards are much more convenient and safer than checks. You don't have to worry about check distribution, lost checks or account fraud.
They're a great solution for your employees who don't have a bank account. As an employee I can't imagine trying to manage my financial affairs without a debit card. Paying your bills alone would be a huge pain in the butt.
Paycards are a great service but it costs money to provide that service, and that's where employees and regulators have a problem with them.
Most states won't let you require your employees be paid by direct deposit or paycard. But, most states require you to report and pay your payroll taxes electronically. The State want's the convenience of electronic reporting and payment from you, but they deny you the convenience of electronic payment to your employees. Not only that, they're making paycards more and more difficult to offer.
Paycard problems:
In 2013 there was a class action lawsuit against McDonalds for requiring employees to accept payment by paycard with high fees. The employee who filed the lawsuit claimed the fees caused her earnings to fall below minimum wage. The class-action involved 2,380 employees and $1.2 million in damages.
The New York State Attorney General Eric Schneiderman, published a report in 2014 about the problems with paycards.
He said paycards present serious problems for low-wage and limited English employees. He said the fee information is confusing and buried in the agreement, and that fees are too expensive. He also said many employers who offer paycards either don't offer payment by check or they highly discourage it.
And so, he proposed the Payroll Card Act. Which goes into effect on March 7, 2017. New York employers using pay cards  will have to provide a description of available payment methods in the employee's preferred language, a statement confirming no charges for accessing money on the card, a list of ATMs within a reasonable distance where they can use their paycard, and notice that they can opt out.
The new law also prohibits you and your paycard provider from charing for:
Application or loading
Point of sale transactions
Overdrafts
Account inactivity
Maintenance
Accessing account information including balance
Plus 6 other items.
Another important aspect of the new law is you'll need union approval if your employees are covered by a collective bargaining agreement that specifies the methods of payment.
Regulation E:
ON a federal level, Congress has assigned to the Federal Reserve Board responsibility for implementing certain laws having to do with banking and financial activities. The Board implements those laws through regulations, which are part of the Code of Federal Regulations (CFR).
Under Regular E you can't require your employee, as a condition of employment, to establish an account, which is what they're effectively doing when they sign up for a paycard. You may require direct deposit of wages as long as your employee can choose the financial institution. Or, you can limit the choice to just one specific FI as long as you offer payment in the form of check or cash.
So, under federal law you can't require you employees be paid by electronic transfer to a payroll card account at a particular institution.
Paycard program guidelines:
The American Payroll Association and the National Consumer Law Center published some Guidelines for the selection of a qualified payroll card program. The guidelines say that:
Employees must be able to access their full wages in cash at least once each pay period without fees.
Employees must have a choice of wage payment method and be able to change it.
Employees should know how to change it if they want to
The card should be widely accepted.
There should be a wide, convenient surcharge-free ATM network
You must provide clear information and training on the use of the card and the fees.
You must provide free and convenient access to account information.
You should not charge fees for responsible behavior like checking balance and using
The funds in the payroll card account must have deposit insurance.
Employee wages must be protected if the bank holding the funds becomes insolvent. You should select a program that maintains payroll funds in an FDIC- or NCUA-insured account on a pass-You You should select a card that doesn't offer overdraft protection or other embedded credit features.
Don't use a card that pays you cash incentives.
Sounds a lot like the New York law, right?
More trouble than they're worth:
These are all good things, common sense and if I were an employee being provided a paycard by my employer I would want these things.
But, in my experience and opinion, pay cards are more trouble than they're worth. I know I said they are convenient, safe and eliminate check distribution problems, and that's all true. But, the communication, training, compliance and enrollment is more time consuming than just paying by check. And with the cost shifting taking place due to the passage of laws… like in New York, you're going to end up paying the expenses.
Paycards are for the unbanked, and many of the unbanked don't want to be banked. According to the FDIC 2015 National Survey 9 million are unbanked. People are unbanked because they don't qualify for an account, they are young or don't understand how banking works, they don't like banks and all the fees (the Wells Fargo Shenanigans are a good example of why people hate banks), or they are non-residents and afraid of being on the radar.
Mainly I don't like getting involved with employees' financial affairs. Being responsible for their banking just adds another potential for problems. You aren't their mom or dad. They need to take responsibility for their own financial management for their own banking.