85: Your Employee Handbook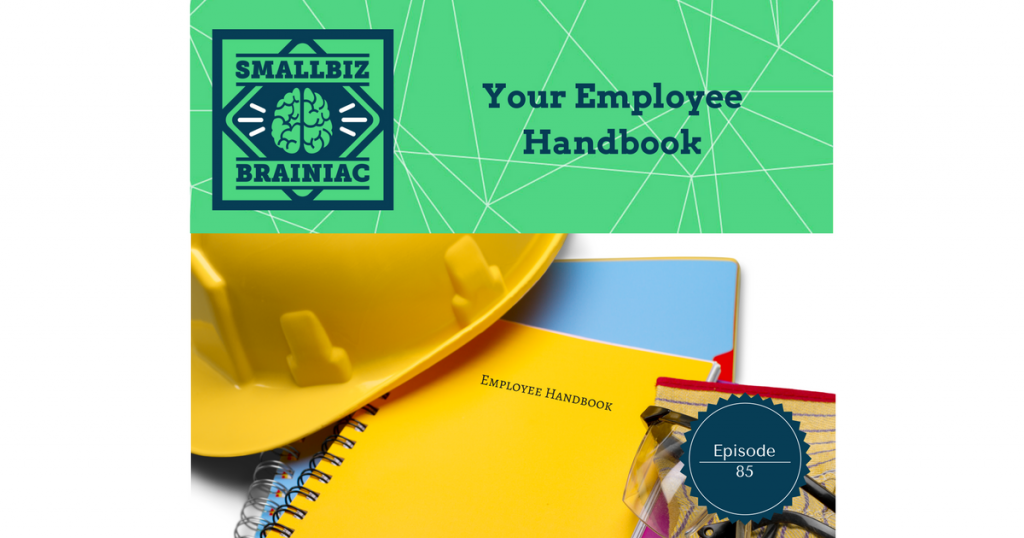 Creating and maintaining an employee handbook is a hassle, but well worth it.
Should you have an employee handbook ("EH")?
Maybe, maybe not. It depends on your organization. They are a good idea and serve two valuable purposes, clarity and litigation defense. Not every business owner wants one, but you have policies regardless of weather or not you write them down.
Put yourself in your employee's shoes… starting a new job is nerve-racking, and not knowing what's expected of you only magnifies that stress. Your EH is a great tool for helping them feel settled and secure.
It's super important to make sure they know the rules of the game. They need to understand your policies and procedures, what you expect from them and what they can expect from you. It's also a great management guide. It's really the foundation of your relationship with your employees. Plus, your handbook is a great way to tell your employees about your company's culture, philosophy, history, mission and vision.
It needs to be clear, readable, error free, current and consistent with other written materials and practices. You want to make sure it doesn't' conflict with anything else. It should also describe your legal obligations as an employer, and your employees' rights.
Try to make it as straight forward and conversational like as you can….because you want them to read it. So, make it readable.
Granted, creating and maintaining an EH is a hassle. It's a lot of work, but well worth the effort.
A lot of employers don't have an EH because they think it's a liability…and it can be, if it's not done right. But, done right, it's a huge benefit and protection. You're far better off with one….again, if done right, than without one, and the courts are expecting to see them to support your defense against employment claims.
Your EH needs to be update often because things are constantly changing with the passage of new laws and court decisions, which have the effect of law. You know from listing to this podcast that the NLRB, the EEOC and the DOL are actively promoting their agendas through new rules, and the interpretation of existing ones. You know that new minimum wage and paid leave laws are springing up at the state and local level all across the country, so it's important you stay on top of these activities and amend your EH accordingly.
Don't let it get outdated!
Most importantly, the EH should maximize your rights and minimize your promises.
The introduction:
The first section should contain a message from you to set the tone and welcomes your employees to the company. You should tell your employees about your company. Describe your culture, your company's history and your mission.
It should explain, in the introduction, that your relationship is an employment at-will relationship assuming that's what you want. At-will employment simply means there is no defined length of employment, and that either your or your employee may terminate the relationship with our without notice. It should also explain that the EH is not an employment contract, and should not be consider one.  And include a statement saying it's subject to change. Finally, in the introduction, have a clear effective date, along with a notice that this version supersedes all previous written and oral versions.
I heard one lawyer speaking to a manufacturing industry group in Illinois that you could state you're are non-union company and you treat people with respect and dignity – be careful not to say things like you don't allow unionizing activity, but don't be afraid to say you non-union.
Other sections:
I think of the EH in terms of its major sections. There is a lot of detail you could get in to but there is definitely some that you don't want to forget.
Everything you need to include in your handbook will fit into one or more of these categories.
Let's go over the categories and some examples. This isn't everything. I'll put a more complete list in the show notes.
Compensation – Talk about the payroll tax deductions, status, classification, time and attendance records, overtime pay, bonuses, the pay week, the pay period, work schedules, meals and breaks, and not allowing non-exempt employees to eat at their desk, for example. Explain your methods of payment, also how benefit premiums are deducted, and what to do if they think there's a payment error – what's the process for dispute.  One really important item here is an Exempt employee permissible deduction safe harbor language and error reporting statement.
Leave – Things like paid time off for vacation, holiday, bereavement and sick leave. What are the eligibility rules, accrual method, request process, do you allow carry-over or payouts, for example. Remember there are many jurisdiction with mandatory leave requirement so you'll have to comply with those at a minimum. And there's unpaid time off – Family medical leave for those of you with 50+ employees, jury duty, military leave, and time off for voting, domestic violence, and for pregnancy and nursing mothers. Pregnancy might be covered under mandatory paid leave laws.
Benefits – Keep this section to a minimum and talk about eligibility requirements. Put the benefit plan details at the end of the manual so they can be easily switched out when they change.
Safety and Security – Talk what to do when someone is hurt on the job, how to report, what to expect. What to do in the event of emergencies, fire, natural disasters, and bomb threats….oh, and you weapons policy. I'd still have an Illness and Injury Prevention Plan, in other words a safety manual for the nitty-gritty details. The handbook should be an overview and establish the fact that you will make every effort to maintain a safe workplace. Then there is the security of the physical premises, company property and proprietary and client information. Network and computer policies, remote access and on and on.
Conduct – This is where you explain your policies involving employee behaviors, things like dress codes, hygiene, smoking, drug use, ethics,  use of company property, outside employment, use of company property. What do you allow and don't allow – there's a lot of details to communicate. Email use is part of this.
Compliance – most everything we've talked about must be balanced against compliance with all the laws protecting employees rights. Harassment, for example – talk about what's prohibited, provide examples, explain how to report harassment and what the process is once it has been reported. Explain the confidentiality. Same for discrimination… explain what policies and practices you have to prevent it and respond to it. Talk about how you'll provide reasonable accommodations for disabled employees and applicants. This is a long winded- legalese section that you should try hard to explain in layman's terms.
NDA's and other agreements:
As for non-disclose, non-solicitation, non-compete, and confidentiality agreements, don't include these as part of your handbook. Keep these separate.
National Labor Relations Board:
As for the National Labor Relations Board regulations you need to make sure your policies don't negatively effect your employees rights to form or join unions; engage in protected, concerted activities to address or improve working conditions.
Yes… even if you don't have union employees you have to comply with NLRB regulations – section 7 – that says you can't "chill" an employee's rights.
Your employees have the right to protest for mutual benefit… to organize, and you can't have policies that prevent them from doing that. You can have policies that prevent them from disrupting the workplace but those policies can't be too broad.
Conclusion:
Once you have your EH completed you'll need a formal rolling out that includes manager training, employee training, and an opportunity for Q&A
You should have each employee sign an acknowledgement of receipt and place it in the employee file. And, it's a good idea to have the harassment policy include it's own sign-off on.