86: Thanksgiving Gift, DOL Salary Level Increase Blocked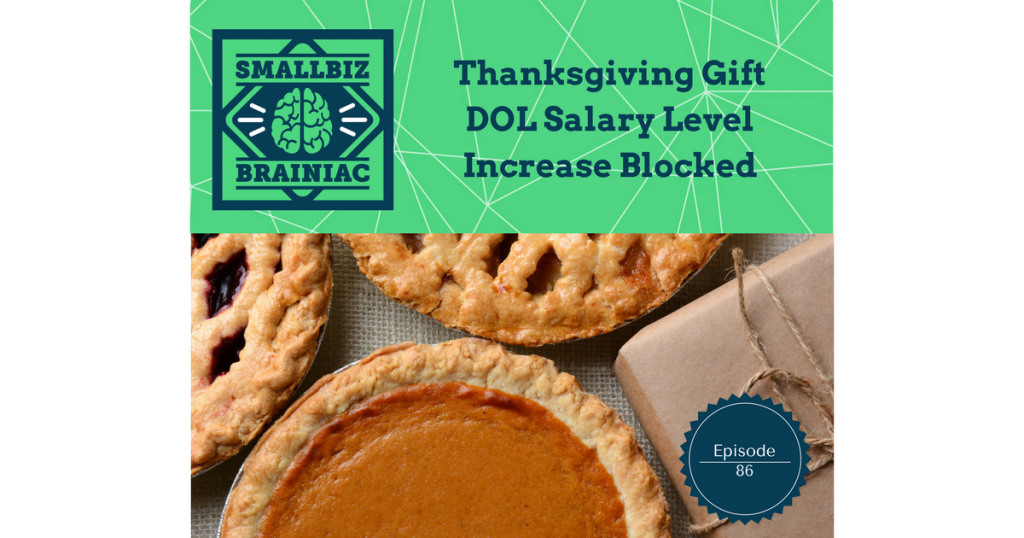 Judge Mazzant stops DOL action by granting temporary injunction!
Happy Thanksgiving everyone! I'm in Franklin, Tennessee visiting family. My wife and I, along with our two kids, drove 1,600 miles from our home in Gilbert, Arizona last week, to be here. Yes, that's a lot of miles, but we split it up into three days. It was a long trip but we had fun along the way and our two year old son was a trooper!
Since today is Thanksgiving, and even though about 12% of you are from 13 different countries, I want to say Happy Thanksgiving, and thank each of you for listening to the show.
And, I want to pass on a very special gift to you from judge Amos Louis Mazzant III of the United States District Court for the Eastern District of Texas.
Remember from episode 33 on May 24th 2016 where I first told you about the U.S. Department of Labor's rule change that more than doubled the minimum compensation requirement for salary exempt employees?
For the executive, administrative, and professional employee exemption the minimum salary is increasing from $455 per week to $913 per week, effective December 1st, 2016….
That is until this past Tuesday when Judge Mazzant blocked the DOL's action by granting a temporary injunction!
The injection ruling is a result of the a COMPLAINT FOR DECLARATORY AND INJUNCTIVE RELIEF, filed by 21 states on September 20, 2016, which I told you about in episode 79 on November 1st.
If this is the first you're hearing about the salary level increase, take a few minutes after some pie, and listen to episodes 33 and 79.
I received this great news the same day as the ruling from the law firm Fisher and Phillips via an emailed legal alert. In their Alert, they report the judge stated that it was improper for the USDOL to adopt a salary test that categorically excludes a substantial number of workers who meet the exemptions' duties-related requirements.
In other words, employees who's job duties qualify them for the salary exempt status.
The judge also said the DOL has overstepped its authority by making this rule change despite the fact Congress delegated definitional power to the DOL. The judge also said that Congress never authorized the DOL to classify white collar workers based on salary alone, which is essentially what's happening for the 4.2 million workers who meet the other test elements and only up until now don't pass the salary level test.
This ruling only delays the implementation but a lot can happen. If it survives the next two months, I can see the rule change dying at the hands of the Trump administration as a new Secretary of Labor is appointed, and it never going into effect.