87: National Labor Relations Act & Your Employee Handbook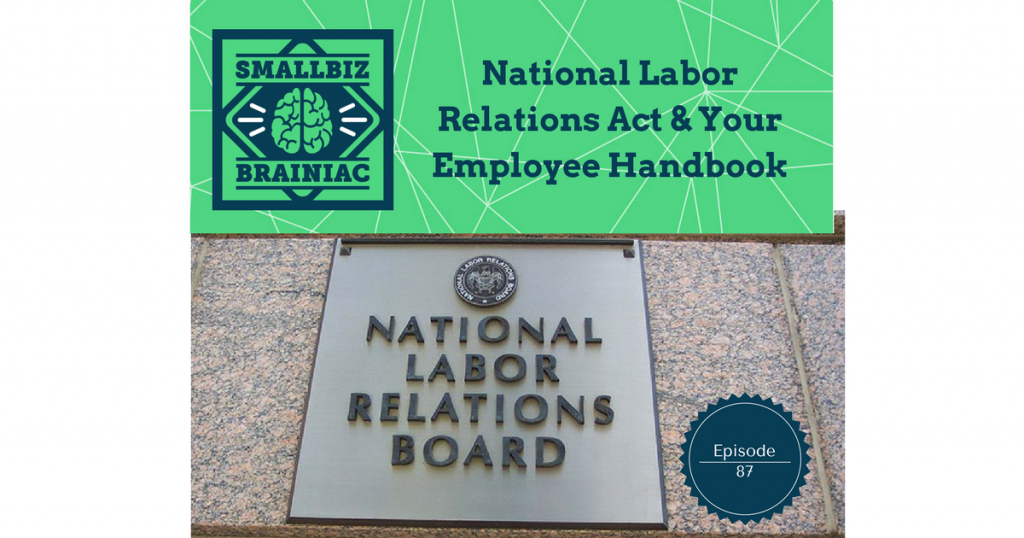 The National Labor Relations Board is taking issue with handbook policies that get in the way of employee rights.  
In episode 85 on employee handbooks I told you that your policies need to take NLRB regulations into consideration even if you don't have union employees.
It doesn't matter that you don't have union employees. The law still applies to you.
Overview of the National Labor Relations Board and National Labor Relations Act:
The National Labor Relations Board is a federal agency that protects the rights of private sector employees to join together, with or without a union, to improve their wages and working conditions.
Board members are appointed by the President of the United states and they serve 5 year terms.
The Board investigates complaints against employers, facilitates settlements, decides cases, and enforces orders.
There is also a General Counsel who's independent of the Board. That person is also appointed by the President to serve a 4 year term.
The National Labor Relations Act was passed in 1935. The Act basically says commerce is negatively effected when employees can't organize or negotiate as a group. And they can't do that if they aren't protected from you discipling them, or even worse, firing them.
The Act says "It is declared to be the policy of the United States to eliminate the causes of certain substantial obstructions to the free flow of commerce and to mitigate and eliminate these obstructions when they have occurred."
The Act does this "by removing certain recognized sources of industrial strife and unrest, by encouraging practices fundamental to the friendly adjustment of industrial disputes arising out of differences as to wages, hours, or other working conditions, and by restoring equality of bargaining power between employers and employees."
But that's nothing new. Right? You knew that… or maybe you didn't.
Section 7 and your employee handbook:
What's relatively new, and something you may not have considered or worried about, is how your policies might be violating Section 7 and 8 – based on the expanded interpretations of the NLRB and the courts.
Section 7 and 8 of the Act prohibit you from interfering with your employee's rights to unionize, to join together to advance their interests as employees, or to refrain from such activity.
The NLRB is taking issue with handbook policies that get in the way of these rights.
On March 18, 2015, the Office of the General Counsel, issued a memorandum calling unlawful handbook rules an evolving area of labor law and saying that he hopes employers will conform their handbooks to ensure they're lawful.
It goes beyond the obvious outright prohibition of protected rights to include any language that could be construed as having a chilling effect on your employees.
Your employees have a right to discuss wages, hours, and other terms and conditions of employment with fellow employees and non employees…. with whomever they want, and your confidentiality policy might be illegal.
Any policy that prevents them from taking about these things, either explicitly or implicitly, is illegal. The trick is implicitly, right? A policy that is not specific will likely leave your employee to believe they can't discuss these things with others…. in the eyes of the NLRB, that is.
The memorandum addresses 8 common policies.
Confidentiality
Conduct toward company and supervisors
Conduct toward fellow employees
Interaction with third parties
Use of company logos, copyrights and trademarks
Photography and recording
Restricting Employees from Leaving Work
Employer Conflict-of-Interest Rules
I'll give a few examples:
Here's an example of an illegal confidentiality policy:
Do not discuss "customer or employee information" outside of work, including "phone numbers [and] addresses."
Why is this illegal? Because it specifies employee information.
Here is a legal policy:
No unauthorized disclosure of "business 'secrets' or other confidential information."
Why is this legal? It doesn't reference employee information or terms and conditions of employment, and the term "confidential," isn't defined in an over-broad manner.
Here is an example of an illegal employee conduct toward your company and supervisors policy:
No defamatory, libelous, slanderous or discriminatory comments about the Company, its customers and/or competitors, its employees or management.
Why? Because it could be reasonably construed to ban protected criticism or protests regarding their supervisors, management, or the employer in general.
Can you believe this? Go ahead, denigrate and defame your boss and the company and don't worry about losing your job. What next? You can't terminate an employee with a negative attitude – someone who goes around damaging employee morale and infecting the workplace because they have a right to criticize? Yup… the General Counsel says:
"….a rule that prohibits employees from engaging in. "disrespectful," "negative," "inappropriate," or "rude" conduct towards the employer or management, absent sufficient clarification or context, will usually be found unlawful."
What clarification or context would make the policy ok? I don't know. But here is an example of a legal employee conduct policy.
"Employees will not be discourteous or disrespectful to a customer or any member of the public while in the course and scope of company business."
SO, it's okay to denigrate and defame as long as you do it respectfully.
Here is one more example before we talk about the 2014 Wendy's settlement where we learn about social media policies.
Do not make "insulting, embarrassing, hurtful or abusive comments about other company employees online," and "avoid the use of offensive, derogatory, or prejudicial comments."
Sounds reasonable… but it's illegal!
Why? the General Counsel says:
"Because debate about unionization and other protected concerted activity is often contentious and controversial, employees would reasonably read a rule that bans "offensive," "derogatory," "insulting," or "embarrassing" comments as limiting their ability to honestly discuss such subjects."
What we can learn from Wendy's:
As for the Wendy's case, here are some other policies to look out for.
There were several policies under the social media banner that the NLRB found unlawful. Here are just a few.
Refrain from commenting on the company's business, financial performance, strategies, clients, policies, employees or competitors in any social media, without the advance approval of your supervisor, Human Resources and Communications Departments.
You may not use the Company's logos, marks or other protected information or property without the Legal Department's express written authorization.
You may not email, post, comment or blog anonymously. You may think it is anonymous, but it is most likely traceable to you and the Company.
You may not make false or misleading representations about your credentials or your work.
You may not create a blog or online group related to your job without the advance approval of the Legal and Communications.
Do Not Disparage: Be thoughtful and respectful in all your communications and dealings with others, including email and social media. Do not harass, threaten, libel, malign, defame, or disparage fellow professionals, employees, clients, competitors or anyone else. Do not make personal insults, use obscenities or engage in any conduct that would be unacceptable in a professional environment.
Do Not Retaliate: If you discover negative statements, emails or posts about you or the Company, do not respond. First seek help from the Legal and Communications Departments, who will guide any response.
Why? Because all these are not specific enough and chill employees rights under Section 7 because they could be reasonably construed to prevent disclosure or discussion of wages, hours, and other terms and conditions of employment with fellow employees and non-employees.
And I have to mention these two from the employee conduct section of the Wendy's handbook saying employees can't make false accusations against the Company and/or against another employee or customer. Or, use threatening, intimidating, foul or inappropriate language.
Again, illegal because no context is provided, no examples are provided and it could have a chilling effect on protected concerted communications because employees reasonably would fear that contradictory information provided by the employer would result in discipline.