89: New OSHA Recording And Reporting Rule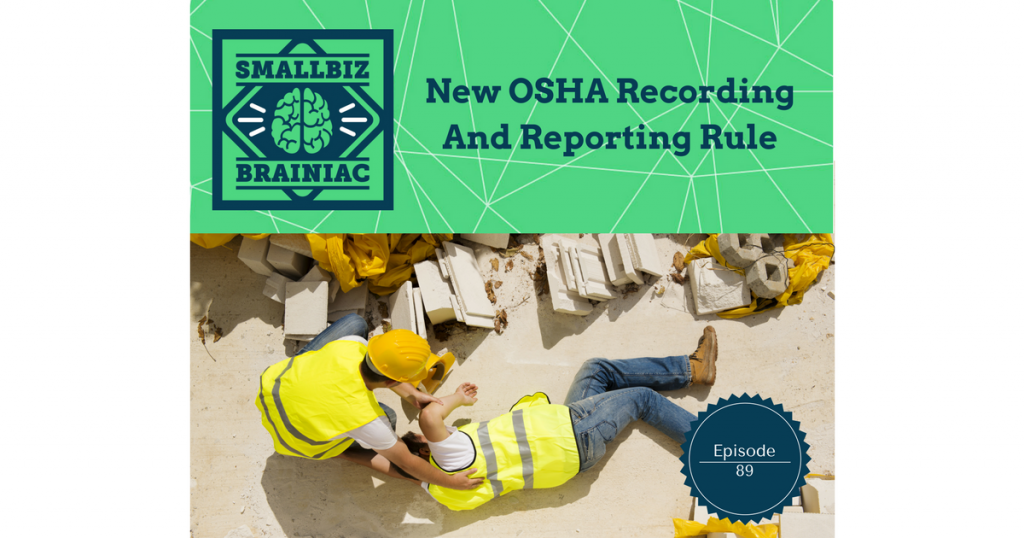 OSHA thinks by forcing you to make your claims information public you'll naturally want to focus more on safety to try and avoid being embarrassed.
Behavioral economics:
OSHA's new final rule revising their Recording and Reporting Occupational Injuries and Illnesses regulation, takes effect January 1, 2017. The revised rule was designed to "nudge" you into making your workplace safer for your employees by making your workers' compensation claims information public.
They call this behavioral economics. By forcing you to make your claims information public you'll naturally want to focus more on safety to try and avoid being embarrassed. After all, who wants their dirty laundry on display. Your employees, vendors, suppliers and customs might see it and stop doing business with you.
But it's for your own good because this forced attention to safety will result in fewer claims and a better bottom line for you, that according to you.
It's brilliant!
Will it work?
Problem is, it won't work! It's not going to encourage you to improve workplace safety. If you don't already care about safety, having your claims data posted to some obscure website isn't going to change your behavior.
The real reason behind the new final rule is so OSHA can, well… here it is in their own words: "Analysis of this data will enable OSHA to use its enforcement and compliance assistance resources more efficiently."
Translation, we'll be able to use your information to issue more citations.
Maybe it's not that bad. They do also say they'll be better able to identify small and medium-sized employers who report high overall injury and illness rates so they can refer you to their free on-site consultation program. Or, they might send hazard-specific educational materials to you, or letters, saying your occurrence rates are higher than the industry-wide rates and offering up some assistance.
In a study, OSHA suggests that high-rate notification letters were associated with a 5 percent decrease in lost workday injuries and illnesses in the following three years.
OSHA Electronic data collection:
The data OSHA wants to make public is already required record keeping but it only has to be turned over to OSHA when they do onsite inspections.
Currently, employers in most industries with 10 or more employees have to keep injury records. You have to prepare an injury and illness report for each case using Form 301. You have to compile a log of these cases using Form 300, and finally, you have to complete and post in the workplace an annual summary of work-related injuries and illnesses on Form 300A.
From 1997 to 2012 OSHA had an electronic data collection program, but is was only summary data and only for employers in certain industries. They used the information to ID and target the most hazardous worksites.
I guess the program was successful because now they are expanding it to detailed information and requiring every employer over 250 employees, and every employer with 20 or more employees who are in businesses identified on a designated industries list found in Appendix A to Subpart E of Part 1904, to comply. You can find the list and a link in the show notes.
OSHA will provide a secure website with three options for your data submission enjoyment.
You can enter it manually, upload a CSV file, or if you have an automated recordkeeping systems you might be able to transmit data electronically through an API, or application programming interface. The site is supposed to go live in February 2017.
Other provisions:
The new rule also requires you to tell your employees about their right to report an injury without retaliation by you. This notice is already part of a required workplace poster so not sure why they decided to put that in here.
The new rule also makes it clear that again, already existing reporting requirements, must be reasonable and not discourage employees from reporting injuries.
And, to add redundancy on top of redundancy it includes a statutory prohibition on retaliation.
These three elements took effect on august 10th but OSHA delayed enforcement until December 1st. Yeah… enforcement of previously existing rules. Makes me wonder if I'm missing something.
Oh wait, I found it… "The final rule amends paragraph (b)(1)(i) of § 1904.35 to state explicitly that employer procedures for employee reporting of work-related illnesses and injuries must be reasonable." and "The final rule adds new text to clarify that reporting procedures must be reasonable, and that a procedure that would deter or discourage reporting is not reasonable, as explained in a 2012 OSHA enforcement memorandum."
Reporting deadline:
You have to comply with this new rule if you have 250 or more employees in industries already covered by the recordkeeping regulation or if you have 20-249 employees and you're in certain high-risk industries.
You'll have to report your 2016 Form 300A info by July 1, 2017, and your 2017 info by July 1, 2018.
And then starting in 2019 and every year thereafter, it's due by March 2.