95: Employee Terminations In 4 Steps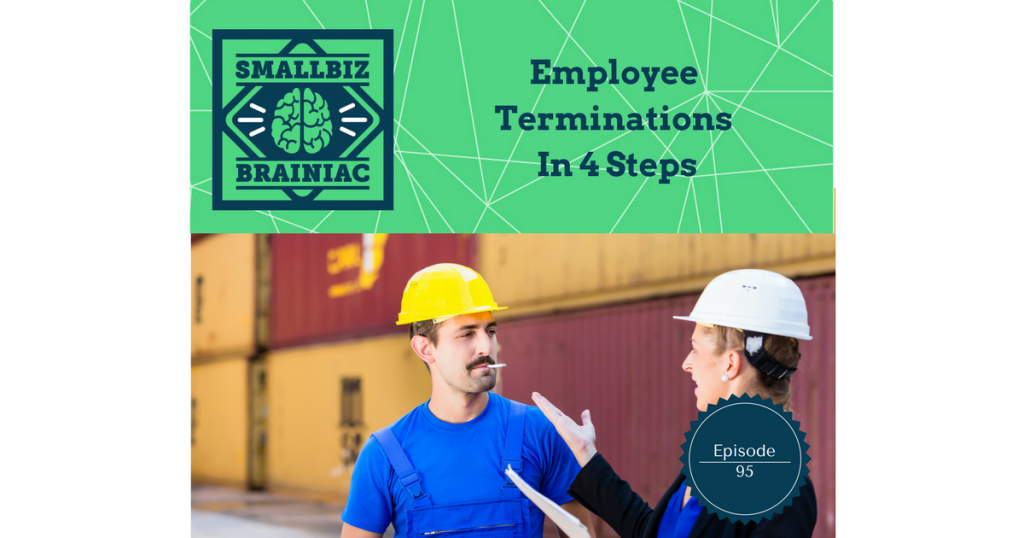 Because terminations are hard, we often wait too long to let people go.
The new year is a good time to consider what terminations may be necessary due to:
Employee performance
Expense reductions

Streamline or consolidate responsibilities and duties.
Budget constraints requiring you to reluctantly let good people go
Holiday hangover – maybe you've been hanging on to someone you already knew you needed to terminate, but you didn't want to do it over the holidays.
Terminations aren't fun. It's never easy, and it can be very stressful for you or whomever is doing the firing, and most of all, for the person you're letting go.
It's especially difficult in small companies… We know…we've been there. It tends to feel more like family and friends.
Because terminations are hard, we often wait too long to let people go.
I've mentioned this before, you've got to be slow to hire and quick to fire – but that's much easier said than done.
That takes organization and planning. A clearly defined, written policy with detailed procedures will make it easier to implement.
I've had to fire a lot of people in my day and I have't always practiced what I'm preaching to you today.
I've definitely learned over the years. You know practice makes perfect and that applies to art of firing. I'm not saying I have perfected it, but it isn't nearly as big deal as it was early in my career.
Not all terminations are created equal so your policy and procedures need to be flexible.
The reason for the termination and the circumstances surrounding it will dictate some of the preparations and how you go about the termination.
The 4 step termination process:
1.Make the decision
2.Prepare for the event
3.Conducting the termination
4.Follow up
Making the decision:
Sometimes it's easy and sometimes it's not.
It's easy if they are incompetent, unreliable, disruptive….
It's not so easy when they make poor decisions once in a while, or they're a great person but their demeanor and personality make them difficult to work with.
It's a delicate balance between giving someone an opportunity to change and recognizing when that person just isn't the right fit.
Consider all the facts and discuss with your HR manager or other advisor. Are there any extenuating circumstances like any event preceding the termination that could cause the employee to see the termination as a retaliation.
Have they recently filed a work comp claim, complained about a violation of the law by the company or coworkers or alluded to some form of discrimination?
Preparation for the event:
Once you've decided to terminate, you need to gather your thoughts and Information:
Your first priority is to mitigate liability for your company.
Is there a contract – a non-compete or non-disclosure?
Do you have a documented file? Performance evaluations, warning notices, discussion notes.
Will your employee be surprised? How do you think they will react? If it's going to be hostile, you'll want to be ready.
How will you fill the position? Should you hire a replacement in advance, reassign tasks and take your time, or use a temporary staffing firm? Under certain circumstances – senior management positions typically, I've given the person advanced notice and paid a severance in exchange for them staying and helping to train their replacement. Could offer a severance in exchange for a smooth transition.
When will you do it? Don't wait until Friday or after hours – I've done that, mostly in situations where there is tension and want to minimize the number of other employees that will be around. I think it's best to let someone go early in the day and week so they have time to get out and look for another job.
Who's going to do it? Always have 2 people present. Do it in a neutral place, not their workspace, not your office – conf room. Prepare with the other person ahead of time so you know who's going to say what. Usually your HR person is going to just talk about the benefits/COBRA and present final check.
How will you deal with their personal possessions?
Do they have company property you need to get back?
Do you need to turn off network access, email, or change a building security code?
Conducting the termination:
Do Get right to the point.
Don't apologize.
Don't explain why.
Don't debate.
Don't react to their emotions.
Don't offer a recommendation.
Don't offer to help them find a job.
Don't say I'm sure you'll find a new job soon.
Don't say you feel bad or that you don't agree with the decision.
Don't blame them.
Do Go with them back to their desk or offie and provide a box so they can pack up.
If you think they will be disruptive, have them leave now and send them their belongings or have them come back.
If they want to say goodby to coworkers, you'll have to decide if that's ok but I don't recommend it.
Follow up:
Close the loop by talking to the remaining employees – reassure them all is well by showing them you are not a vindictive, backstabbing, gossipmonger.
Make sure these post-term tasks are completed –
Final check – if you didn't already give it to them.
COBRA notices.
Task reassignment.
Email forwarding.
Client, vendor, regulatory contacts notified, where applicable.
Company property returned.
Do:
Have a plan.
Be consistent.
Be objective.
Be humane.
Provide a logical reason for the termination.
Use a checklist to prepare and place in teminated employee's file
Do Not:
Terminate on the spot.
Terminate when you're angry.
Do it in public.
Discuss the rational behind the reason or anything about the decision.
Talk about it with other employees.