97: Small Employer Benefits – What's Right For Your Employees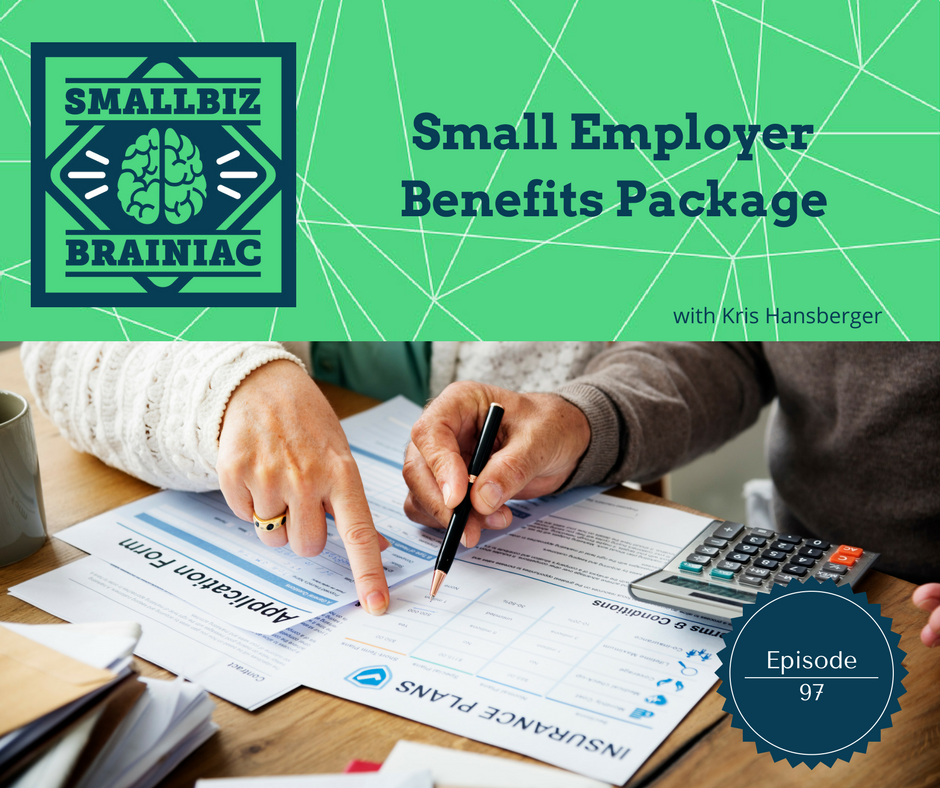 Benefits for small employers, what's the right offering for your employees?
Today's expert panel member is Kris Hansberger, the Director of HR and Employee Benefits for Vensure Employer Services, Inc., a Chandler, AZ based Professional Employer Organization. Under her direction Vensure provides benefits administration and HR services to hundreds of clients and over 40,000 co-employees.
She's also responsible for the 75+ internal employees of Vensure…which is a full-time job in and of itself.
Kris got her start in HR back in 1999 when her friend in the temporary staffing industry, placed her with a large hospital as their HR Manager. With little experience, she was thrown to the wolves because the situation at the hospital was chaotic. But, she tackled the responsibilities head on.
Today's episode is about small employer benefits and we're going to answer question like:
What kind of employee benefits are there?
Which benefits should a small employer provide to compete for talent?
Which benefits do employees value the most?
Is it better for a small employer to offer a group health plan or pay a fixed monthly amount in cash, through an HRA, and let their employees get their own coverage through the exchange?
How should a small employer go about offering voluntary benefits?
What kind of benefits are there?
Health
Dental
Vision
SIMPLE 401k
Life
Supplementals

Cancer
Disability
Hospitalization
Accident
Critical Illness

Wellness
Employee Assistance Program
Pet Insurance
And more….
Which benefits should a small employer provide to compete for talent?
Small employers need a solid benefit offering to compete with larger companies for talent.  But as a small employer, you're at a disadvantage. You don't have the buying power or the spread of risk. Especially if you have an employee with a medical condition.
The ACA doesn't do much to help because the Exchange plan benefits are terrible and most of those plans don't compete with what larger companies offer.
Start with the core benefits: health, dental, vision and 401(k). After that, look to life insurance followed by voluntary supplemental benefits. You should also consider a Wellness plan.
Health:
The small group health market is not very big. The smaller your group, the fewer the options.
You should consider using a Health Reimbursement Arrangement or HRA and contributing money and allowing employees get their own health insurance.
They can either go through the exchange or look outside the exchange. Both are guaranteed issue and come with all the ACA mandated coverages. Individuals who are eligible for subsidies must use the exchange in order to get the subsidy.
If you have under 50 full-time equivalents, you aren't required to provide group health and your employees can go to the exchange without you incurring a penalty.
Fo more information about how a small employer can benefit from the exchange, click here to read about it, or listen to episode 36 – The Health Insurance SHOP Marketplace.
Dental:
There are a lot of great options for group dental insurance. You can find a regional carrier that will usually have better coverage than one of the national providers.
The options range from simple discount plans to ones that include orthodontia benefits. At ehaolthinsurance.com they claim over 270 insurance companies offer dental insurance through their network.
Vision:
Like dental, vision is readily available and low cost. The main benefit of vision insurance is the routine check up and discounted glasses or contact lenses.
Even if you don't currently need glasses, a routine eye exam is a good idea. An optometrist will look for signs of serious medical conditions such as glaucoma, cataracts, diabetes and even cancer. It's another way to increase your chances of early detection. In some cases, that's the difference between life and death.
SIMPLE 401(k):
A 401(k) plan is an important tool in your recruiting and retention toolbox. However, they are complicated and expensive because of all the regulation.
The main parties to a Plan are the fund provider, the recordkeeper, the broker, and you, the employer. The costs consist of both upfront fees, annual fees, transaction fees and commissions.
The SIMPLE 401(k) plan really isn't that simple….in comparison to a standard plan. The main difference is that it eliminates the non-discrimination testing, just like a safe-harbor election does on a standard 401(k) plan.
There are a lot of decisions to be made when setting up a Plan. For example, how many funds options do you want to offer? How much of the fees do you want to place on your employees, the participants? How much will you contribute? Will you have a vesting schedule? Will you allow loans….and so on.
By choosing a SIMPLE plan, some of those decisions are made for you.
Is it better for a small employer to offer a group health plan or pay a fixed monthly amount in cash, through an HRA, and let their employees get their own coverage through the exchange?
If you're not able to find an affordable group health plan with the right level of benefits then this strategy can be a good alternative.
By setting up an HRA, you can contribute tax-free money to your employee's account. That money is used to buy insurance and reimburse the employee for medical expenses.
And thanks to the new Small Business Health Reimbursement Arrangement passed in December, 2016, as part of the Small Business Healthcare Relief Act, it's even easier.
The Small Business HRA ("SBHRA") is available to employers with less than 50 full-time equivalents. Employees who participate must purchase minimum essential coverage as defined by the Affordable Care Act. And, all your employees are eligible to participate.
With an SBHRA, employees may choose their own health insurance from the individual market while receiving tax-free money from you to help pay the premium and any other out of pocket medical expenses.
Which benefits do employees value the most?
The answers depend largely on the makeup of your workforce. Older people want more benefits. Younger workers have less disposable income to spend on benefits and tend not to think they need them.
However, accident insurance does well with Millennials because they see the value in having a fixed benefit payment for accidents that might happen as a result of their active lifestyles.
In a 2013 Towers Watson voluntary benefits survey it was estimated that by 2018, forty-eight percent of employers would see voluntary benefits as more important or very important.
Over half of employers surveyed by MetLife (55%) saw employees interested in a wider range of voluntary products.
How should a small employer go about offering voluntary benefits?
Design for you specific employee population.
Start with the core benefits (medical, dental, vision).
Educate your employees for greater participation.
Get a great broker or advisor – better yet, join a PEO.