99: ID Theft For Employment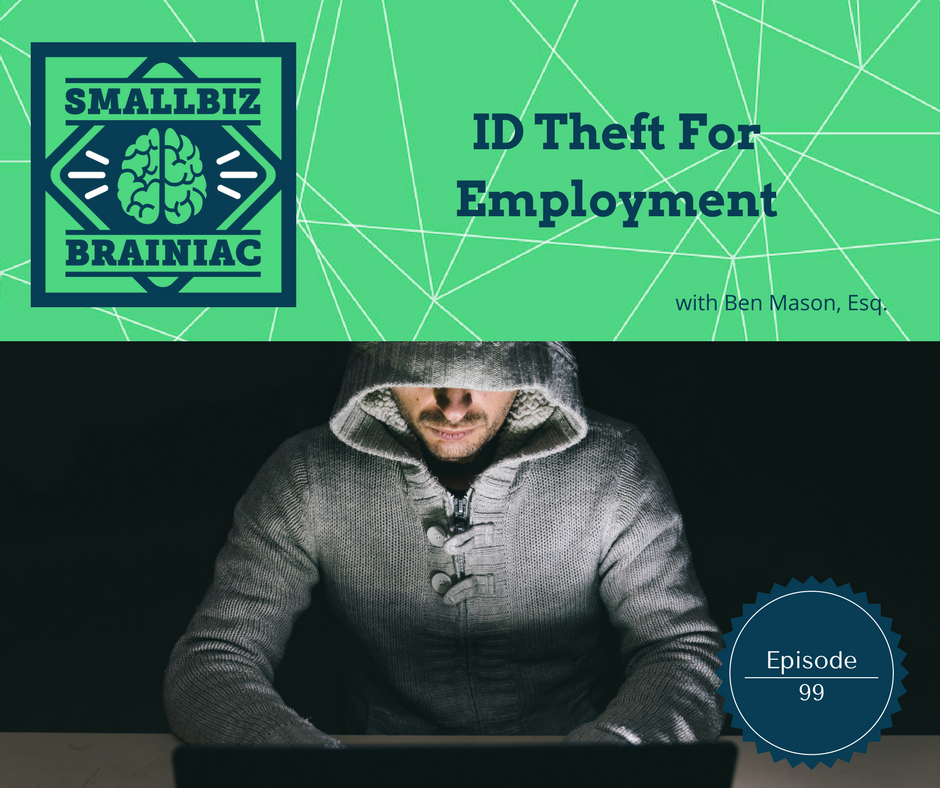 What happens if one of your employees is using someone else's SSN to work for you?
Attorney Ben Mason of the law firm Morley Mason is here to help us sort through this issue.
Ben obtained his law degree from the University of Idaho. According to his wife, he became a lawyer because he likes arguing with people. He actually enjoys the intellectual analysis of issues. He know early on in law school that this was his calling.
Ben's business partner and friend, Robert Morley, has been on episodes 95 and 96. The two met at law school and a few years after graduation, Ben moved to Arizona, and Morley Mason, PLC was born.
Today's topic is about an issue that Attridge has had to deal with every year for the past 20 as a result of his employment in the professional employer organization industry.
What happens if one of your employees discovers that someone else is using their SSN for employment? 
Do you, as an employer, have a responsibility to act on this information?
No. You are not obligated in any way to help your employee resolve the problem. In fact, there isn't much you can do.
However, you could help out by providing wage statements for them to use in their battle. You could also advise them on how to deal with it.
Another idea is to offer LifeLock identity theft protection insurance to your employees as part of your benefits offering. This is a service that Thomas has used personally to combat theft of his identity when someone used his information to obtain a cell phone and then began changing his address.
What happens if one of your employees is using someone else's SSN to work for you? 
What is your responsibility as an employer?
Let's assume that as the employer you did everything by the book when you hired this person.  You had them complete all of the necessary new hire paperwork, tax forms, and I-9.  You verified their employment eligibility documents that they provided at the time of hire from the list of acceptable documents.
You did all this and put the employee to work and this employee has been working for you for a couple of years with no issues.  Then one day you get a phone call.  The caller on the other end is irate because they have never heard of your company yet you are reporting wages to the SSA and IRS using their SSN.  Now they are being pursued by the IRS for unpaid taxes.
What steps should you take to remedy this situation?
You have a couple of issues here.  First, you have the seemingly rightful owner of the SSN on the phone to deal with.  Second, you have the employee to deal with.  Third, you have some cleanup to do in regards to correcting past tax records.
Let's get the caller out of the way first.
Advise the caller that you will correct your records and amend any and all affected tax returns and forms.
Advise the caller that they should contact the FTC and follow the same steps that we discussed a few minutes ago.
You may want to exchange contact information with the caller so that they can follow up with you at a later date.  This may help calm the situation.
DO NOT give the caller any information about your employee.  Nothing good can come from this.
Now the employee and tax record cleanup. What happened? You reviewed their work eligibility documents. They looked authentic….but your not an expert on identifying false documents.
Is it a clerical error? Did the number get entered incorrectly into payroll/HR system?

If yes, correct the number and correct tax filings for all years affected. (w2's, 941's., etc.).
If no, follow next bullet point.

Ask the employee to produce valid employment eligibility documents AND document your efforts to obtain the correct information.
If the employee provides new employment eligibility documents, update your records and proceed with updating tax filings (W2's, etc.).
If the employee does not provide updated eligibility documents and you have documented your efforts to obtain the correct SSN. What should you do?
You have to terminate the employee.
If you are a temporary staffing firm or if you use the services of a professional employer organization ("PEO"), then your employees might forget they worked for you. They might not realize they worked for you at one point. Maybe it was a short term assignment.
If you're a temp staffing firm and you use a PEO, that makes it even more complicated because the W-2 will have the name of the PEO on it.