1: Introduction to SmallBiz Brainiac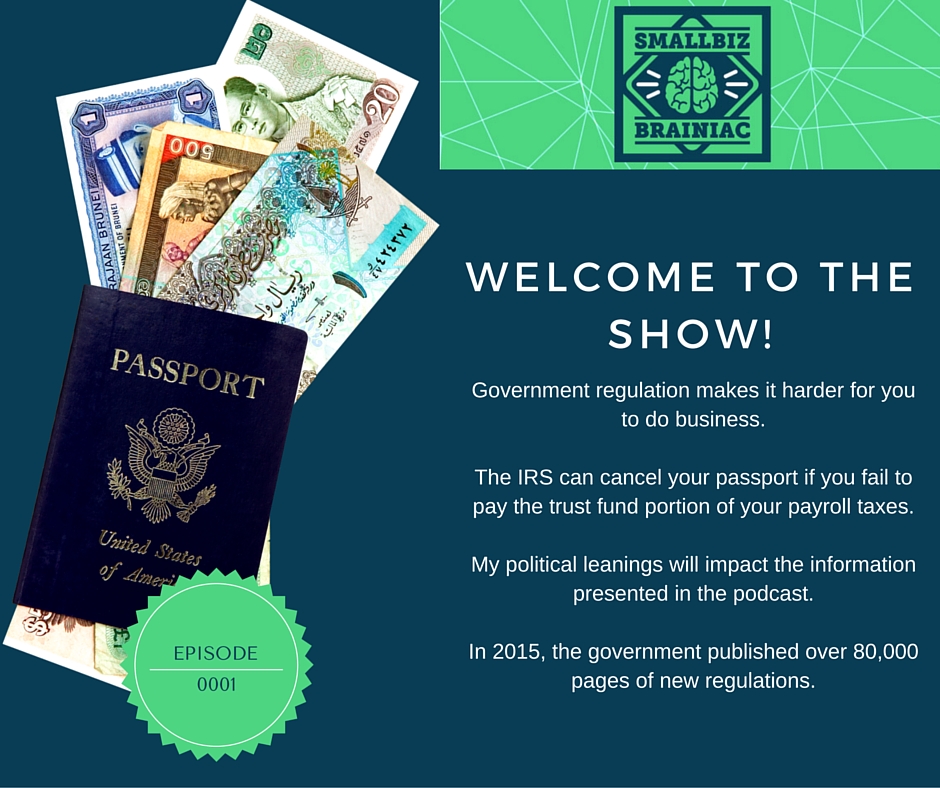 How to thrive as an employer
I'm excited for you to join us and I'm thrilled to share the podcast with you. Welcome to SmallBiz Brainiac podcast, providing employer intelligence that helps you navigate the regulatory landscape and keeps  you on course running the business you love! You didn't go into business to be an employer so SmallBiz Brainiac is here teach you how to thrive as an employer.
I've spent my entire career working in professional services for small business owners. I know your struggles, and I have some real solutions to help you.
 In this episode you will learn:
How government regulation makes it harder for you to do business.
How the IRS can cancel your passport if you fail to pay the trust fund portion of your payroll taxes.
How my political leanings will impact the information presented in the podcast.
In 2015, the government published over 80,000 pages of new regulations.
A real life example of how not having good processes in place cost one business owner thousands of dollars.
Why you will want to join our Facebook group SmallBiz Brain Trust
My goals for the podcast.
Action Items:
Join the SmallBiz Brain Trust on Facebook.
Introduce yourself and ask a question by visiting SmallBiz Brainiac's website.
 Sign up for the weekly BrainWave email.
Resources:
Join our Facebook group where you can get lots of free help engage with a focused collection of business owners who love to share ideas and information about their challenges and wins.