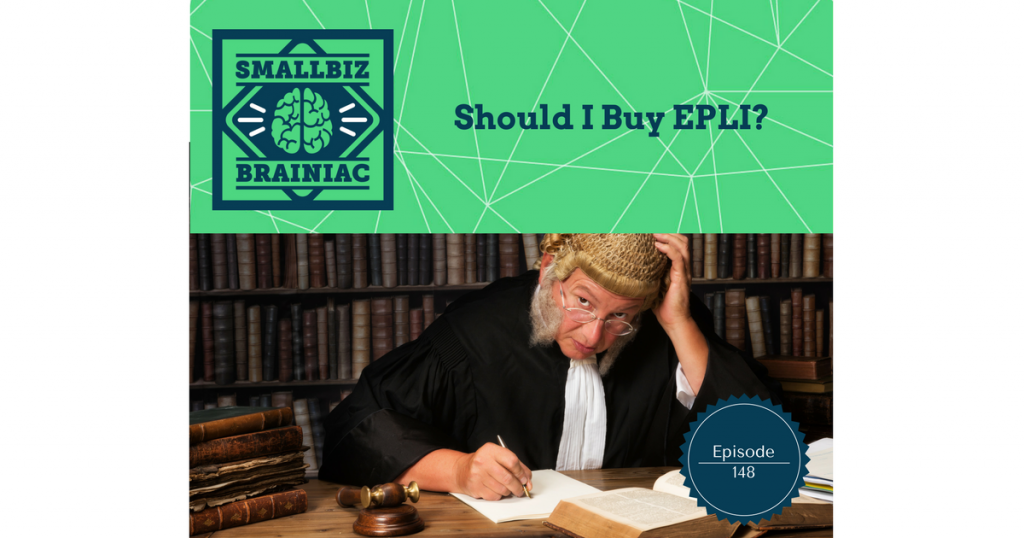 It doesn't matter if you are guilty or not, an employment discrimination claim is going to cost you.
EPLI stands for Employment Practices Liability Insurance.
The free report available on our website, smallbizbrainiac.com, called "8 Steps to Lowering Your Employer Liability", is all about buying EPLI insurance. The very process of preparing the complete the application will put you in a great position.
So go get a copy of that report.
What is EPLI?
EPLI protects you, your company, its directors, officers and both current and former employees from claims and lawsuits filed by….well, your current and former employees as well as employment candidates. Some policies will also cover claims made by third-parties, like customers, clients and vendors.
It covers the cost of defending you against claims or lawsuits related to your employment practices. It will also pay any judgment entered against you. At least up to the limits of the policy. It's important to understand that the defense costs apply to the limit. So, if the policy limit is $500,000 and the legal costs are $200,000 that leaves $300,000 to pay settlements and judgments.
EPLI covers you against employment discrimination claims, sexual harassment claims, wrongful termination claims and violations of the Family Medical Leave Act and other mandatory leave violations. It usually does not cover you against wage and hour claims or violations of the National Labor Relations Act.
For example, if your terminate someone after they complain about sexual harassment, and they sue for retaliatory discharge, your EPLI insurance will pay the defense costs and any settlement or judgment amounts.
On the other hand, let's say you misclassify an employee as salary exempt and you don't pay them overtime. Your EPLI policy will not cover a claim for backpay.
It won't pay for bodily injury or property damage or intentional or dishonest acts either.
Not all policies are the same so it's important to understand what you're getting.
Notice of Right to Sue:
If an employee wants to sue you for discrimination on the basis of race, color, religion, sex (including pregnancy, gender identity, and sexual orientation), national origin, age, disability, genetic information, or retaliation, they have to file a complaint with the Equal Employment Opportunity Commission, or EEOC, first.
After the EEOC has investigated the complaint, they may issue a Notice of Right to Sue. After that, your employee has 90 days to file a lawsuit.
If your employee wants to file a lawsuit before the EEOC has completed their investigation, they may ask for a Notice of Right-to-Sue. If more than 180 days have passed from the filing, then the EEOC is required to give them the notice. If it's been less than 180 days, they won't issue the notice unless they'll be unable to finish their investigation within 180 days.
Employees don't need a Notice of Right to Sue if they're suing for age discrimination, but they still have to file a complaint with the EEOC, and must wait 60 days before suing. If they want to file a claim under the Equal Pay Act, they don't have file a complaint with the EEOC. Instead, they can head straight to court, but they must file with 2 years. If the discrimination was willful, then they have 3 years to file.
There were 91,503 discrimination charges processed by the EEOC in fiscal year 2016. They resolved 97,443 charges and collected over $482 million. So, they were able to gain some ground on their case backlog. Almost 46% of charges included retaliation claims. After that, the most popular are race, disability and sex discrimination. The two charges with the least number of complaints, making up 1.3% combined, were Equal Pay Act and Genetic Information Non-Discrimination Act violations.
Discrimination Claim Examples:
Not sure what a discrimination claim looks like? Here are some examples from Great American Insurance Group.
SEXUAL HARASSMENT – A former employee for a landscaper in Massachusetts with 18 employees was discharged due to poor performance and later filed a complaint with the EEOC alleging sexual harassment by the owner.  The EEOC dismissed the charge finding no cause. The employee appealed the decision and the EEOC upheld its earlier decision. $15,000 in defense costs were spent defending the matter.
DISABILITY DISCRIMINATION/RETALIATION – A former employee at a restaurant in Missouri with 30 employees filed a complaint with the EEOC on the basis of disability discrimination and retaliation. The employee was demoted for excessive absenteeism and subsequently resigned. The employee claims she was absent due to a medical condition and not given reasonable accommodation. The employer claims it was not notified of the medical condition. The matter settled for $6,000 with another $5,000 in defense costs.
PREGNANCY DISCRIMINATION – A former employee at a private school in Florida with 52 employees alleged pregnancy discrimination after she was terminated upon returning from maternity leave. When she returned to work, she was advised that she now needed a master's degree for her position. She did not hold a master's degree and was offered a demotion. She filed a discrimination charge with the state agency. The matter settled for $23,500 with another $10,000 in defense costs.
AGE DISCRIMINATION – A former employee at a construction company in Ohio with 93 employees filed suit alleging age discrimination. He alleged that he was terminated and replaced by a younger employee after working for over 10 years for the Company. He also alleges no younger employees were terminated at the time of his termination. The employer claims his position was eliminated and he was not replaced. The matter settled for $18,000 with another $40,000 in defense costs.
And finally,
DISCRIMINATION/RETALIATION – A former employee at a retail store in Colorado with 400 employees was terminated following a fight that took place between two employees which resulted in the plaintiff suffering severe injuries. The plaintiff's spouse contacted the Company to obtain details on medical benefits and the plaintiff was terminated a few days later. The Company alleged the plaintiff was terminated following an investigation into his role in the fight not due to the request for medical benefits. An EEOC charge was filed alleging discrimination and retaliation due to disability, request for medical leave and request for worker's compensation benefits. A suit was subsequently filed in District Court alleging wrongful termination in violation of the American with Disabilities Act and Family Medical Leave Act as well as disability discrimination and retaliation. The plaintiff  and Company arbitrated the claim and the plaintiff was awarded $4,000,000.
You can see from these examples that it doesn't matter if you are guilty or not, it's still going to cost you. Even if the EEOC doesn't issue a Right to Sue Notice, you'll still incur legal expenses during their investigation.
So, should you buy EPLI? I certainly think so. It's affordable and, as you can see that one unfounded claim could cost you a considerable amount.