10: Payroll Tax Deposit Penalties – Part 6 Federal Payroll Tax Series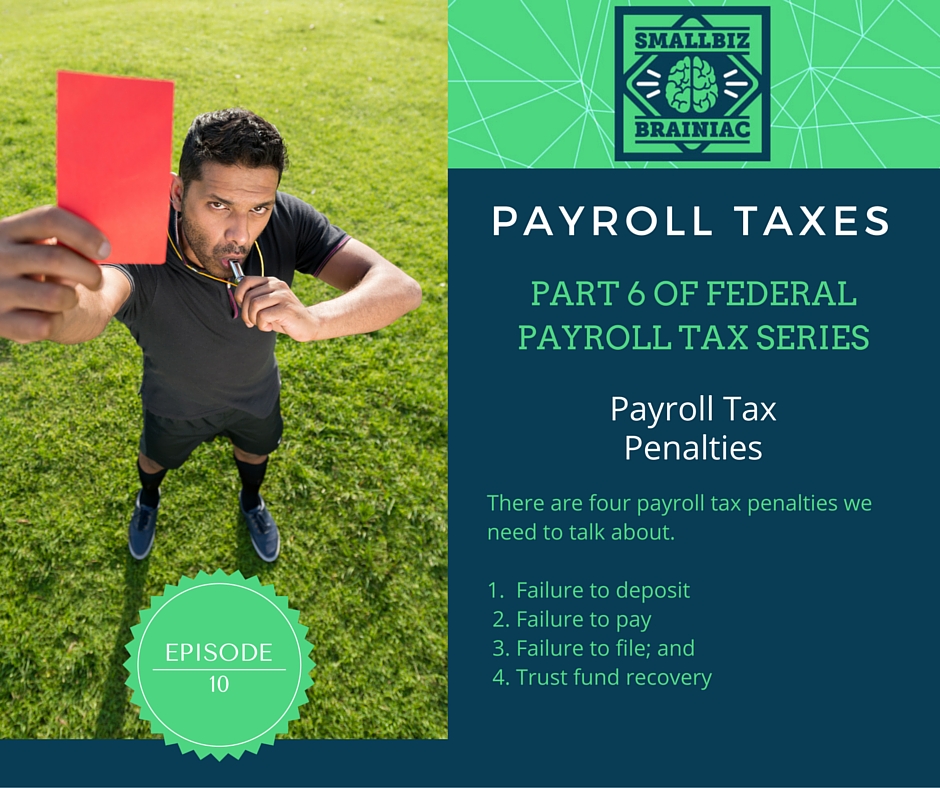 Do you know how to avoid payroll tax penalties?
Congress established large penalties to deter employers from not paying their payroll taxes. The longer you delay paying, the more it will cost.
The four payroll tax penalties
Failure to deposit

Failure to pay

Failure to file; and the

Trust fund recovery
 …..and the four things you have to do to avoid them are:
Make the deposits, i.e. the tax payments, on time

Make the deposits for the full and correct amount

Make the deposits in the correct manner; and

File your returns on time.
Failure to deposit penalty
If you don't make a deposit on time, for the full amount, and pay it the right way, then you will be subject to this penalty.
The penalty rate is based on how many days late the payment was made. Here's the breakdown:
if the deposit is 1-5 days late the penalty is 2%

it it's between 6 and 15 days late it's 5%

and 16 days late or more will cost you 10%, also;

If you haven't made the deposit 10 days after being billed by the IRS, the penalty increases to 15%
Failure to pay penalty
The failure to pay penalty only applies if you make don't make the deposit by the due date of the return. Said another way, if you pay the tax by the due date of the return, then the failure to pay penalty doesn't apply.
The failure to pay penalty rate is 1/2 of 1% (or half a percent) per month, of the unpaid tax, and it jumps to 1% per month, after you receive a notice of intent to levy. However, once the total penalty reaches 25% of the unpaid tax, it stops accruing.
Failure to file penalty
If you don't file the payroll tax returns form 941, (944 if you are an annual filer) or form 940, on time, and you owe taxes for that reporting period, then you will incur the failure to file penalty of 5% of the unpaid tax that was due with that return. This penalty is also capped at 25%.
Trust fund recovery penalty or TFRP
This penalty is the amount of the tax withheld from the employees wages which is comprised of federal income, social security and medicare taxes. Or, the amount of the tax you should have withheld, but didn't.
These funds belong to your employees and it is your responsibility to pay the money to the federal government.
This penalty is assessed against responsible persons.