102: Mandatory Paid Sick Leave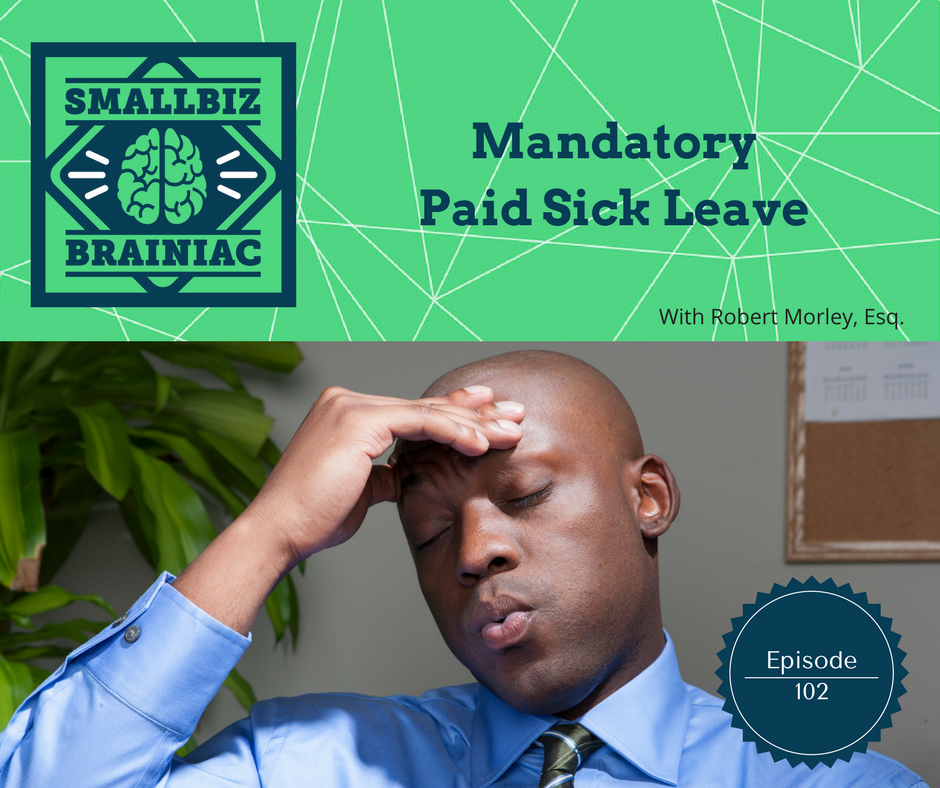 Politicians can't simply pass new laws and create prosperity, higher wages or better benefits.
Mandatory sick leave is sweeping the nation.
Currently there is no federal law requiring private employers to provide paid sick leave for their employees….unless you work on government contracts.
However, many States and Cities have passed laws requiring employers to provide sick leave. These jurisdictions vary as to how much time is accrued and go as far as telling you in what situations employees can use the leave.
When an employer has employees in multiple jurisdictions, such as having employees in the City of Los Angeles and in California outside of LA, things can get a little complicated.
Politicians can't simply pass new laws and create prosperity, higher wages or better benefits. Sick leave will come at the expense of vacation time or pay rates. You can't just pass a law and magically everything is better. The laws of economics can't be overridden by lawmakers.
Current States and Cities with paid leave laws:
That being said, employers in seven states and Washington D.C. are now required to provide paid sick leave. Connecticut was the first state to require private sector employers to provide paid sick leave to their employees, with a law enacted in 2011.
California became the second state to enact paid sick requirements, with the passage of the Healthy Workplace, Healthy Families Act of 2014, which became effective in July 2015.
Massachusetts was the third state to require paid sick leave, as voters there approved the Earned Sick Time for Employees ballot measure during the 2014 general election.
The Oregon Legislature enacted a law during the 2015 session, and the Vermont Legislature did so during the 2016 session.
During the 2016 general election, voters in Arizona and Washington approved ballot measures requiring employers to provide paid sick leave.
Possible questions:
Click here for a complete list:
The U.S. must lead on leave…according to the DOL:
This trend will only continue to gain momentum as more and more states and cities get in on the action. This will likely lead to a federal law that establishes the minimum benefit, much like the federal minimum wage law.
The US Department of Labor has been campaigning with the slogan "Lead on Leave" saying America must do better than other countries around the world. Most other countries require employers to provide paid vacation time as well.
If the US DOL gets their way, we'll soon be europeanized and, no doubt, the envy of the world once again. Can you hear my sarcasm?
On the surface this can seem like a noble cause, making sure that everyone has the right to be paid when they have to take a day off for being sick.  But like a lot of issues, there are unintended consequences.
Employers don't have an unlimited ability to pay higher wages and provide better benefits. Money doesn't grow on trees and the no law can create prosperity. Mandatory paid leave comes at the cost of vacation time, wages and higher consumer prices… and employees are consumers!
If the cost of living goes up the "living wage" must go up and the higher wages rise the more unemployment we get.
Non-compliance is a labor code violation and the cost for that includes back wages and penalties.
Carve out sick leave from your PTO policy and hire a PEO:
Most employers already provide paid time off to their employees but now need to compare their policy to the law and possibly modify their current sick policy to comply.
If you have a consolidated PTO policy where all paid time off hours are accrued under one bucket called PTO, then you'll need to break out the sick time into a separate category.
One other note, your employees are protected against adverse action for using paid sick leave and the reasons they may take the time off are broad (generally speaking) so our advice is that you don't make it difficult. Don't require proof of the need to take the time off.
These laws, like the many laws before them, represent the ongoing encroachment of government regulators over your business and it isn't going to get any better with time.
Your best strategy is to partner with a Professional Employer Organization ("PEO") and focus on sales and innovation. Let your PEO worry about HR compliance and keeping you off the regulators radar.