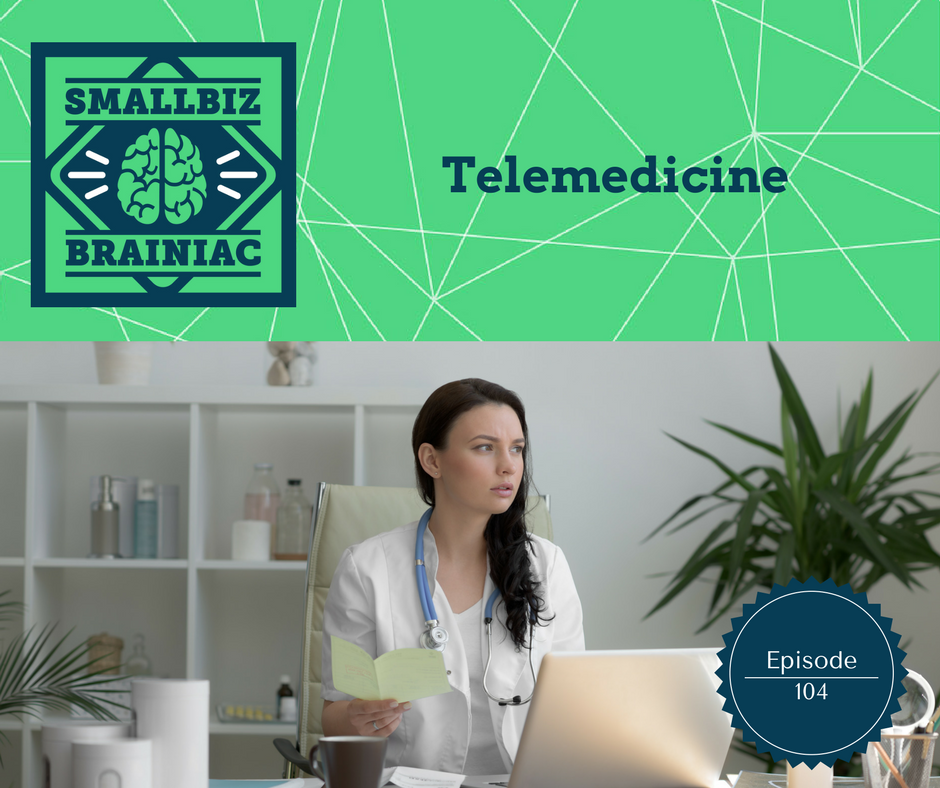 Telemedicine services are changing the way healthcare is delivered…. and that's a good thing!
In episode 97, Kris Hansberger mentioned telemedicine as a way to improve your group health plan. She also shared a valuable tip on how to use telemedicine in concert with your supplemental accident policy to maximize your benefits.
Let's say you have a mountain biking accident and you sprain your wrist and get banged up with abrasions and contusions. It's not serious enough to go to urgent care, but if you don't get medical treatment, you cant' file a claim under the supplemental policy. So, you use the telemedicine service to get the qualifying treatment.
Now you can file a claim under your supplemental policy.
Well, that got me thinking about the other benefits of telemedicine so that's what we'll learn about on today's episode of SmallBiz Brainiac.
What is telemedicine?
Telemedicine is also referred to as telehealth, and the American Telemedicine Association (ATA) uses the two terms interchangeably.
However, the Health Resources and Services Administration (HRSA), which is a division of the U.S. Department of Health and Human Services, defines telehealth as:
"The use of electronic information and telecommunications technologies to support and promote long-distance clinical health care, patient and professional health-related education, public health and health administration."
But, they define telemedicine as just remote clinical services.
Clinical services are the types of services you'd get from the urgent care,  hospital, or your primary care physician.
Many states who've passed telemedicine laws also make the distinction.
So even though the ATA doesn't, it's important that you know there is a difference when it comes to the legal definition.
But, whatever you call it, remote health services are changing the way healthcare is delivered…. and that's a good thing!
What services are provided?
Telemedicine services include such things as:
Consultation and diagnosis with a primary care physician or registered nurse.
Development of a treatment plan.
After hours service.
An electronic medical record and care instructions, and
Facility referral, if you need immediate care.
Some of the common medical conditions that are ideal for telemedicine are:
Abrasions, bruises.
Colds, flu and fever.
Sore throat, cough, congestion.
Allergies, hives, skin infections.
Bites and stings.
Minor headaches, arthritic pains.
Medication refills (short-term)*.
Diarrhea, vomiting, nausea.
Urinary tract infections.
Headaches, body aches, and
Eye infections.
Some of these conditions and other more serious ones require a webcam so the doctor can physically exam you.
When it comes to prescriptions, you have federal law and state law to deal with.
First let's talk about the federal law:
The Ryan Haight Online Pharmacy Consumer Protection Act was passed by Congress in 2008 and it prohibits controlled substances from being prescribed via the Internet, without a "valid prescription."
And in order for a prescription to be valid, you must be receiving treatment, AND either physically located in a hospital or clinic", OR be in the physical presence of a physician, even it it's on the golf course.
As for state law, the rules vary, but in general, a NEW prescription can't be issued through a telemedicine encounter because the physician must have established a personal relationship; and that can only be done through a face to face visit. An online consultation isn't enough to create a patient-doctor relationship under most state's law. So, unless you've already seen that doctor in the flesh, they can't issue a prescription. However, once you have, they can issue a refill.
The Center for Connected Health Policy has an interactive map with these laws and regulations for all 50 states.
How is it provided?
Telemedicine can be delivered through videoconferencing or over the phone but in every state that I'm aware of it can't be done by fax or text messaging. In fact, in some states, like New York, it requires a video call. A simple phone call isn't enough.
What are the benefits of it? 
There are some pretty significant benefits to telemedicine. You get better access to specialists and appointments will happen sooner. Also, distance is no longer a factor. It's more affordable, convenient, and the quality is high.
For example, rural facilities can use it to give their patients access to better quality care. Hospitals in the metro areas can open remote facilities without having to employe specialists.
That save you time and money because now you don't have to drive 100 miles one way for care.
One of the companies selling this technology is Lifesize. They're a video conferencing services company that uses cloud-based conferencing, easy-to-use cameras, and HD phones to connect physicians with their patients.
Their clients include The Texas Back Institute, a 200 employee, multi-location healthcare provider in (you guessed it, Texas), The Women's Hospital in Birmingham, England and The University Medical Center in Utrecht, Netherlands.
A Lifesize white paper says "Imagine traveling to a doctor's office for your annual check- up and being greeted over the phone by a receptionist's voice. You are then transferred on the phone to a nurse, who then connects your call to a doctor."
The doctor's office of the future could be staffed only by LPN's and IT nerds (I say that with respect…I wish I was an IT nerd). I can imagine an office where you go from machine to machine and with the assistance of the LPN all the exams and tests are done with an RN or physician on the other end watching and monitoring the results to provide a diagnosis and treatment plan.
Patient satisfaction with telemedicine:
According to an American Telemedicine Association Study, people love the care they get through telemedicine.
They say patient satisfaction has consistently been very high, and that "The source of satisfaction for most patients is the ability to see a specialist trained in the area most closely related to the patient's condition, the feeling of getting personalized care from a provider who has the patient's interest in mind, and the ability to communicate with the provider in a very personal and intimate manner over the telecommunications."
Workers' compensation insurance:
Telemedicine is so awesome that Legislators in Washington State are trying to get a new law passed that would expand the use of telemedicine to improve the care of injured workers. A law passed in 2015 requires health insurance companies to pay for services delivered through telemedicine.
This new proposed law extends that to include workers' compensation insurance and requires the Department of Labor and Industries to develop access to telemedicine for injured workers, and to reimburse providers for the service.
Workers' compensation insurance pays for medical costs, wages for time lost at work, and travel costs. So the faster injured workers get the right treatment and to the extent they can avoid travel, the lower the claims cost.
This is good employers!
Cost:
The monthly policy costs range from free – because it's included in your group health policy – to $200.
Some stand alone plans will have a low monthly premium and you get 3 or 4 "visits" per month, and then they charge a fee of about $40.00 for each "visit" after that.
For more information on this subject and a comparison of two standalone provides of Telemedicine services I recommend you read the blog post Teladoc Vs. American Well: Which Telemedicine Company is Right For You? By Joey Giangola of Giangola Insurance Agency.