105: Tip Credit & FICA Tip Credit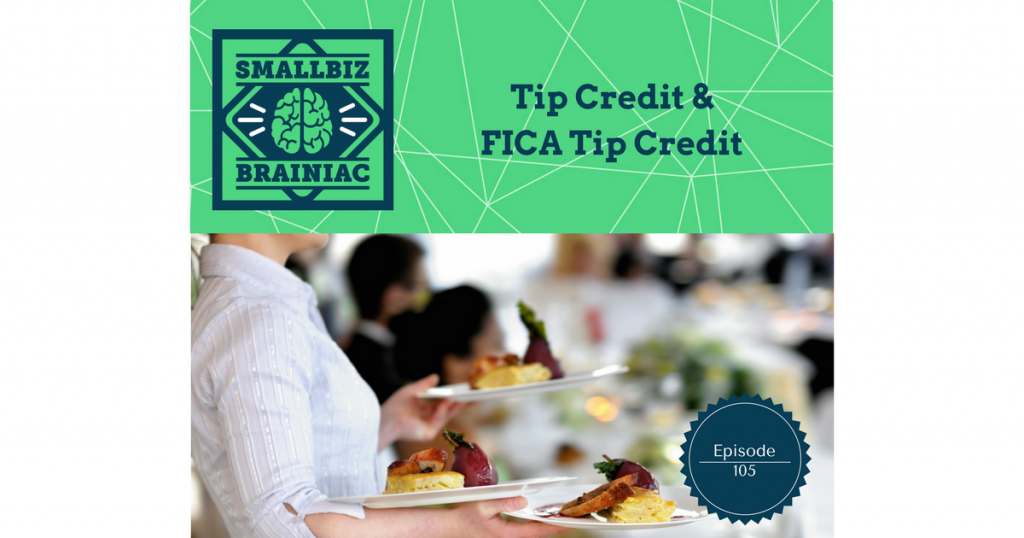 Seven states do not allow for a tip credit.
If you are in the restaurant or hospitality industries, or one of the many other service industries out there then you are well aware that a portion of your employees pay comes from tips, a.k.a., gratuities.
Hopefully you are also aware that there is a provision in the Fair Labor Standards Act (FLSA) that allows you to take a tip credit toward meeting your minimum wage obligations.
How does it work?
According to Section 3 of the FLSA, an employer may take a tip credit in the amount equal to the difference between the "required cash wage" and the minimum wage.
Putting some numbers to this will help you understand it. For states that follow the federal minimum wage, the required cash wage is currently $2.13/hr. The current federal minimum wage is $7.25/hr.  The difference between these two numbers, $5.12/hr is the eligible tip credit.
So what does this mean exactly?  Well, it means that, as an employer, you are only obligated to pay your tipped employees the minimum required cash wage of $2.13/hr., as long as their income from tips, combined with their $2.13/hr required cash wage, meets or exceeds the current minimum wage.
Again, the federal minimum wage is $7.25/hr.  So, if your employee worked 40 hours in a week, they would need to be paid a minimum of $290 for that week.  At 2.13/hr they would have only earned $85.20, so they would need to have receive at a minimum $204.80 in tip income, to be at the federal minimum wage level.
So, what if this employee only received $150 in tip income over that week Their pay would only be $85.20 + $150 = $235.20 and that's $54.80 short of minimum wage. Therefore, you need to cover that gap and add $54.80 to their check to bring them up to minimum wage.
Varying minimum wage:
Not every state follows the federal minimum wage so you will need to refer to your specific states required cash wage and minimum wage to determine the amount of the credit that may be available.
The department of labor has a published chart that shows every states minimum cash wage, state minimum wage and the maximum allowable tip credit by state.
Before we go any further, Seven states do not allow for a tip credit, meaning that the required cash wage for tipped employees in that state is the same as the state minimum wage.
Therefore, the difference between the required cash wage and the states minimum wage would be zero, thus eliminating any tip credit opportunity!  The seven states:
Alaska
California
Minnesota
Montana
Nevada
Oregon
Washington
So, if you are in one of these seven states, you must pay your employees at least the minimum wage for your state, PLUS any tips that they receive.
Now, if you are a in the restaurant industry there is another opportunity for employers to save hundreds of dollars per employee every year.  If you are a restaurant and you are not currently taking advantage of the FICA Tip Tax Credit, then you are leaving thousands of dollars on the table every year.  You should take a serious look into this if you are not taking advantage of it.
It is pretty clearly written in the IRS code that the FICA Tip Tax Credit is for the food and beverage industry ONLY, so other industries with tipped employees are out of luck. Your industry lobby is slacking!
How does the FICA Tip Tax Credit work? 
Per the IRS section 45 B, a food and beverage employer may be eligible for a partial tax credit that is equal to the employers portion of FICA tax on tip income that exceeds the federal minimum wage.
So, to restate that, the employer would be responsible for paying employer matching FICA taxes on tip income up to the federal minimum wage.  Any tip income that exceeds the minimum wage would then be eligible for a Tip Tax Credit.
The current FICA tax rate is 7.65% so this credit can add up quickly, and certainly for most food and beverage employers, the credit would be in the thousands of dollars each year.  Definitely something you want to be taking advantage of.
The credit is considered a business tax credit and IRS Form 8846 should be completed at the time of your business tax return to claim your credits under this rule.