109: Unemployment Insurance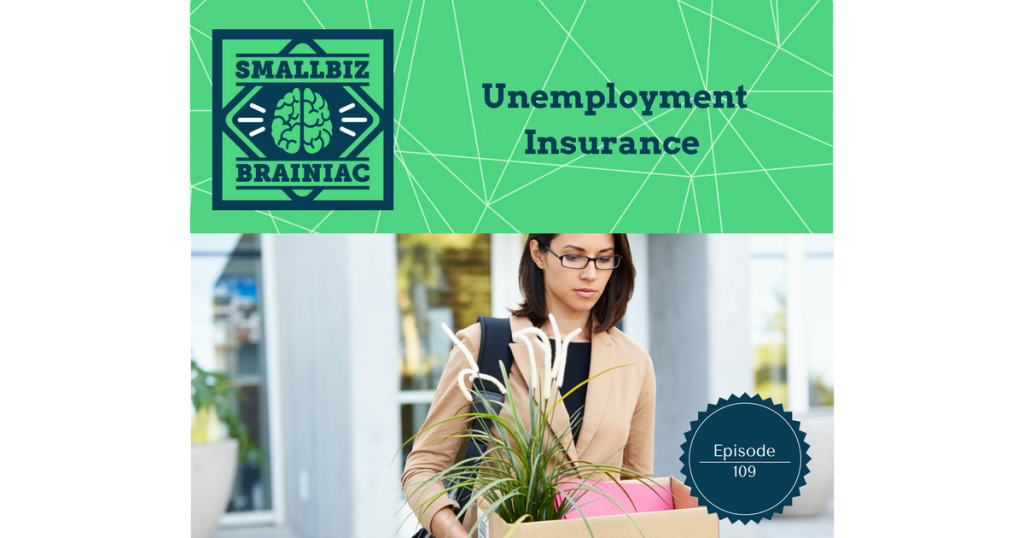 Far too often employers just ignore unemployment insurance claims and don't provide a response to the agent handling the case.
Today I wanted to talk about managing unemployment insurance claims and how this often overlooked aspect of your business can cost you big time down the road if it is ignored.
Keeping control of your labor costs can be challenging enough for any business so you don't want to compound those costs with increasing unemployment tax rates every year.
I have talked with many business owners over the years who have had very little understanding that their current state unemployment tax rate was effected by their former employees filing unemployment claims.  It seems that they believed that the UI rate was what it was and it was the same for every business and there wasn't really anything they could do about it.
That is not necessarily the case.
I've also had business owners tell me that they wanted to make sure that a specific employee that was leaving the company was granted unemployment benefits.  To me this is backwards thinking.  You should want your former employees to get another job instead of going on unemployment.
Former employees being on unemployment does not help anyone.  The former employee is far better off getting a new job.  The business is far better off not having former employees staying on UI benefits for any extended amount of time.  I know, easier said than done sometimes, right?
Why does it matter?
One reason why I believe many businesses tend to overlook the management of unemployment claims is that it is difficult to quantify how much you are actually saving your business, if anything, by putting in the effort now to manage claims, simply because you won't feel immediate savings.  Think of it as an investment.  You are investing time and resources now to manage unemployment claims in hopes that you will benefit from a reduced unemployment tax rate in the future.
Now, just a quick disclaimer, I'm going to speak in general terms while discussing this today as all 50 states have their own UI program, and while they may all have similarities in the way they are managed by the state, they also will have some differences from state to state.
That being said the main idea of todays topic is for you to manage your unemployment claims, so minor differences in how each state may do things is not something that we will get caught up in in this episode.
The new employer rate and wage basis:
When you are a new employer you will be assigned a "new employer rate" in the first year or two that you are in business.  This rate is determined by the state as a "starter rate" and typically all new businesses would be assigned this new employer rate for their first year or two.  After that first year or two however, you will start receiving a new rate annually by your state agency that oversees the unemployment insurance program.  You will notice that your rate will vary each year based on your businesses "experience rating."
The business pays UI tax based on the assigned rate on all taxable wages up to a specified wage base.  Each state has it's own designated wage base.  For example, in Arizona the new employer rate is 2% and is paid on a wage base of $7,000.  This means that the business is assessed a UI tax of 2% on the first $7,000 in wages paid to an employee every year.  So that is $140 per employee per year.
Another example, Hawaii, which has one of the highest wage bases for UI, has a new employer rate of 2.40% but their wage base is $44,000.  So that is up to $1,056 per employee per year assuming your employee made in excess of 44K.
UI is experience rated:
The wage base is set by the state and is the same for all employers in that state.  The rate however will fluctuate based on your experience rating and this is where you want to try and manage that rate as much as you can.
What is meant by experience rating?  Well, simply put…The amount of tax that your business has paid into the UI system vs. the amount of benefits that has been paid out to former employees that have filed UI claims.  If you have paid in more tax than has been paid out in benefits, then there is a good chance that you may receive a decreased UI tax rate.  Conversely, if you have paid in less tax than has been paid out in benefits, then you can pretty much count on a UI tax rate increase during the next rating cycle.
Now, this is over-simplifying it a bit, but the formula that is used to calculate your rate can be quite complex and methods vary by state.  There are service providers out there that can provide you with rate projections to help you forecast future rate increases or decreases based on your claims activity.
Equifax Workforce Solutions is one company that I have used and has helped us with these projections.
You'll also be provided a rate notice by the state that will give you some explanation of how the rate was determined.  If you disagree with the assigned rate, or think there was a mistake made somewhere there is generally a period of time where you can dispute the rate determination with the state.
Manage your rate:
So what can you do to keep your rate as low as possible?  The fact of the matter is, you have to be engaged in the unemployment claims process.  Like most employment related matters, UI processes, rules, etc. are slanted in favor of the employee, or in the case of a UI claim, the former employee.  If an employee leaves your company for whatever reason, and goes down to the unemployment office and files a claim for benefits, you will be notified of that claim.
Far too often I have seen employers just ignore these claims and not provide a response to the UI agent handling the claim.  Well, guess what is going to happen if you ignore it?  The former employee is most likely going to be granted benefits and those benefit payments are going to be charged against your UI account, and taken into consideration when the next rating cycle comes up.  This will not help reduce your rate for future tax years.
You also may need to stabilize your workforce.  If you are experiencing high turnover in your workforce, this should indicate to you that you are heading towards a tax increase.  You need to get to the bottom of why your company is experiencing so much turnover among your employees.
Are your hiring practices bad, leading to you terminating unqualified employees?
Are you hiring too many employees when the work isn't there to justify it?
This leads to layoffs, which leads to unemployment claims.
Contest questionable claims:
Contest all questionable claims. You should be responding to each and every claim that you are notified of.  This does not mean that every claim you respond to will go in your favor however.  Like I mentioned earlier, the UI system is generally in favor of the former employee when employment separation is involuntary.  If an employee is fired, layed off, position eliminated, etc. Their is a good chance they are going to be granted UI benefits.
But it is important to respond to these notices so that the UI agent can make the proper determination as to whether or not to grant benefits.  In some cases a fired employee may still not be entitled to benefits.  It can depend on the circumstances surrounding the separation so it is important to document the separation and provide that information when responding to the claim.
Also, if an employee quits or otherwise leaves on their own, you will want that information to be provided to the UI agent as well. You'd be surprised at how many times you receive a notice of UI claim and the reason that the former employee provided does not match what actually happened.  This may be an opportunity for the claim to swing in your favor where otherwise if it had been ignored, the UI agent would have no other information to go from and would go with the employees explanation.
The bottom line here is that you, or an agent on your businesses behalf, are engaged with each and every UI claim that is filed on your account.  This is the best way to try to reduce your future tax rates and in turn save your company money.
There are services out there that assist with claims handling and can act as an agent on your behalf.  You can also look at partnering with a temp staffing firm and refer outgoing employees to them in order to help reduce the amount of time that an employee may be receiving benefits, because again, the longer a former employee receives benefits the more it goes against your UI account which can lead to a higher UI tax rate that you have to pay.