11: Workers' Compensation Insurance 101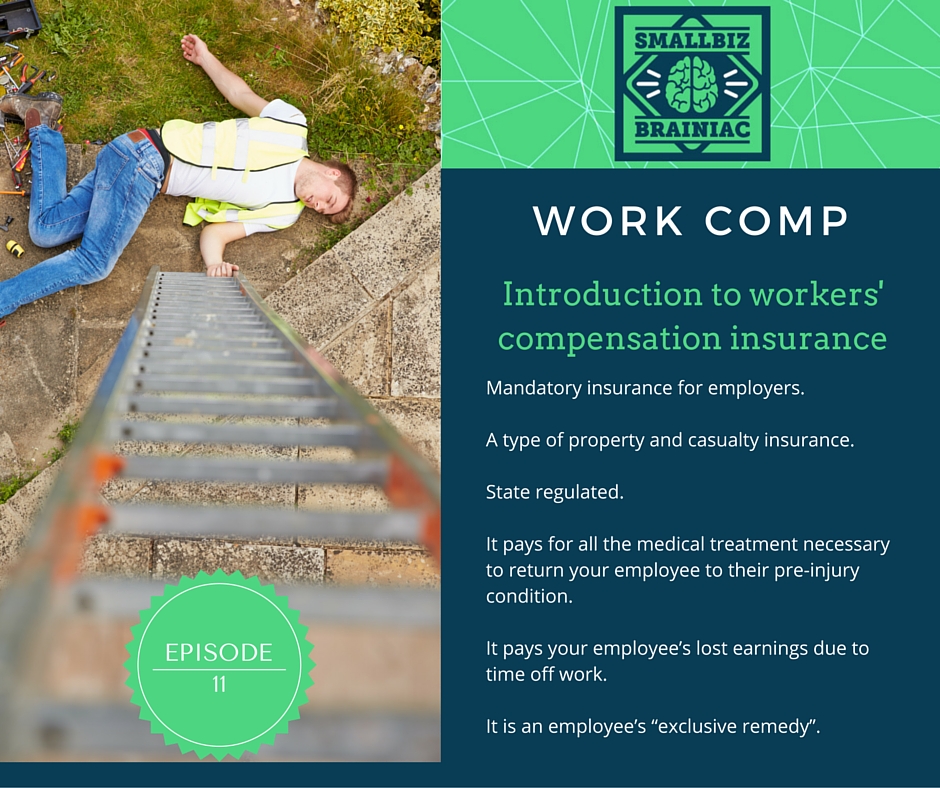 Do I Need Workers' Compensation Insurance?
You probably already know that as an employer you are required to purchase workers' compensation insurance, or work comp for short.
What is it?
Mandatory insurance for employers.
A type of property and casualty insurance.
State regulated.
It pays for all the medical treatment necessary to return your employee to their pre-injury condition.
It pays your employee's lost earnings due to time off work.
It is an employee's "exclusive remedy".
All of this according to a schedule of benefits established by the State.
Monopolistic States/Territories
Washington
Ohio
Wyoming
North Dakota
Puerto Rico
U.S. Virgin Islands
States with alternative options
Texas – An employer may elect to opt out of the system and either;

purchase some other insurance policy
or you may go without i.e. be a non-subscriber. Non-subscribers are exposed to civil judgments as a result of an employee lawsuit.

Oklahoma – An employer may opt out and use alternative benefit plans.

in late February 2016, the Oklahoma Workers' Compensation Commission determined that the opt-out is unconstitutional.
This decision will most likely be appealed to the Oklahoma Supreme Court.

Tennessee and South Carolina – These states are considering similar employer opt-out options.
Illegally uninsured?
What if you decide not to buy work comp insurance? Well, you're now illegally uninsured.
What is the consequence for being illegally uninsured?
In California, for example;

it is a criminal offense.
a fine of $10,000 or more.
up to 1 year in county jail, plus;
a penalty of up to $100,000.
pay all the claims costs
exposed to a civil action against you by your employee.