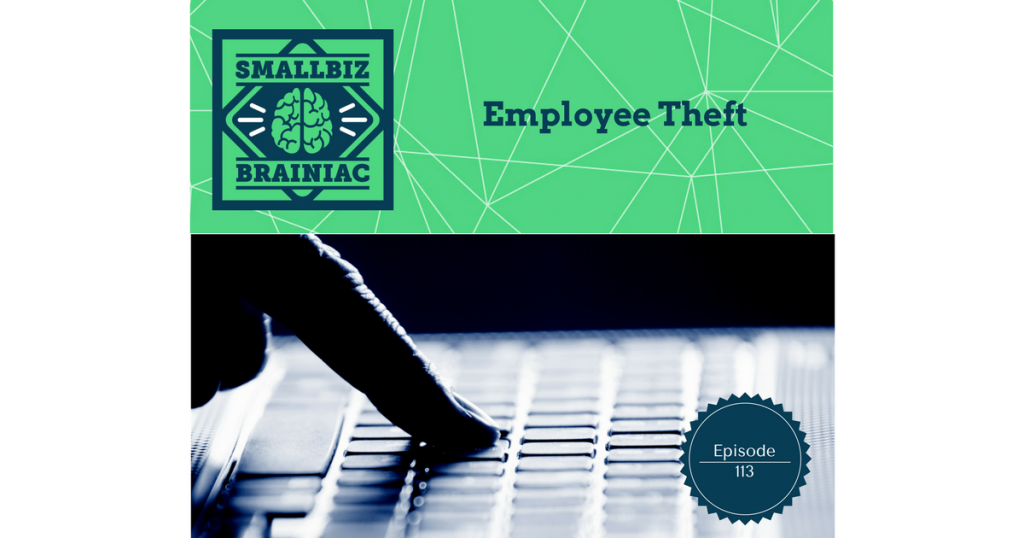 Reduce the likelihood of employee theft with improved hiring practices.
While driving back from Vegas I was thinking about some possible topics for the show and I recalled a news article that I had tweeted out a week or so ago.  I'm always looking for new news that relates to business, HR and payroll issues and I can't tell you how many articles I come across where an employee, or one can only assume by now, a former employee has been charged with some form of theft of their employers property.
When you think about theft by employees, you may think about physical inventory such as clothes or food or equipment as being the most common type of theft in the workplace.
Theft of physical inventory is still very much a problem for a lot of businesses, however, according to numerous studies conducted on theft in the workplace, embezzlement of company funds is the most common type of theft that employers need to protect themselves against.
Small business is also at risk for employee theft:
No business is immune from the possibility of this type of threat to their assets.
What makes it most difficult to accept, if and when it happens to your business, is that often times the culprit may be the person that you trust the most.
According to a 2016 study conducted by specialty insurer Hiscox USA, small businesses are at greater risk of employee embezzlement than larger businesses.
According to their study, 4 out of every 5 embezzlement court cases in 2015 were from businesses with less than 100 employees.  Also, more than 40% of the thefts were committed by an employee in the finance or accounting functions of the business.
The reasoning behind this is that smaller organizations tend to place more trust in individual employees and empower those employees to be in control of processes from start to finish.  If these processes include access to company accounts, this is a recipe for trouble.
Larger companies tend to have the resources to put processes in place to better protect themselves against this type of employee theft, but even with all of the added protections they can still be victims of employee embezzlement.
Employee theft schemes:
There are several "schemes" used to embezzle funds from businesses and spotting them may not be all that easy if all of your financial processes are in the hands of a single person.   That person is probably not going to be forthcoming with information that could incriminate them, and you can bet that they can get pretty creative while covering their tracks.
Some common schemes include but are not limited to:
Petty Cash theft – Petty cash is cash you have on hand for incidental expenses.  It's pretty easy access to that cash and if nobody is verifying what it is spent on, then it could be very tempting.
Manipulating checks – Altering or forging a check so that the manipulator can cash the check.
False Invoices – Invoices created for fictitious vendors.  Valid vendors invoices could be altered or inflated so that the difference could be pocketed by the employee.
Payroll fraud – paying terminated or fake employees.
These are just a few examples of some of the more common embezzlement schemes that you read about.
It's pretty easy to understand why smaller businesses are hit harder by this type of theft.  We talked about it just a minute ago that larger businesses would likely have more resources to combat this sort of thing.
In a small business it's very likely that you only have one bookkeeper or controller.  And the longer that person works for you, the more you probably trust that person.  And sadly, that's when a lot of these stories start to evolve.  It can start with something simple.
Something like, I just need $50 until payday.  I'll just borrow it from petty cash and pay it back.  But after a few days without anybody noticing perhaps their desire to repay the $50 goes away.  Next time it might be $100 and so on……
There are endless stories out there of how people have embezzled from their employers.  And some of these stories are heartbreaking.  Longtime, trusted employees that have been embezzling for years to the tune of thousands, hundreds of thousands and even millions.
If you start to suspect that something is not right.
Warning signs and solutions:
What are some warning signs to look for that might signal to you that you need to look into this further?
Has there been an event in your employees personal life that might signal the need for more money?  Did their spouse lose their job?  Maybe some medical bills need to be paid?  These could be signs of a motive.
Does your employee seem to be living beyond their means?  Driving a car that might seem out of their budget? Taking expensive vacations? Are they talking about any big purchases they recently made?
These may be signs that an employee is coming up with extra cash some how.
How can you prevent or limit your exposure to this type of theft?
Good hiring practices is a start.  Make sure you are hiring responsible, good character individuals.  Call references and do background checks.
Create a culture of honesty, integrity and trustworthiness.
Separating accounting functions. Specifically, the process of making payments and the process of reconciling the accounts between 2 or more people can help prevent theft.  It's much more difficult for one person to cover up theft when there is another responsible party involved.
You should also hire an outside auditor periodically.
If you're the business owner, review financial documents periodically to look for irregularities.  Bank statements, credit card statements, financial statements, etc.
Implementing preventative measures may be expensive, but it just might actually save you money and possibly your business down the road.