12: Where to Find Employees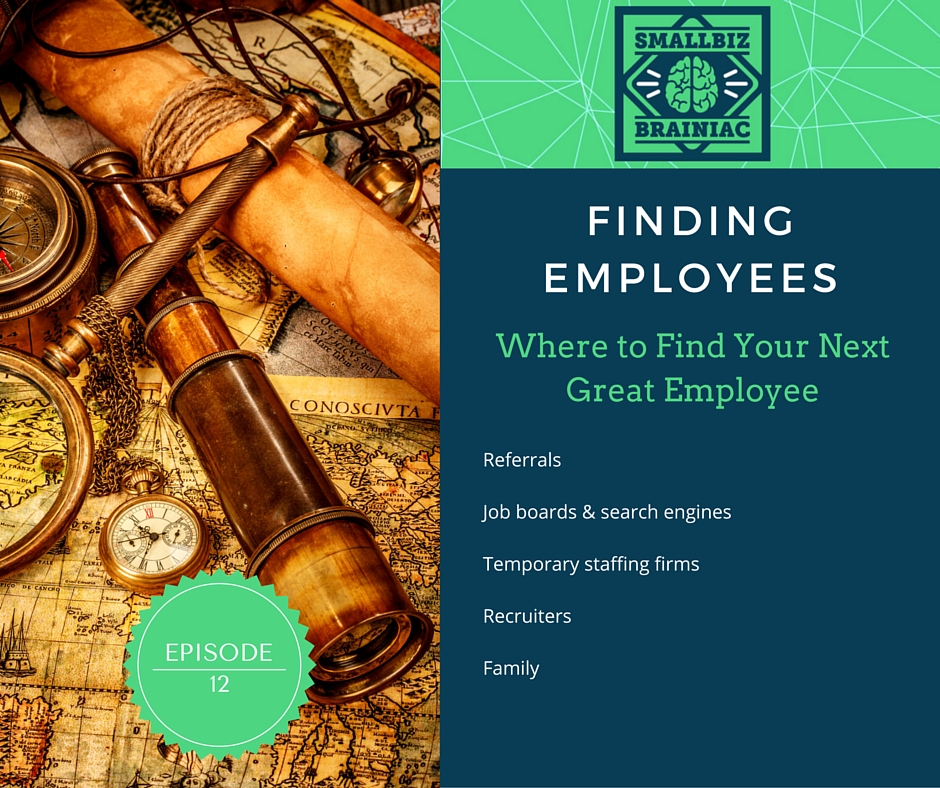 What are the best sources for finding your next great employee?
Here are the best sources for finding new employees?
Recruiting Sources
Family
Recruiters
Temporary staffing firms
Job boards & search engines
Referrals
Referrals from current employees is the most successful source.
There are 40,000 employment websites including job boards and search engines, according to the International Association of Employment Web Sites.
A job board will generate a lot of activity but the majority of the applicants are not qualified. It takes a lot of time to sift through them.
The most successful job board is CareerBuilder.
As for college and university job boards, you tend to get young, educated individuals (as you might expect) with little to no work experience. They tend to be disappointed with starting salaries.
Overcome Millennial's dissatisfaction with starting salary by providing a good benefits package and other non insurance perks like a flexible work schedule, a liberal paid time off policy and telecommuting options.
LinkedIn's service offers access to a deep candidate pool consisting of highly qualified professionals who continually maintain their work history and skills.
Job search engines aggregate listings from thousands of sources including job boards and employer websites. A very successful example is Indeed. Some search engines will let you post openings for free but in order to get greater visibility you basically have to buy traffic. Otherwise, your posts will be buried under a mountain of other employer's posts.
Temporary staffing is the quickest and easiest way to get good help. Temp-to-perm services are extremely convenient.
Finding the right vendor checklist 
Don't make your decision based on price alone.
Make sure they are a member of the American Staffing Association.
Ask for a bio of the owner, CEO and COO.
Check referrals.
Ask for an "information purposes only" certificate of workers' compensation insurance.
Validate work comp coverage by having your property and casualty insurance agent call their producer.
Recruiters are expensive, but effective.
Family is a tricky proposition, but one that should not be ruled out.
Resources
Read Silkroad.com's 2015 report on talent acquisition strategies entitled "Top Sources of Hire 2015".