126: Puerto Rico Labor Laws – Part 2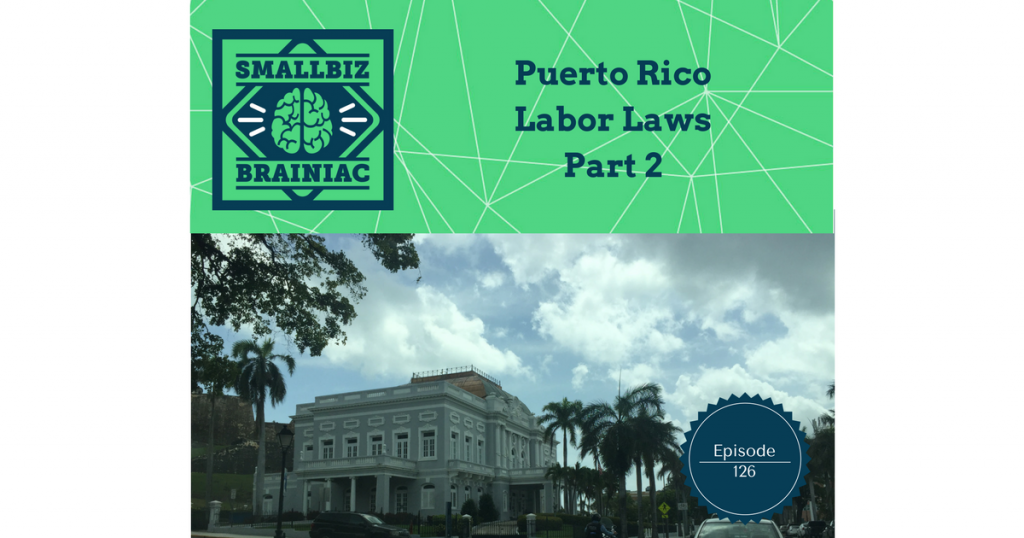 Under Puerto Rico labor laws it's illegal for you to terminate a grandfathered employee so you can benefit from the lower vacation accrual rates and higher qualification standards.
In episode 124, part 1, we learned about the employment contract, the probationary period, just cause terminations, mandatory severance pay, and the minimum wage.
On today's episode we'll continue by covering overtime, meal period, and vacation and sick leave.
But first, a little background:
Between 2006 and 2016, the labor force in Puerto Rico decreased by 400,000 people and the number of jobs decreased by 300,000. The net effect is 100,000 more available jobs, and therefore, the unemployment rate should be lower and the labor participation rate should be higher, right? Well, that's not the case. The unemployment rate is up, and the labor participation rate is way down. In fact, the labor participation rate is 37% lower than the rest of the U.S.
That information comes right out of the Act, and here is another fact from the Act worth quoting.
According to the World Economic Forum Global Competitiveness Report which compared the ranking of Puerto Rico's economy to the rest of the United States and other countries in terms of productivity, efficiency, and competitiveness, they rank the U.S. #4 in labor market efficiency while Puerto Rico ranks #46. And in terms of hiring and firing, the U.S. ranks #11 and Puerto Rico ranks #94.
That's not good, and it's just one of the reasons why the Labor Transformation & Flexibility Act ("LTFA") was passed and took effect on January 26, 2017!
As a result, being an employer in the Commonwealth became a lot easier and more affordable in some respects, and under certain situations but, at the same time, it created a second set of rules applicable only to employees hired after the act. So, if you have employees hired both before and after, you have two sets of rules to follow.
Unfortunately, the Act misses the mark by not going far enough because, like I said, it creates two sets of rules and it doesn't make enough of the right changes.
Overtime:
If you are subject to the Fair Labor Standards Act, which most of you are, then you have to pay your non-exempt employees hired before January 26, 2017, overtime wages at the rate of one and a half times their average regular hourly rate, for all hours worked in excess of 8 per day. "Day" is defined as a 24 hour period and this rule leads to a lot of what is called "technical" overtime.
For a refresher on who is a non-exempt employee and how overtime is calculated, listen to episodes 17 and 18.
You also have to pay overtime for all time worked over 40 hours in a week. Or, if there is less than 12 hours between shifts.
And you're required you to pay double-time for all hours worked on the seventh consecutive day of work in a workweek.
If you are not an employer covered by the FLSA, the overtime rate is double-time instead of time and a half, however
you can pay time and a half where your employee works over 8 hours in a day but not more than 40 in the week.
But now, for all employers, including those of you who are not covered by the FLSA,  but only for employees hired AFTER January 26, 2017, there is no more double-time (except for the seventh consecutive day rule) and, a day is now a calendar day, not a 24 hour period. Although you can designate an alternative 24 hour cycle as a day, if you give your employees a written notice 5 days in advance.
Also, the period between shifts is has been reduced from 12 to 8 hours.
So by eliminating the 24 hour rule, and lowering the period between shifts, they've eliminated the "technical" overtime problem, even though you still have to pay overtime for all hours worked over 8 in a day and 40 in a week.
The LTFA also allows you to enter into a voluntary agreement with your employee to work 40 hours in 5 days without being paid overtime. But only as long as they don't work more than 10 hours in a single day.
You're also now allowed to let your employees make up for absences by working up to 12 hours a day without owing overtime. But only as long as they don't work more than 40 in the week.
The old Closing Law is basically eliminated by the LTFA, except for the requirement to be closed on Good Friday and Easter Sunday. This law only applies to non-exempt retailers of which there are six… for example, establishments dedicated mainly to the preparation of food and direct sales to the public.
The Closing Law required the payment of double-time if covered employers went ahead and operated when they were supposed be closed, which was from 5am to 11am on Sundays. There were also nine days per year where these same employers were required to be closed. Now that's down to dos dias.
I know that's a lot to absorb, and you might have questions about the calendar day and designating a custom 24 hour cycle  when it comes to calculating OT hours worked, so please don't hesitate to ask me if you need help.
Meal Period:
There is a mandatory one hour meal period applicable to all non-exempt employees.
It can't begin until after the 2nd hour of work but it must begin before the sixth hour of work.
You don't have to provide a meal period break if the workday is six hours or less.
The meal period may be reduced to as little as thirty (30) minutes with a written stipulation. The stip is good for one year and your employee can't back out until after that.
These are the rules that now apply to everyone, as a result of LTFA, no matter when they were hired. Because of that, I won't get into what the rules were before the Act.
Vacation and Sick Leave:
For non-exempt employees, including outside sales persons, who were hired before January 26, 2017, the accrual rate is 1.25 days of vacation time and 1 day of sick leave, for every month they work 115 hours or more.
For those hired after the Act, the vacation accrual rate is now based on a table with 4 different accrual formulas.
1/2 a day per month in year one.
3/4 of a day per month for years two through four.
1 day per month for years five through fourteen, and
1.25 days per month for years fifteen on.
If you have 12 or less employees the maximum accrual rate is a 1/2 day per month.
That's a BIG change…but it didn't go far enough. They should have eliminated mandatory vacation.
The sick leave accrual rate is the same as before. However, in order to qualify for each accrual, both the vacation and sick paid leave, employees now have to work 130 hours a month instead of 115.
There's a slew of rules surrounding the administration of vacation and sick leave, how it's accrued, requested and used, that I won't get into the weeds on. Well, maybe I'll mention 3 things.
Your employee isn't entitled to take vacation leave until they've accrued it for one year.
If your employee's employment ends you have to pay out the total accrued amount up to that point. In other words, accrued paid time off is considered earned as it is accrued and it must either be used or paid.
Unused sick leave can be carried over from year to year but only up to a max of fifteen days.
It's illegal for you to terminate a grandfathered employee and replace them with a new employee so you can benefit from the lower vacation accrual rates and higher qualification standards.
We have so much more to cover but I'm already over the time limit. Episode 124 was 13 minutes.. maybe because I went on a minimum wage rant, but I try to keep these under 10 minutes, so I'll pick up where I left off next Tuesday on episode 128.