128: Puerto Rico Labor Laws – Part 3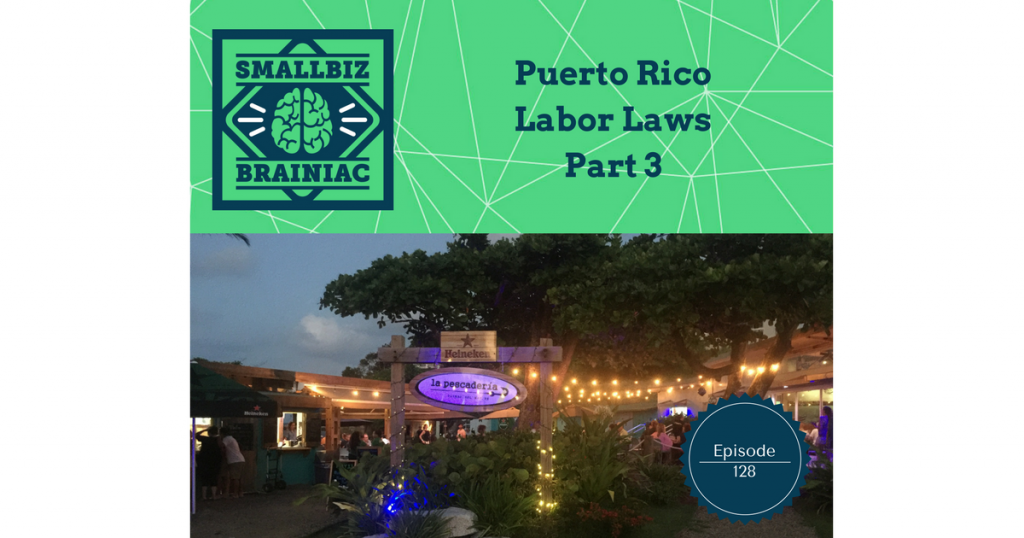 Puerto Rico's year end "Christmas" bonus and paid breaks for nursing mothers.
In episode 124 and 126 we we covered several of Puerto Rico's labor laws including the employment contract, the probationary period, just cause terminations, mandatory severance pay, minimum wage, overtime, the statutory meal period and paid vacation and sick leave.
On today's episode we'll continue, and end, our journey by covering the Christmas bonus and the break for mothers who are breastfeeding.
Even after these 3 episodes most of the iceberg is still below the surface. I'm not sure how many episodes it would take to cover every topic, but at least we'll have gone over almost everything, that was impacted by the Labor Transformation and Flexibility Act.
Christmas Bonus:
You're required to pay your employee a year end bonus….it's referred to as the Christmas Bonus.
This is another one of those laws where you have two different sets of rules as a result of the LTFA.
Here are the rules for employees hired before January 26, 2017.
Employees who worked at least 700 hours between October 1st of the previous year and September 30th of the current year are owed the bonus. You have to pay them between the 1st and the 15th of December.
If you have fifteen or fewer employees the bonus is 3% of their earnings of up to $10,000. So the max bonus is $300. If you have 16 or more employees, the rate is twice that… 6% on earnings up to $10,000. That's a max of $600. Isn't that crazy? One employee can double your year end bonus expense…. stupid!
But you can't get blood from a turnip. And what if the bonus expense is 100% or more of your net earnings? Maybe you had a loss. Well, the benevolent regulators have your back!
The total amount of your bonus expense doesn't have to be more than 15% of your net earnings. And not your global net earnings, just those net earnings from your Puerto Rican operations.
The Puerto Rico Secretary of Labor requires you to let them know if you can't pay the full bonus. They aren't just going to take your word for it either. You have to send in supporting documentation by November 30th…a profit and loss statement and a balance sheet which have either been drafted or reviewed by a certified public accountant. Which by the way is an added expense.
Net earnings for a small business is so subjective. Unless everyones accounting is done by the same person who applies a uniform set of rules, you're going to get different results. Drafted or reviewed financial statements are far from audited.
Even in the audited environment where the auditor is applying the published Generally Accepted Accounting Principles, or GAAP, you can easily get different results.
And speaking of GAAP, the Act does not allow you carry over operating losses from previous years to lower current year net profit, nor can you deduct outstanding accounts receivables, even if you've determined them to be uncollectible and have already written them off.
So the LTFA did change some of these rules, for those hired before the Act.
The bonus can now be paid between November 15th and December 15th.
The process for getting an exemption from the Secretary of Labor is now baked into the law.
You can also now apply the payment of any other bonus you paid "on any account" to your employee throughout the year, towards the Christmas bonus, as long as you give them written notice of your intent to apply it to this obligation.
Employees hired after January 26, 2017, must work 1,350 hours to qualify for the bonus. From 700 to 1,350…that's a big difference.
The bonus rate is now 2% for all employers and employees and on all wages. But if you have 20 or less employees, the max bonus is $300, otherwise it's $600.
If you don't pay the bonus on time, but you pay it within six months of the due date, then you have to pay your employees the original bonus plus another 50%. And if pay more than 6 months late you have to give them 2 times the bonus. So, a max liability of $1,200 per employee.
Break for Mothers Who Breastfeed:
If you have an employee return to work after maternity leave, then for up to 12 months you'll have to allow her a one hour break each day, when working full-time, which is 7.5 hours or more, to nurse her baby or pump. That's either two 30 minute breaks or three 20 minute breaks.
If she works 4 hours but less than 7.5 hours then the break is 30 minutes, or two 15 minute breaks.
You must provide a private, secure, safe and hygienic place with power outlets and ventilation.
Private means no one else can enter the room and no one can see into the room. The room must also be nearby. It can't be so far away that getting there "appreciably shortens" the time she has to do what she needs to do. These are things the Bahia Beach Resort and Golf Club learned the hard way….a $50,000 mistake.
The Court went as far as ruling that the company violated their employee's right to privacy. They didn't provide an adequate place, because the locations (of which there were multiple as they kept changing them on her) were not private, and some were not secure because several other employees had keys to the rooms. Some of the rooms were even dirty, moldy, and full of insects.
Stupid employers like this make me as mad as the nanny state politicians.
Your employee has to give you a medical certificate saying she has been breastfeeding her baby, and once you and your employee have agreed on a break schedule, it can only be changed by mutual agreement.