130: Adios Obama Era Joint-Employer Definition!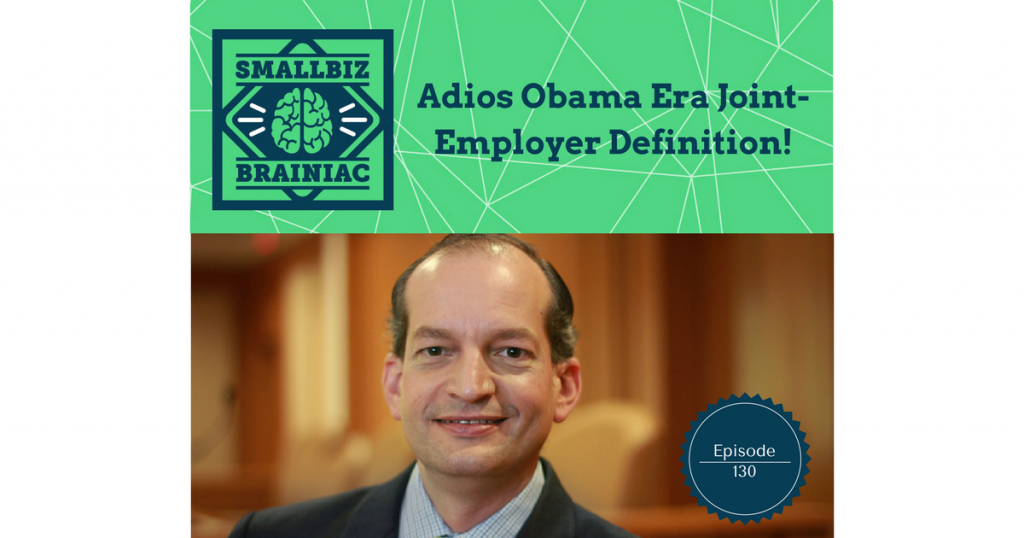 There are over 10 million employees working in positions that involve two or more companies, so the re-defining the term joint-employer is a major deal.
I'm super excited to bring you today's episode because we had a win.
How Laws Are Made Without Congress:
But first, I want to ask and answer the question; How do laws get created without congress? Through regulations. Regulations that have the effect of law. Regulations created by unelected bureaucrats based on either presidential policy, or their own misguided agendas. They simply take existing laws and expand them. In many cases, far beyond what congress intended. It happens all the time.
And since the idiot Bureaucrats don't know what they are doing, lawsuits always follow and then the courts further divine Congresses intent and legislate from the bench. This is know as case law.
Congress is to blame. Well, we, the voters are to blame when you get right down to it. But Congress is lazy. They leave 90% of the job up to the bureaucrats! Congress passes a law and turns it over to an agency of the government to really define it.
However, once in a while something goes our way. Like last week when the new Secretary of Labor Alexander Acosta made a decision that should cause you to rejoice. Especially if you are a franchisee, franchisor, temporary staffing company or a business that uses a temp staffing company.
Obama Era Joint -Employer Rule:
I first told you about this issue in episodes 61 and 62. Under the Obama administration the National Labor Relations Board ("NLRB") decided to change the definition of a joint-employer paving the way for the Department of Labor ("DOL") to follow suite. The DOL actually refers to it as "informal guidance".
So now we have the law itself, regulations created by bureaucrats, case law created by judges, definitions of the words, and now informal guidance. Awesome!
A joint-employer is where two or more employers are mutually responsible for labor law compliance of the same employee. There are over $10 million employees working in positions that involve two ore more companies so the re-defining of join-employer is a major big deal.
Before the NLRB ruling, that solidified their new definition under the National Labor Relations Act, you had to have the authority to control the terms and conditions of employment and you had to actually exercise that authority.
This change came in the case of Browning-Ferris Industries of California, Inc., and LeadPoint Business Services. In the 3 to 2 ruling, which took 50 pages to explain, the NLRB says that it will no longer require you to possess and exercise that authority. Instead, control that's exercised indirectly, such as through an intermediary, say a temporary staffing firm, is enough to establish joint-employer status.
Even before the Browning-Feris case, the NLRB began chasing McDonalds in an attempt to hold the franchisor responsible for labor law compliance of all their franchisees.
This dirty fight began when the NLRB filed a round of claims against various McDonald's franchisees…. 30 to be exact. Only 14 of the 30 are actual employee complaints. The other 16 were conjured up to justify the massive time and expense of consolidating the 14 from the different franchisees into one case. All so they can advance their non-congressionally sanctioned agenda to redefine joint-employer.  This case started back in 2012, and it's still going strong as the NLRB is chasing down hundreds of thousands of pages of discovery from McDonalds in their witch hunt.
What does this have to do with the Department of Labor? Well, they jumped on the NLRB bandwagon and have been waiting in the wings to pounce on employers riding the NRLB's coattails.
The New Sheriff In Town:
But not anymore. The newly appointed Secretary of Labor Alexander Acosta pulled the new joint-employer campaign off the table on June 7, 2017. So that takes care of the Department of Labor. Now what about the NLRB's position?
Who's going to correct their course? Is their new joint-employer definition now void? What happens to the McDonalds case now?
Both are still ongoing, but hopefully they'll be ending soon. We'll defiantly keep an eye them and let you know.
Changing the NLRB's position probably won't happen until some of the current goons are replaced by some less gooney ones.
There two vacant board positions right now, and the terms of two others expire near the end of 2017. So this will give Trump a lot of control over NLRB policy when he appoints replacements.
NLRB board members are appointed for a 5 year term and confirmed by the Senate. Typically, they are comprised of three people from the sitting President's political party and two from the opposing party.
Trump appointed Philip A. Miscimarra as the chairman of the NLRB. He happens to be one of the two dissenting votes in the Browning-Ferris decision, and a huge critic of the NLRB's actions against McDonalds Corp.
State Level Counter Attack:
The International Franchise Association has been attacking the problem from a different angle.
According to Sophie Quinton in an article for The Pew Charitable Trusts on March 15, 2017, ten states have passed laws since 2015 saying that franchisors cannot be considered the employer of their franchisees' employees. Another 11 states have pending legislation. That's great as it relates to state law, but it does nothing to prevent the NLRB and DOL from asserting joint-employer status. But again, that's better than a slap on the face.
Ms. Quinton says in her article that lobbyist Jeff Hanscom has played a key role in making this happen.
"Hanscom says the state push is part of a long-term strategy to write the industry-friendly, narrower definition of joint employer into federal law. "It also helps at the federal level to point to all the action states are taking," Hanscom said. Tennessee Sen. Lamar Alexander and Minnesota Rep. John Kline — both Republicans — tried and failed to pass a law in 2015 that would have done just that."
And so we'll take this win and hopefully it won't be the last under the new DOL Secretary and the soon to be reconstituted board of the NLRB.